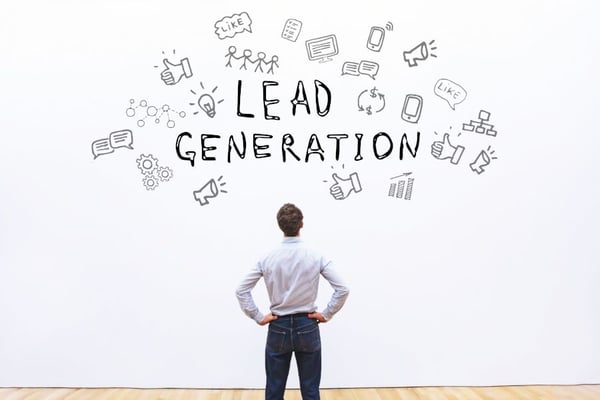 Do you want to bolster your digital presence and start installing strategies that will lead to reliable lead generation and long-term growth for your business?
At RiseFuel, we work closely companies to design and develop a consistent strategy that helps you to attract interested prospects and create content that helps to nurture them through the sales process on their way to becoming a customer.
When I start working with a new client, there are a few things that I check for. Digital lead generation strategies require a specific foundation, at minimum. A great website. A social media presence.
Some automated email campaigns to effectively communicate with your audience.
I help companies to audit their current digital marketing efforts, identify areas for improvement, and install new strategies and assets that will help you to attract and convert your key prospects.
If you would like to improve your lead generation strategies and start laying a foundation for reliable long-term growth, there are a few strategies that we recommend that you start with:
A Professional Website a Must-Have Lead Magnets
It's hard to generate leads through your website when you don't have a professional one that conveys trust. It's incredibly important that your website conveys trust and professionalism to your audience.
If your website is outdated, unoptimized for mobile devices, or filled with outdated information it is time for an update. A professional website is the first thing that all companies should invest in as they look to improve their digital footprint.
Any new website that you pay to have designed should include responsive technology for mobile optimization. Today, more than half of all internet traffic worldwide comes from mobile users.
If you don't optimize your website for mobile users, you are leaving a lot of money on the table. Google has endorsed responsive technology, but there are multiple methods for mobile browser optimization.
When I begin working with a new client, the first thing that we do is take a look at the website and identify where improvements need to be made.
Sometimes a complete re-design is required. Other times some small changes are necessary to bring the website up to date.
Search Engine Optimization
Often, search engine optimization plays the most critical role in a company's ability to grow their digital footprint and it plays a large role in any plan that I put together for a new client.
Search engine optimization is the process of optimizing your website for search engines so that you appear in search results that are relevant to your business.
If you were a Charlotte-based dental practice, keywords like "Charlotte dentist," "Charlotte dental office," and "Best dentists in Charlotte," would all be relevant keywords that you would want to rank for, based on their relevancy and ability to deliver new clients.
Search engine optimization is a long-term strategy, but is important for positioning your company for long-term success. SEO is an important investment, but not one that you can expect to pay dividends right away.
Content & Inbound Marketing
Content plays a huge role in your ability to optimize your website for search engines. The content that we plan and create is part of a larger strategy known as inbound marketing.
In inbound marketing, we use content to develop trust with your ideal customers and establish your company and brand as an authority within your industry.
The content that you create should answer the most pressing questions that your customers have about your company, industry, and product. The content that you publish should serve multiple purposes.
First, it should play a key role in the sales enablement process, arming your sales reps with content that will help them to nurture leads through the buyer's journey and close more sales.
That content will also be optimized for specific search keywords so that you can grow your organic traffic.
Fostering a Social Media Presence
Social media is an important part of any digital presence today. There are more than 2 billion people on social media and by 2021, that number will climb to more than 3 billion.
Social media serves multiple purposes for companies that are looking to improve their lead generation strategies.
To start, it gives you a platform for connecting with interested parties that otherwise would not go through your support or sales systems.
It gives them the ability to ask questions, and your company the ability to answer those questions in a public forum. Over time, by interacting with your customers through social media, you'll establish trust with your broader following.
Like the other lead generation strategies we've talked about in this article, social media takes some time to come together. You won't see benefits right away.
It takes months or years to establish a consistent following and even then — only if you share high-quality content and updates with your audience.
Email Marketing & Automation
Email marketing plays a key role in inbound marketing strategies. When we start working with a new client, one of our first goals is to help them build out their marketing automation and design campaigns that will help to nurture customers through the buying process.
Email marketing is able to deliver the highest return of all digital lead generation strategies.
Because email is so widely used, it's an excellent choice for delivering messaging to your audience and building that trust over time through the delivery of high-value content.
PPC & Digital Advertising
The last piece of the puzzle comes from PPC and digital advertising. Because digital ads are more scalable based on your budget, it presents the opportunity for quick growth.
If you currently have a PPC operation in place, the first step is to audit it and find areas for improvement and optimization.
If you have never spent a dollar on digital advertisements, we can help you put a basic plan together that falls within your budget and positions you for reliable growth.
Reliable Lead Generation Strategies
The truth is that reliable lead generation comes from a variety of strategies, working together toward a larger goal.
While you don't need to focus on every strategy outlined in this article, pairing two complementary strategies together is almost always more worth your time than pursuing a singular strategy in a vacuum.
Here at RiseFuel, we help companies use these strategies to grow their digital footprint and position their brand for long-term success.
If you are interested in growing your lead generation efforts in an organic and reliable way, contact us today to schedule your free consultation.