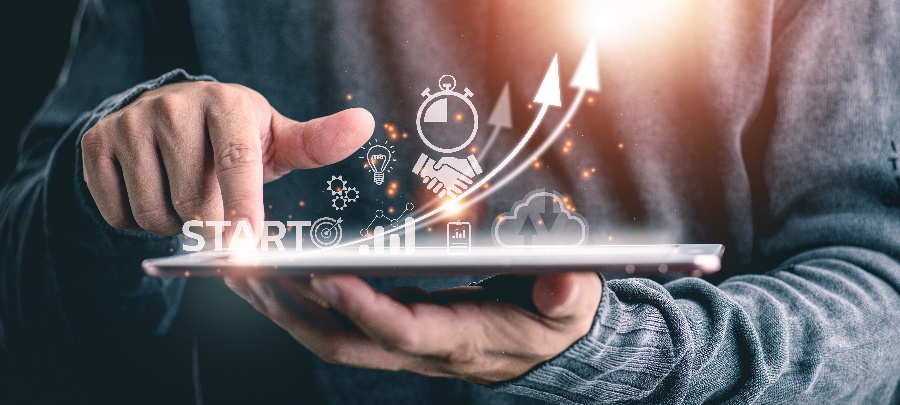 Many businesses now see the importance and growth of going digital. The need to stay connected and increase traffic in this day and age is crucial.
With the vast amounts of technology released every day, it can be tough to keep up with your competitors, what works and what doesn't work. Fortunately, there are helpful tools available to ensure you aren't falling behind on any new digital marketing strategies that could grow your business offline.
5 strategies that will grow your digital business
Here are five strategies you can follow that will grow your digital business:
1. Creating a mobile-friendly website
With the rise of innovative portable technology, many people are now accessing the internet through their phones. As a result, it has been found that more mobile searches are being done than desktop searches.
With nearly 50% of all Google searches being done on mobile devices, it is essential to have mobile-friendly content to find what they are looking for when searching online effortlessly.
2. Utilizing social media platforms
People love sharing things with their friends and family! It would help if you took advantage of this by creating accounts on social media platforms such as Facebook and Twitter.
You will be able to post information about your business and interact with customers. Social media sites allow businesses to grow faster than ever before because they allow instant access to the biggest audience in the world.
3. Adding a blog to your website
Blogging is one of the best things you can do for your business if you are trying to grow it online. If you are unfamiliar with blogging, this allows users on your website to write posts about whatever they feel like, whether it's information about their industry, personal updates, or even just funny stories and videos links.
This drives traffic because search engines pick up these links and send more users to your site.
4. Focusing on video marketing
If blogging isn't something that interests you, there is always video marketing! You don't need a fantastic camera or anything special to get started; you need a webcam and some video editing software.
Video marketing works because it adds personality to your business. People are more likely to share videos with their friends and family.
5. Ensure your website is secure
While you might get visitors to stay on your site longer, they will not if it isn't safe! Hackers are always looking for ways into websites that aren't secure, leaving them vulnerable to viruses or malware. It is essential that you have secured hosting so your users know you are willing to put in the effort to keep them safe while browsing.
The best thing about these strategies is that they are all relatively inexpensive compared to some systems out there. For example, even web hosting can cost less than $10 a month, so you won't need to break the bank to increase your digital presence.
Why do businesses adopt digital marketing?
The answer is simple: digital marketing works. Even small businesses have the chance to effectively promote their products and services through digital channels like Facebook, Twitter, and Instagram.
There are plenty of opportunities for you to engage with your audience on social media; create a Twitter poll that asks your followers which product they need this holiday season or ask them how much they would spend if they were shopping for Mother's Day gifts. This stimulates discussion and shows off your brand personality and thought leadership all through social media.
Digital marketing can be complicated and time-consuming, especially when building an email list; however, using online resources such as MailChimp can make it more accessible while giving you complete control over your campaigns.
Once you have your social media presence up and running, you should start promoting your business on relevant forums relevant to your industry. Again, you can leverage free and paid directories to connect with local customers; the more people see you as an authority in your field, the more they will trust your brand.
Every day, there is news about something digital marketers did wrong; however, the best strategy is to focus on what works for them. In addition, it is essential always to remember that even though mistakes happen, they don't need to stop you from reaching success; ask United Airlines how they recovered after their recent social media blunder!
Digital marketing is all about doing something different than everyone else. If you're investing money into any kind of marketing effort, you need to know how it works and what results you can expect.
Even if something is working for your competitors, that doesn't mean it will work for your business; always look at what channels bring in new customers before deciding whether or not to invest in them.
Conclusion
As long as you're willing to put in the time and effort needed to stay on top of trends, there's no reason why you can't be successful with digital marketing. Just remember that digital marketing is constantly changing; to stay ahead of the curve, make sure you read plenty of articles like this one, so you will always know what's hot!