How Growth Driven Web Design (GDD) Works
There are two phases in the Growth Driven Design process: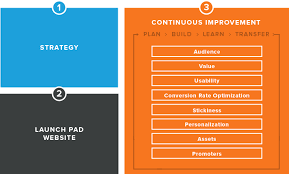 Strategy & Launch Pad: Lasting around four to six weeks, during this initial phase a web design strategy is developed, in addition to a features wish list for the site, and the launch pad website is built.

The GDD Cycle: With the launch pad website live, the focus for the remaining 11 months of the year are to improve and fine-tune the performance of the site. This cycle is a four stage process that includes planning, developing, learning and transferring knowledge.
(GDD) Strategy and Launch Pad-Phase 1
Similar to the traditional website design process, the first phase of Growth Driven Design (GDD) begins with strategy and goals. This encompasses the following:

Goals and Personas: What you are trying to acheive as well as a good understanding of who your buyer personas are and what they are looking for when visiting your website.

Website & Analytics Audit: The detailed and analytical research to understand your visitor's behaviors such as how they arrive at your site, including what types of information they consume, the pages on they visit on your website, where they interact/have touch points with your business, how they interact with it and why they might be bouncing or dropping off the site.

Opportunities: What are the visitor's pain points and where are opportunities to improve the user experience on the new site.

Pulling Core User Assumptions: Why do your visitors come to the site, what are the value propositions for products or services they receive, how and where are they accessing the site (Desktop? Mobile? While shopping? In traffic?, and what information your visitors are looking for.
Global Site Strategy & Wishlist:
Applying these analytics into your new website design with an overall strategy.
When the strategy is complete, you will develop a wish list. These are all the things you want in your new site to improve and enhance the user experience to provide an impact. For the first list, it usually has between 50 and 125 items, but don't hold back on dream items to have on the site as you will be able to prioritize.
As you complete your wish list, you'll prioritize it to determine what will be included in your initial launch pad website and organize what list items will be completed at a later phase in the Growth Driven Design (GDD) process.
Remember to use the reliable 80/20 rule as you prioritize—determine the 20% of project wish list items that will produce 80% of the impact and value to the users on the site. This will give you the "must-haves" on your list and these action items will go into the launch pad site.
Re-align your remaining ideas or wants that didn't make the first cut of the launch pad site before you move on to the next stage. These items usually fit into one of four buckets:
Boosting Conversion Opportunities: Conversion opportunities and points, user paths and their flows, value proposition tests, and A/B testing.
Improving The Visitor Experience: Navigation updates and changes, Improvements to UI, blog layout or enhancing/adapting the mobile experience.
Personalizing To The Visitor: Content offers that are tailored to various list segments, smart content/forms or personalization tokens.
Marketing Assets to Build: Tools, marketing resources, or assets that are SEO-focused; These are assets that are going to bring value to your visitors and can build great SEO for your site as well.

The Growth Driven Design Phase: Ongoing Improvement & Validation
The Growth Driven Design process truly begins once you have the launch site live, focusing on ongoing improvement and validation, including the monthly sprint cycles over the remaining eleven months. This entire cycle is solely focused on your visitors—the buyer personas—who visit your website.
Growth Driven Design Phase Two: Monthly Cycle For 11 Months
Your Plan: What will be accomplished during the month? Compare performance against goals, gather additional research as well as consulting with your marketing and sales teams. Be sure to update your wish list and pull the higher priority items to the front.
What To Develop: Create the tasks and deliverables, set up measurements like tracking codes, and create marketing campaigns to drive traffic to the new pages or places you've built, i.e., blogs, social, email, PPC or a combination.
What Have You Learned?: Ask what you learned about your visitors. Review results and data from your experiments, i.e., A/B Tests, and decide whether the results validated, or invalidated your previous assumptions. Take note of these for moving forward.
Transfer And Share: Share what you've learned with your marketing and sales team, allowing the process to achieve the results without unnecessary shifting of focus of the marketing team while still engaging your sales team on newly developed patterns and data.

Growth Driven Design Is Better for Your Business & Makes Website Design Easier & More Successful
Based on the overall process and visitor-based focus in the development, a Growth Driven Design website will have considerably more impact on your business over time than a traditionally designed website. Specifically, if you simply look at the outcome of your website and its impact on your business, GDD is a much better process and clearly less risky, with great rewards. With GDD, you have the benefit of better cash flow management with a lower upfront cost and an ability to finesse and tweak to create the best visitor experience as possible and higher conversions.
Your launch pad website will be up and running within four to six weeks, taking all the pain out of the typical website creation process. Then begins the data analysis and validation process - justifying the decision-making process for better design in order to make the website perform and work better.
Each month there is a process of continuous improvement providing you with a website that's getting better, working harder, and delivering business results. As an added plus, your website doesn't need a design refresh after 2 years as it will already be up-to-date—the process of self-improvement will continue.
The question to ask yourself: Do you prefer the upfront costs and risks of a typical website that may not be able to do the job, or a Growth Driven Design website that is always getting better and delivering better results for you? Statistics do not lie and they overwhelming support the logic and effectiveness of this approach.