Marketing Strategy - Growth Driven Design
Looking for a Blueprint for Business Growth? You are in the Right Place.
Remember the most important success factor revenue growth is

getting the foundations right!
This starts with a strategy and a brilliant marketing plan. A Growth-Driven GamePlan is your step-by-step plan to ensuring you maximize results from your Inbound Marketing investment. We give our clients the ability to grow smarter and faster by outthinking, not outspending, the competition.
The GamePlan follows a standard marketing strategy methodology but concentrates on shifting budgets and resources to more effective and measurable inbound marketing strategies.
The online social world and inbound marketing have leveled the playing field. Underdogs and innovators now have the power to grow faster and smarter than their competitors. They have the ability to control their destiny.
Consultation & Discovery Session

Required
Before we work together we need to make sure we're a fit. We utilize a Discovery meeting that is focused on gaining an understanding of your current marketing and sales environment, your competitors and your existing customer base.
We analyze how visitors are using your site and we conduct extensive keyword research to identify traffic growth opportunities.
At that time we develop your Growth-Driven GamePlan – an actionable strategy for the next 6 to 12 months that capitalize on your best opportunities to generate traffic, leads and sales.
Once we present you the plan and you're ready to partner with RiseFuel to grow your business online, we implement the plan and suggested solutions to immediately work towards accomplishing your goals.
The 5-Phase Growth-Driven GamePlan
The Growth Design Process process is broken down into five phases:
Each phase serves a unique purpose with the end goal of creating a website that is focused on your users and your growth.
Buyer Persona Development
Website Redesign LaunchPad
Phase 1: Strategy & Goal Setting
We work with your team to do a deep dive into your business and where you are today and where you want to be tomorrow.
Areas covered include historical & current performance, key performance metrics, pipeline performance, lead quality review and in-depth competitive and industry analysis.
Learn more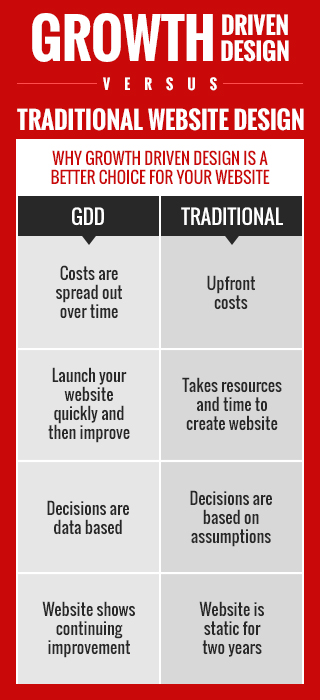 Phase 2:

Buyer Persona Development
In this phase, we apply a laser focus on your customers and ideal customers to build detailed buyer personas for your marketing and sales teams.
Our output here is a number of detailed customer/buyer personas that represent the profile of your perfect customers to allow us to develop our content strategy to target these prospects online.
Learn more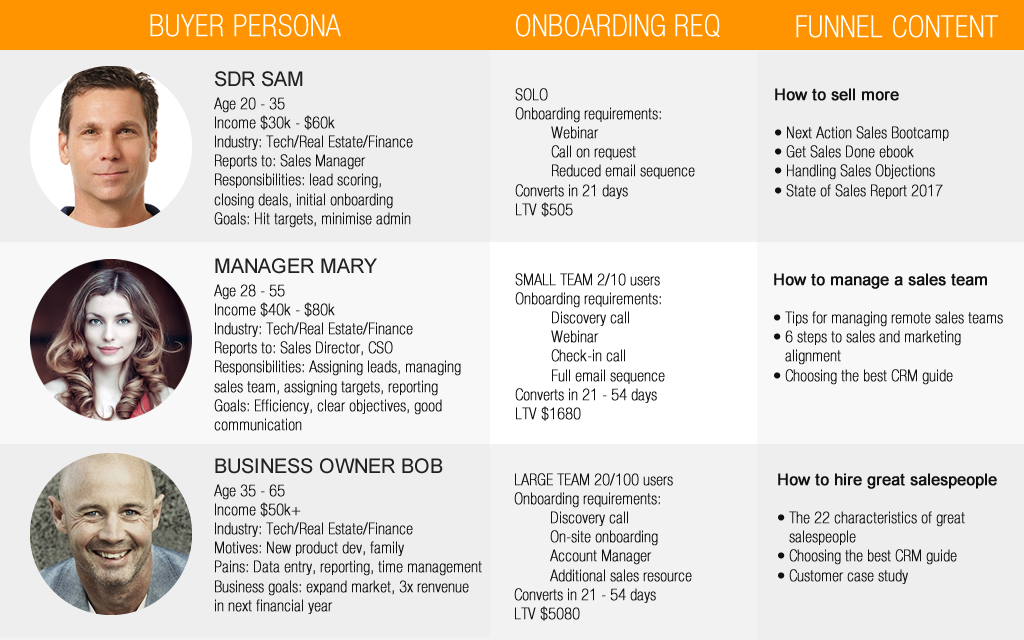 Phase 3: Website Redesign - Launch Pad
The typical website redesign process takes about 3 to 6 months before the refreshed site is launched. This is another benefit of Growth-Driven Design.
Since the goal is to understand what your users want, we launch in about 4 weeks so we can start collecting data.
In this phase, we build out the core of the website. We focus on the 20% of the items that make 80% of the impact. Everything that is a "must-have" in order to get the site operating is created and launched in this phase.
Many times when people hear "launchpad site," they think "unfinished." But that's not the case at all. It's more like cutting it back to the essentials. It's all about focusing on what matters most and then building on top of that.
Learn more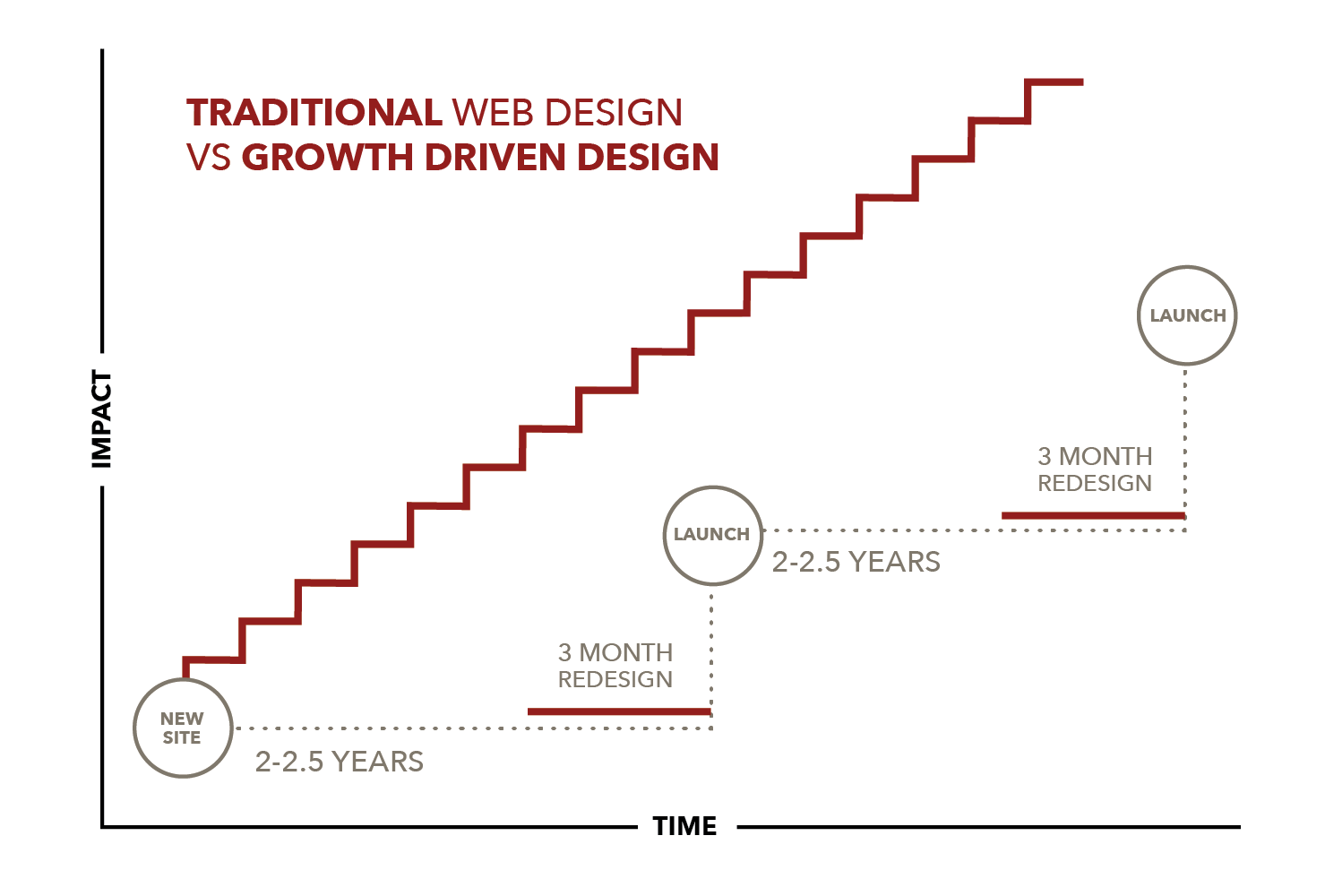 Phase 4:

Post Site Launch
Phase four is about collecting, analyzing and putting the data back into the strategy. This phase happens over the third and fourth months of the project.
Remember the wish-list you did in phase 1? This is when you go back to the wishlist and select the "High Impact" items that we didn't get to for the launch of the LaunchPad site.
Once again, these items need to match what your users need.
Look at the data and sort the items around user impact and ROI, not your wants. We recommend adding one element to a page at a time. This way you have a clearer picture of the impact of that addition.
Learn more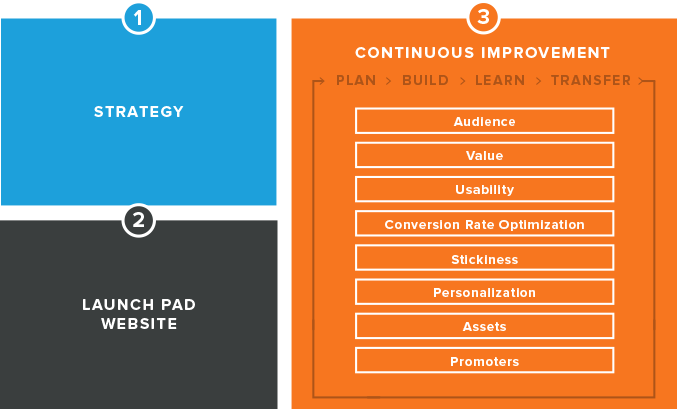 Phase 5: Ongoing Improvement
Over the past four months, you've done detailed research, launched your new site and have started to collect real user data.
In the typical website redesign process, you would most likely still be waiting for the final drafts of the mock-up.
Phase 4 is never really "finished." Each month as you collect more and more data you make tweaks and changes based on what will make the greatest impact on your goals.
Here are a few key areas to keep in mind when deciding what to change based on the Growth-Driven Design Hierarchy:
Utility: Is your audience finding value in your website, its content and features?

Usability: Are they easily finding what they want and leaving happy?

Conversion Rate Optimization - CTO: Are they effectively moving through the funnel?

Stickiness: Are they returning or coming once and never coming back?

Personalization: How do we personalize the top 4 items for each persona?

New Content Assets: Creating high-impact, valuable "assets" to the website?
SCHEDULE A CALL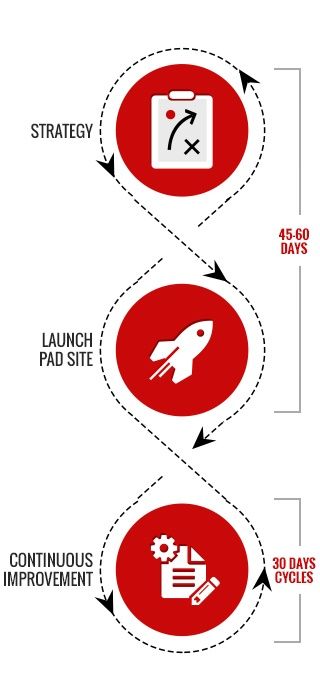 Are You Ready for a Growth-Driven Gameplan?