We are a website design company
Your website should be your company's best salesman.
Our specialties include custom web design, responsive websites, WordPress, ecommerce, database programming, and web applications...
Attract and Convert New Customers with the Best Website Design
Websites that generate leads and sales are designed strategically to attract prospects and convert them into customers. Good websites are built with the user in mind. Is your website easy to navigate?
Can visitors find what they're looking for? Is your site easy to use on a variety of devices? Are there strategic calls to action that will prompt the visitor to learn more, download information, call, or make a purchase?
We work with organizations that are serious about taking their online marketing to the next level. Our web design team includes experts in design trends, user experience, and digital marketing strategy.
See how our one-of-a-kind process has created high-performing inbound marketing websites in several industries, including technology, dental, healthcare, B2B and manufacturing.
Learn more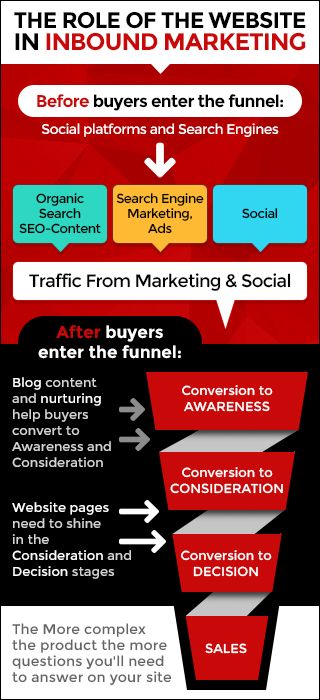 The Buyer's Journey:

From Start to Finish

Smart companies position their websites as an educational resource for customers who have just started their path to purchase.

They then convert website visitors to leads with relevant, valuable content and then nurture those leads to the point of sale.

For prospects to complete this journey, your website needs to follow a strategy. Each element should have a purpose, to guide prospects to the next stage.

Good website design converts visitors to leads and leads into customers. It's not about cool graphics — it's about getting the results you need to grow your business.

Learn more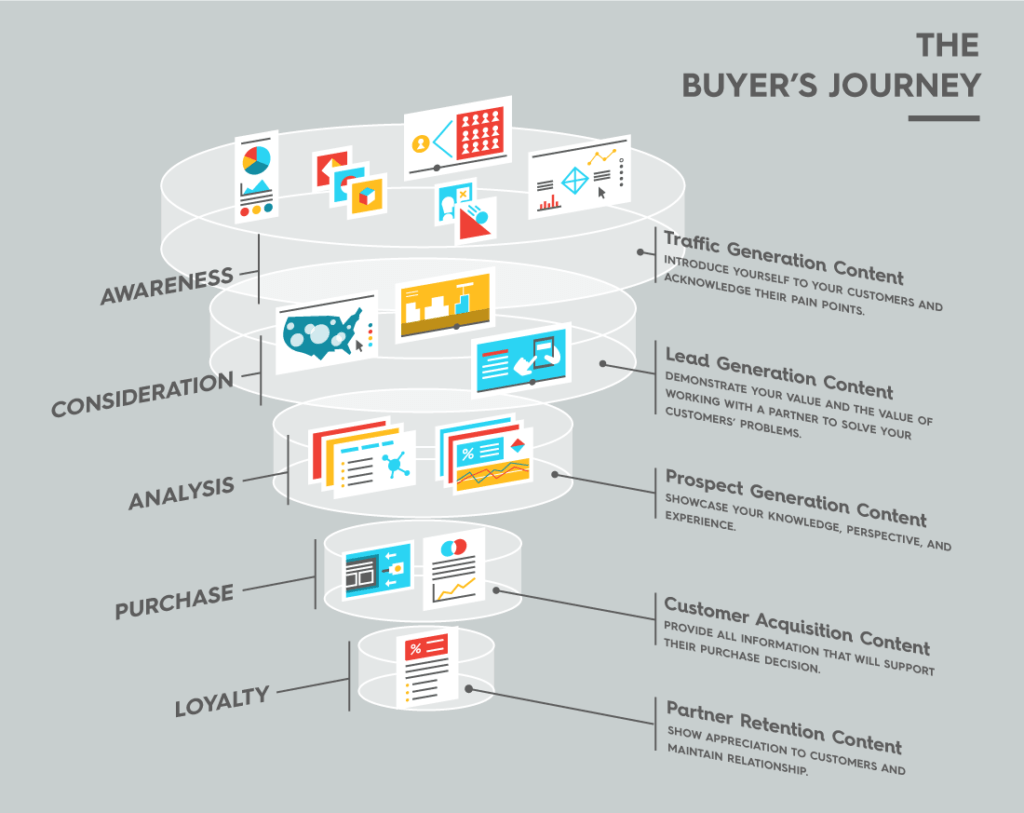 Fully Responsive & Personalized: Growth Driven Design Strategy
UX insights and growth-driven design allow for continuous optimization and improvement over time, providing key marketing and sales insights and minimizing the need for a complete redesign in another 12 months.

A well-designed website is a key to online marketing success. Studies show that poor design is a significant reason prospects do not trust a website and thus the business it represents.
An intuitive, well-designed website positively impacts how visitors view your company, it also improves lead conversion through easy and effective calls to action driving conversions.
Through personalization and relatable content, you can attract your ideal leads by making your site dynamic and appear to talk directly to your prospect.
Take a look at the modern growth-driven design approach. We have found that this strategy allows you to design in stages and your site evolves much better than the old way of mapping out every detail and putting the pressure on you now to create this entire site at one time.
Then you iterate on your design and content monthly based on real-time user behavior of your target personas to flesh out your site, making small, incremental changes like landing page optimization, word choice changes, CTA buttons, premium content placement, etc.
Throughout the process, you also build a prioritized wish list of additional items and pages you would like to implement into your design that take into account new changes to your business or additional products or services you want to elaborate on.
Learn more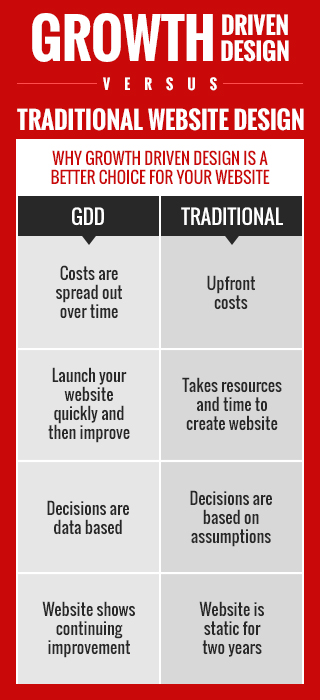 Landing Pages Are
Key to Your Success
In digital marketing, a landing page is a standalone web page, created specifically for the purposes of a marketing or advertising campaign.
It's where a site visitor "lands" when they have clicked on a Google AdWords ad or other paid advertisement or promotion.
Landing pages are designed with a single focused objective – known as a Call to Action (CTA).
To fully learn the difference between a landing page, and the other pages on your website, such as your homepage, it's important to consider the differences between organic search traffic and paid search traffic.
Different Types of Landing Pages
There are two basic structural types of landing page:
Lead Generation landing pages (lead capture pages) use a web form or banner graphic as the Call to Action, for the purpose of collecting lead data such as names and email addresses.


Click-Through landing pages are typically used for e-commerce and have a simple button as the Call to Action.
Learn more

WHAT MAKES THE BEST WEB DESIGN?
Becoming one of the top-rated web design companies in Charlotte takes years of experience, strong visual design skills and highly technical programming skills.
We take pride in our ability to create custom and unique designs for each client.
A website designed with the user in mind creates a better user experience and gets them to do business with you, or at the very least, explore more of your website.
EXCEPTIONALLY EFFECTIVE WEBSITE DESIGN
Our Charlotte web design company has developed exceptionally effective websites for organizations in a host of industries.
Expert professionals and proven approaches, all working together, strategically, deliver the very best in web design.
Here are some of the steps in our web development process.
WEBSITE DISCOVERY & PLANNING
We conduct a detailed audit of your existing website content, analyze technical requirements, clarify roles and responsibilities.
We define marketing objectives, target audiences and desired outcomes. We define the web layout and architecture and sitemap as we head into design exploration.
This phase of the web design project starts with wireframes. A wireframe is a visual representation showing the approximate position and weight of text, images, videos and other required elements on each web page.
From here, we employ our secret sauce and create the actual design layouts. We present the client with jpg files that showcase the actual colors, graphics, and text.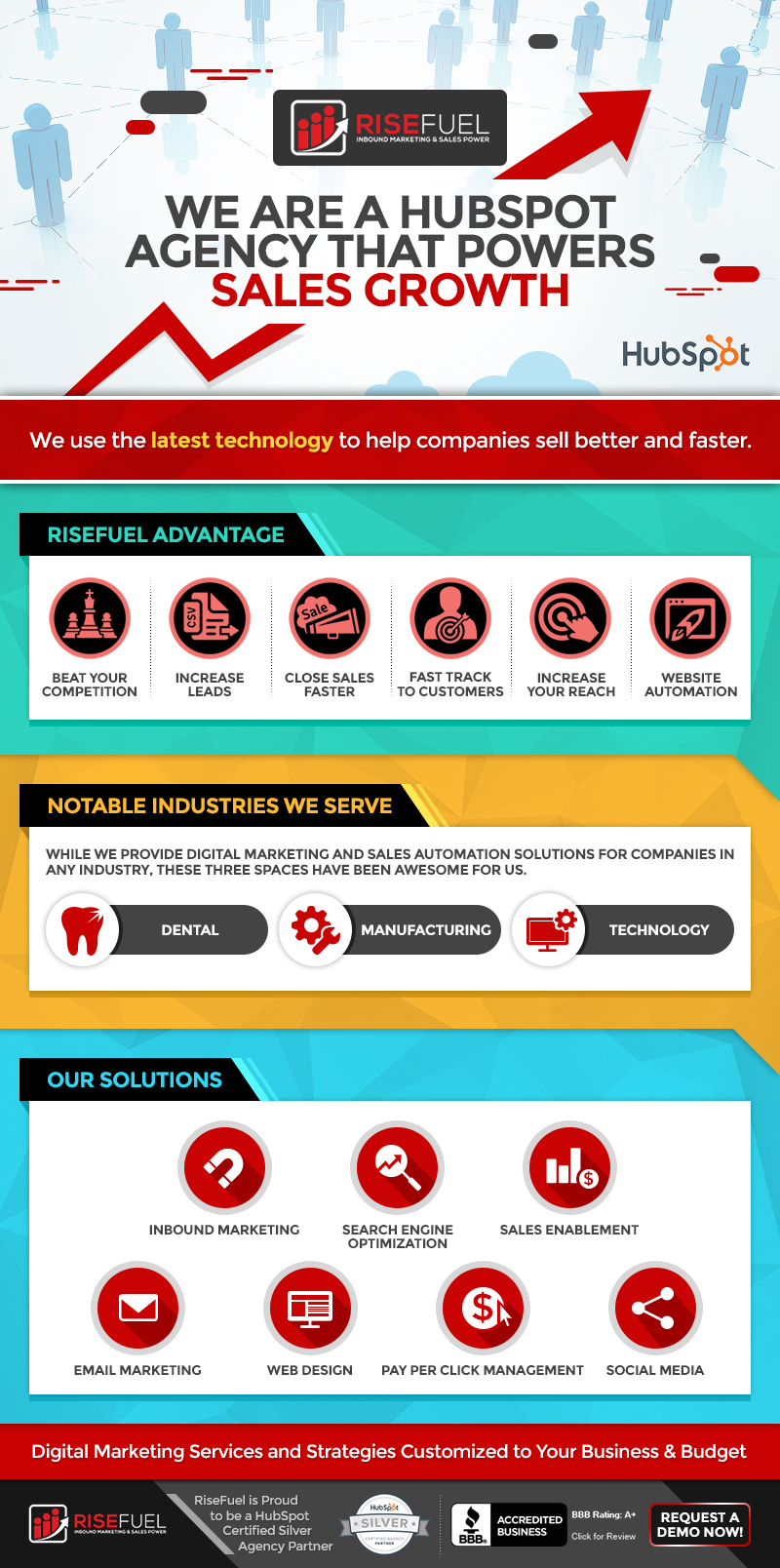 WEB CODING & DEVELOPMENT
From our Photoshop designs, we slide and code responsive CSS and HTML.
When using a content management system like HubSpot or WordPress, we will tie in the HTML with an admin and database. Then we populate the content.
TESTING AND WEBSITE LAUNCH
We never launch a website before thoroughly testing it on all the different devices and platforms.
We make sure layouts are optimized and functioning properly on smartphones, tablets and desktops—Android and iOS, Windows and macOS, all the leading browsers, and more.
We also set up sophisticated security measures to help protect your site, your company, and your customers.
WEBSITE MARKETING
We've launched your website, now let's grow. We integrate analytics and execute search engine optimization efforts.
We optimize your website, developing internal and external links, and take your online presence to another level with inbound marketing and social media.
SCHEDULE A CALL

Available for new projects
Let's talk about your challenges, goals, and timelines to determine the right services and solutions for your team.
Schedule a time to speak with a member of our team.