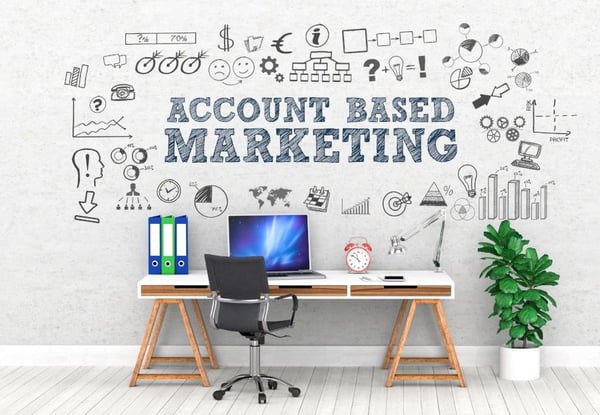 The marketing landscape has changed quite a bit in recent years. If you have been paying attention, you've probably heard something about account-based marketing (ABM).
It's made quite the impact over the last few years and continues to grow at a rapid base. In the span of one year, there was more than a 21% increase in B2B companies that had a full account-based marketing program in place.
In the corporate world where this kind of change happens at a snail's pace, it takes something truly game-changing to get companies to buy in so quickly.
At RiseFuel, we advocate heavily for ABM systems with our B2B clients. It simply provides too much an advantage to not recommend. To many, the concept is still a new one.
Most companies suffer from a lack of alignment between marketing and sales departments, which is precisely the most impactful benefit of ABM practices.
Let's dive a bit farther into ABM and the processes of account-based marketing to explain how it can help your company grow sales, facilitate alignment between marketing and sales, and create more consistent growth.
What is Account-Based Marketing?
Account-based marketing is a strategic form of marketing that has become increasingly popular in with B2B marketers. In ABM, companies target "accounts" — which are companies, not individual people — and treat it like its very own market. Each account becomes a singular market of one that is researched and tailored to.
A huge part of ABM is the tracking of interactions between your company and all members of the buying team. The strategy accepts the reality that B2B companies aren't selling to individuals.
They are selling to diverse buying teams with their own needs and concerns for their company. Today 61% of buying teams include five or more people.
It allows companies to tailor their messaging to the individuals within the buying team and the organization as a whole, taking the buying team's concerns into account.
Account-based marketing is all about addressing the needs of the organization that you are selling to and gaining a big-picture view of their needs.
ABM is most common in enterprise-level sales organizations but is increasingly becoming more common among smaller companies as well. It's an in-depth process and it does require some serious resources.
Let's dig into the ABM process to understand why it is so effective.
The ABM Process
Account-based marketing succeeds in its processes. It allows companies to give each of their prospects the VIP treatment. ABM requires that you take the time to understand the prospects that you are selling to.
The ABM process is in-depth and detailed, but it provides companies with a deeper understanding of the companies that they are selling to. That means more effective marketing and more effective sales processes.
In ABM, even the content that you create is personalized and custom-tailored to the needs of the account's buying team.
Identify Target
Knowing your target audience is the most essential part of any marketing campaign, and ABM places much more of the focus on this step than other strategies. Identifying target accounts in ABM is a collaborative effort.
In ABM, you really hone in on specific targets and narrow down the number of companies that you want to sell to. Companies with fewer resources can naturally target fewer accounts, but those interactions are still meaningful.
Research Accounts
To speak to an account's biggest needs and concerns, you have to get to know the account inside and out.
This is especially hard when you have a buying team of five or more people. Once you know who your targets are, you have to treat the whole organization like they are a giant persona of one in ABM.
Be familiar with the structure and internal workings of the companies that you are targeting. Who are the decision makers? Who are the internal people that will take part in the buying process? Who will have input on what solution they buy?
Understanding who you will be interacting with and what their biggest concerns are is paramount to a successful outcome in ABM. You don't have time to throw things against the wall and see what works with your marketing program.
Create Content
Now that you know who you will be targeting and speaking with within your target accounts, you can create content that will match their needs.
By limiting the type of accounts that you are targeting, you can create content that will be useful in multiple interactions.
Remember, ABM is less focused on the individual personas and more focused on the account as a whole. For larger accounts, you should create custom content that is tailored to their exact needs.
Choose Channels
How will you be connecting with your target accounts? Even with the best content, you'll need to know how they prefer to interact with your company and use the right channel to promote that content to them.
This has to be determined on a case-by-case basis. Still, the important thing here is that you are able to get your content in front of the target accounts that you created it for.
Launch Campaign
ABM campaigns are typically unique in some ways. While many of the processes might remain the same, the way that you engage with an account can differ from one account to the next.
You might engage with an account through a single channel (email outreach for example) or through multiple different channels. Launch your campaign and make sure that you have reliable ways to track the results.
Measure Results
Did you know that 67% of CMOs have trouble measuring the ROI of their marketing? With all of the tools available today, that is inexcusable.
ABM requires a consistent effort to analyze and optimize your efforts to generate the best possible return. Ask the right questions and test changes to your processes to ensure that you are always improving on your campaigns.
ABM Complements Inbound for B2B Marketers
ABM is the perfect complement to inbound marketing, which is the preferred strategy that we utilize here at RiseFuel.
It is a very important part of our sales enablement services that help companies modernize their sales messaging and leverage technology to automate marketing with sales enablement tools.
Both focus on creating high-value content for your prospects and using that content as a springboard for conversations and trust.
Account-based marketing is a new and exciting way for B2B companies to approach the marketing and sales processes in an aligned way.
We provide comprehensive ABM services for our clients. Let us know if you would like to discuss how we can help you be very effective generating new leads this way.