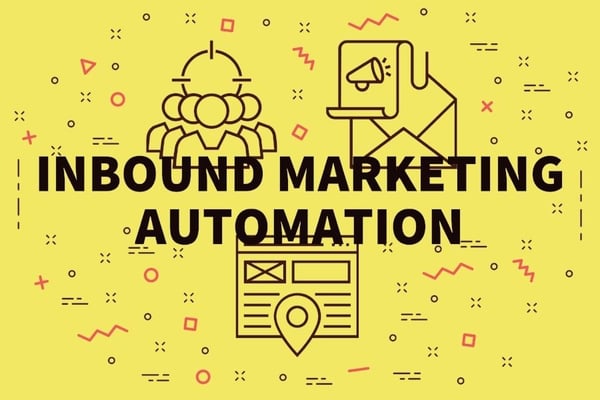 Inbound marketing and marketing automation are technically two separate marketing strategies. However, the two are uniquely suited for being paired together to create a consistent lead generation system.
The two disciplines use many of the same channels to accomplish their goals, with blogging, email, and social media at the forefront.
While it may generate some argument among marketers over which is more effective, the truth is that using both allows you to leverage each strategy to its fullest potential.
Marketing automation has become increasingly popular with each passing year, due to its ability to deliver results while freeing up marketing teams to focus on the big picture.
According to HubSpot 2017 State of Inbound report, 55 percent of marketers have stated that increasing traffic to their company website is one of their top marketing priorities for the next year.
Today, buyers are doing more shopping and conducting more research online than ever before.
Naturally, inbound marketing, a strategy based on providing educational content to customers, has been the perfect marketing strategy for today's consumer habits.
Adding a layer of inbound marketing automation over your inbound efforts helps to close the loop, allowing you to not only attract new traffic to your website but turn those leads into sales.
The Advantages of Inbound B2B Marketing
Before you can turn your leads into customers, you have to actually attract and capture those leads. Inbound marketing is the perfect solution for attracting new visitors through a variety of channels.
It's a powerful tool that can be paired with marketing automation to create a finely-tuned lead generation machine.
Inbound marketing drives traffic through effective SEO strategies, social media campaigns, and regular content production that speaks to the biggest concerns of your audience.
They come to your website, interact with your content, and hopefully sign up for your email list, allowing you to continually send marketing messages to them for the foreseeable future.
In short, inbound marketing is ideal for generating new traffic and leads. But once you collect those b2b sales leads, you still have to nurture them through the buying process. This is where marketing automation comes in.
Combining the two strategies to create an inbound marketing and automation system allows you to attract visitors, capture B2B leads, and then automatically interact with them over time to walk them down the path of becoming a customer.
The Advantages of Marketing Automation for B2B Lead Generation
Pairing marketing automation with inbound marketing makes for a powerful strategy. Each is strong where the other lacks, filling in gaps and providing a well-rounded strategy at a affordable price.
In most cases, once a customer has provided their lead information, that is where marketing automation takes over.
One area where marketing automation shines is in email marketing. You can create and schedule email campaigns that will be delivered to leads over time, helping them to get to know your company, industry, and product.
Using inbound marketing automation to deliver valuable materials to your leads that answer their questions and help them better understand your solution can help to nurture those leads on the path to becoming customers.
With marketing automation, you can better target your leads using the data that you have on hand. This data could include information like location, gender, age, and other data points that you can collect throughout the lead generation or nurturing process.
Using the data that you have to automatically segment customers and deliver targeted campaigns is one of the biggest benefits of marketing automation.
Marketing automation is also the perfect strategy for growing revenue through up-selling, cross-selling, and customer retention.
Automation platforms can help you to identify the most important considerations for each prospect and deliver marketing messages that capitalize on that knowledge.
Why Inbound Marketing and Marketing Automation Work So Well Together
Source: Email Monday
Pairing inbound marketing and marketing automation makes for the perfect marriage. It covers all bases, including traffic generation, lead capture, lead nurturing, and customer retention.
It allows your organization to be more agile, connecting with customers across a wide variety of different channels while freeing your marketing teams to focus on bigger strategies.
With that said, don't mistake the term "marketing automation" for meaning that no marketing tasks will have to be completed manually.
Marketing automation does take care of a lot of the tasks that would normally have to be done by hand, but much of your messaging and strategy will still have to be created manually.
There are a few key ways in which inbound marketing automation can fill the gaps present in either strategy and result in a better end result for your business:
Inbound B2B Sales Leads Require Nurturing
Inbound marketing is the perfect strategy for attracting visitors and turning those visitors into leads. But just because they become leads and sign up for your email list doesn't mean that they are ready to buy.
You still need to nurture them through the process of becoming a customer. This process is shared by both inbound marketing and marketing automation strategies.
Using marketing automation, you can collect additional data about your leads through surveys and interactions with your marketing materials.
Then, you can use that data to craft custom-tailored marketing messages delivered through email, social media, and other channels to help familiarize your leads with your company and product.
Lead nurturing has always been the logical next step after generating a lead through inbound marketing. However, lead nurturing is impossible without learning more about your prospects and implementing that data into your marketing.
By pairing inbound with automation tactics, you can ensure that every lead that enters your system receives personalized marketing messages through email and other channels.
Marketing Automation Helps Score Inbound Leads
Not all leads are created equal. Some leads will be better than others and as a result, should receive more personalized nurturing on their way to becoming customers.
Lead scoring is absolutely critical for knowing who your best leads are, and moving them through the sales funnel effectively.
Marketing automation can allow you to score leads in real-time as they interact with your website, emails, and marketing materials.
In short, lead scoring is a methodology that is used to rank your prospect based on their perceived value to your company. Marketing automation is particularly adept at helping to score leads, because of the advanced data that the practice provides.
You can see exactly who is interacting with your marketing messages and use that as a basis for gauging their interest in your product.
Lead scoring is not naturally built-in to inbound marketing but is absolutely critical for any sales engagement. You have to know where to focus your attention and how to tailor your messaging to connect with your highest value prospects.
Inbound B2B Leads Are Typically Broad
Inbound leads aren't typically as targeted as outbound leads. You might create content for a specific segment, but you'll still find that you have leads from all walks of life entering your system.
Marketing automation can help you to learn more about your leads and deliver materials that speak to their individual situation, rather than sending the same templated messaging to each lead.
Delivering materials that certain prospects aren't interested in could sour your relationship with them over time.
Marketing automation gives you more control over what you send to prospect at scale. It learns about your prospects as they interact with your company and helps you to speak to their biggest worries, desires, and needs.
The Perfect Pairing
Inbound marketing and marketing automation make the perfect pairing. They are strong where the opposing strategy is weak, allowing companies to have a more in-depth strategy when they pair both strategies together.
Additionally, combining the strategies can give companies a leg up on the competition and allow smaller organizations to compete with larger companies. Check out some of the myths about inbound marketing to learn some common misunderstandings.
Contact us if we can help in anyway. RiseFuel is a B2B leads generation company that is highly effective at developing B2B marketing strategies that produce great results.