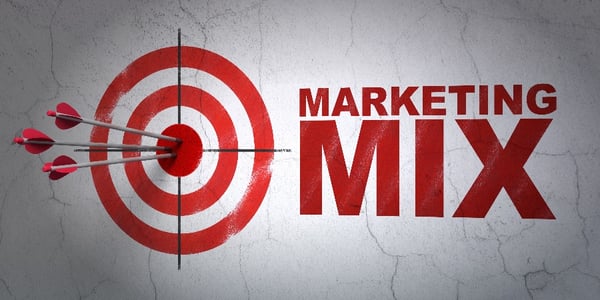 If you've been researching how to improve your marketing, there is a good chance that you have read quite a bit about "marketing mix."
Without a firm understanding of what it means, it can be easy to misconstrue advice that you receive and understand the full scope that someone is getting at when they mention a marketing mix.
In this article, we'll break down what a marketing mix is, what it includes, and why it is important for every business.
Definition of Marketing Mix
A marketing mix is defined as a set of actions, tactics, strategies, and tools that a company uses to promote its brand and products within their market.
Often, you'll hear marketing mix referred to as encompassing what is known as the "4-Ps":
Price
Product
Promotion
Place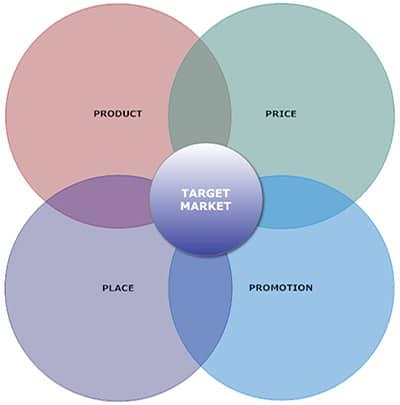 Source: MarketingMix.Co.Uk
Those have always been the standard categories that people used to characterize their marketing mix.
In recent years, and especially with the rise of digital marketing, the definition of what a marketing mix is has expanded rapidly.
Let's take a look at what makes up a modern marketing mix. The additions to the mix include:
People
Process
Physical Evidence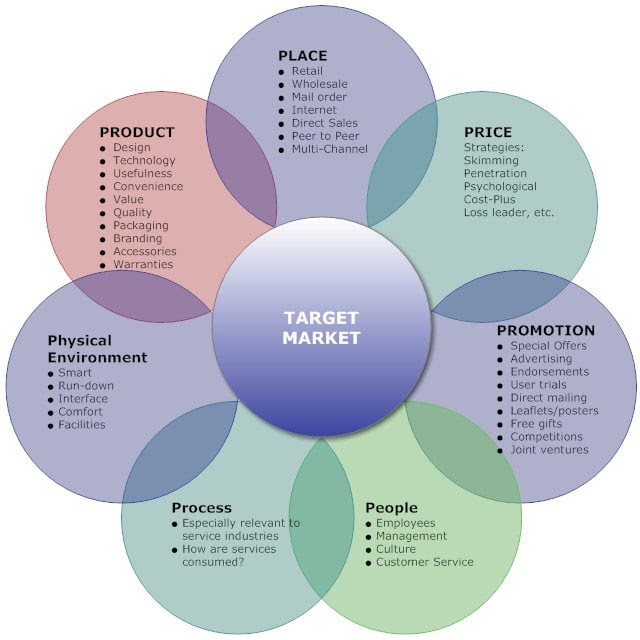 Source: MarketingMix.Co.Uk
In the next section, we'll break down what each of the 7-Ps means and how it applies to your business.
1. Product
A product can be tangible (a physical project) or intangible (a service).
It's important that marketers are able to have a full understanding of the lifecycle of their customers and products that they are promoting.
Then, they can better position themselves in the competition and help to inform product strategy that drives growth in their company.
Some of the questions that marketers should be asking about their product include:
What does the customer want from the product?
How will they use it?
Where will they use the product?
What are their must-have features?
Are you missing any of those features?
What product options are available? What are the differences?
How is your product different from the competition?
2. Price
'Price' aims to quantify the value of a product, taking into account the cost of production, segmenting, ability to pay, supply/demand, etc. Broadly refers to your pricing strategy and the reason behind it.
The price of a product depends on what a customer is willing to pay for it and is a very important aspect of your marketing mix. The price of your product essentially dictates how your company will promote it. Adjusting the price of your product can have a huge impact on your marketing strategies as a whole.
Companies that are newer to the market may charge lower prices, while established companies will charge higher prices. But consumers usually see cheaper goods as lower quality, so there has to be a happy medium.
In the end, it comes down to what a customer is willing to pay. Figure that out and price where it makes sense.
Questions that you should ask include:
What does the product cost to produce?
What is the customers' perceived value of the product?
How would small price increases and decreases alter your market share?
How do you match up against competitors?
3. Place
Where do customers go to get your product? How is it distributed? This plays a critical role in your marketing mix as you have to be accessible to buyers.
Knowing the right place depends on your understanding of your target market and customer persona.
Whether it's your retail store, your website, trade shows, etc. You have to choose a place to sell your product that makes sense based on the expectations of your customer base.
Questions that guide this area of your marketing mix include:
Where do your customers look for your product?
What kind of stores do potential clients go to?
Will you need multiple distribution channels?
What are your competitors doing?
Do you need an experienced sales team?
Should you sell in an online store?
4. Promotion
Promotion is the bread and butter of your marketing mix. It's how you get your product in front of your target audience.
Promotion covers a wide range of activities that encompass sales, marketing, and public relations.
This includes all of your digital marketing activities such as social media, content marketing, digital advertising, and online word-of-mouth marketing.
Promotion can also include things like co-marketing deals, seminars, conferences, and other events that you attend with the intention of promoting your product.
Important questions for this stage include:
How can you get your marketing messaging in front of your target market?
When is the right time to get it in front of them?
What channels will you use to reach your audience?
Where can you connect with your customers digitally?
What is your competition doing?
5. People
A deep understanding of people is required to effectively market any product, both in terms of the target market that you are trying to reach and the people within your business.
Having a team of highly skilled employees is critical. They may run your sales teams, be experts in specific marketing strategies, run a support ticket, or be part of your financial team — it all matters and affects the outcome for your company.
Find people who genuinely believe in your company and product and want to work with you. Not only will they perform at their best, but your customers will feel their enthusiasm when they engage with you.
6. Process
The systems and processes that your company uses to create the products, deliver them, and provide ongoing support to your customers.
This can include things like the POS software you use, the distribution system your company has created, or any process that generally keeps your company running in tip-top shape.
Processes can be tweaked and optimized to minimize waste and maximize returns.
7. Physical & Psychological Evidence
This is especially relevant in service industries. When you deliver a service, there should be evidence that the service was delivered. If you're a landscaping company, for instance, the fruit of your services should be visible in the client's property.
Physical evidence also refers to how your products are viewed by your customers. Think of Nike — what comes to mind when you think of that brand? You immediately know their presence in their marketplace and the products that they deliver to their customers.
Both physical and psychological evidence should be in place and evident in your marketing. The way that you are perceived is huge for your overall success.
Let's Get Your Marketing Mix Right
Want to have a better understanding of your current marketing operations and identify areas for improvement and optimization moving forward?
Click here to schedule a risk-free consultation with Tony today.