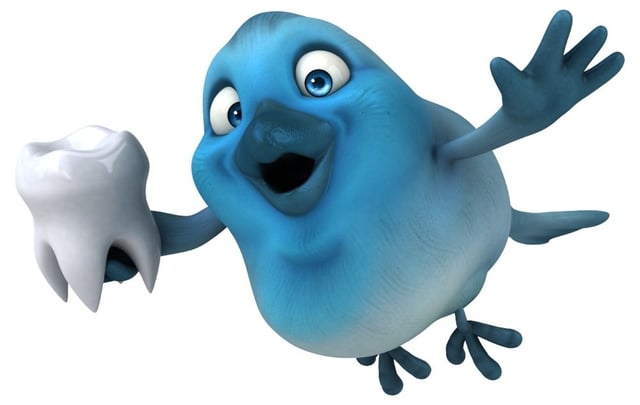 You'll find well over 3 billion social media users online. Many of your existing and prospective patients are eager to engage with your dental practice on their favorite social network.
Therefore, having a social media strategy where you're consistently sharing posts is key to keeping followers connected to your pages.
Social media is one of the best tools to build awareness, promote your dental practice, drive traffic to your website, and capture qualified leads into your sales funnel.
You can begin leveraging all of these benefits simply by publishing content that appeals to your ideal audience.
The good news is, as a dentist, you can share interesting and inspired posts that highlight your practice's personality while showcasing your expertise in dentistry.
Here six ideas to get your creative juices flowing:
#1 Offer Interesting Facts
Social media is perfect for sharing expert advice that's relevant to your audience. At the core of inbound marketing is giving valuable information that informs, inspires, and educates.
It's how you position your dental practice as an authority in your niche while attracting likely patients to your business.
Use this platform to your advantage. What are the common misconceptions about dental health?
What should patients be doing in between visits to maintain a great smile? The good news is, you can share one unique fact per post to maximize your social strategy.
Finally, your blog content offers a slew of interesting facts that can be shared in your social campaign.
By posting a sound-bite from your article along with a visual and blog link, you can send new visitors to your website while giving value.
#2 Add Interactive Content
Interactive content pieces such as videos, quizzes, and surveys add variety and zest to your social posts.
You see, people are engaging differently with content than they did 5, 10 years ago. They're looking for experiences opposed to simply reading text all the time.
Interactive content is special in that it gets followers more involved in your message. By offering variety, you cater to various learning styles and preferences. You'll catch more fish because you're sharing different types of bail.
Another advantage of interactive content is the ability to personalized, unique results based on their responses.
Answers from assessments and quizzes, for example, can give your follower information that can use to personally better their dental health.
Therefore, share these content types in your social media marketing. You can create your own quiz or survey for free using Typeform.
To bolster your lead generation strategy, be sure to ask for their email address in order to receive their unique responses.
#3 Ask Questions to Boost Engagement
Eliciting a response from your followers is the number one goal of social media marketing. Your aim is to create content that gets people to like, share, click, or comment. Posing questions is a top way to getting this engagement.
Asking a question prompts followers to stop, think, and answer…if it relates to their interests. People love to give their opinion and asking a question provides the opportunity to do so.
It also gives you a chance to create conversations around their responses. You'll bring authenticity to your content while encouraging others to engage. It's a win-win.
So ask questions that pertain to your patients regarding their oral health habits. Encourage them to like or comment on the post by giving the call-to-action.
#4 Host Q&A Sessions Using Live Video
Another way to pose questions to your audience is by hosting a live Q&A session using live social video. Tools like Facebook Live and Instagram Stories are making it super easy for brands to connect with and engage their followers.
In fact, people on average spend 3 times more watching a Facebook Live video than a video that's no longer live (Source: Buffer).
Not only is live video an ideal tool to increase awareness, it also improves your organic reach, helping you to get in front of more of your audience.
Therefore, add this tool to your dental marketing strategy. Promote the day and time you'll be broadcasting live in advance to increase viewers and participation.
When hosting your sessions, be sure to document these inquiries as they can serve as excellent content topics for future campaigns.
#5 Inspiring Quotes
Inspiring and motivational quotes and images are highly embraced on social media. People love to be empowered and posting this type of content reveals a lot about what your core values.
You provide more reasons for prospective patients to connect and relate to your practice.
It's also an excellent way to boost engagement. Yet, many marketers are leveraging quotes in their strategy.
Make yours stand out by doing something slightly different: adding your own insights.
What makes the quote so special to you and your team? How does it pertain to your vision? How has it inspired you to get up and go each morning?
Making this small yet profound twist to your social media posts will separate you from the masses of quotes shared daily.
#6 Curate Authoritative Dental Content
Content curation is working smarter with your inbound marketing strategy. By gathering, organizing, and publishing quality-rich content from other sources, you position your practice as a reliable source in the dental industry, cementing your authority.
Publishing others' content reveals you have your patients' best interest in mind, giving them the top content even if it's not originally from your company.
You also fill in the gaps of your own content marketing. If you're short on content to share or need something quick, curating content is your go-to tactic.
You can easily use content curation tools such as Feedly to find relevant articles in your niche.
Yet, several social media management tools like Buffer have a built-in social curation tool that allows you to gather and share posts from your favorite sites. This is highly recommended as its fewer steps you have to take to curate posts.
Implementing this tactic in your dental marketing will certainly keep your social pages fresh with content and save you time in your overall social media strategy.
Conclusion
These posts provide a variety of ways to engage your audience on social media. With many of your current and potential patients looking to connect with you on their favorite networks, it's vital to have an active presence on these channels.
Doing so will help improve your own visibility and awareness, attracting more customers to your practice.
Are you ready to enrich your dental marketing strategy in 2020? Reach out to us here and let's chat! We're equipped to helping you better your inbound marketing and online presence for your practice.
Here are a couple of articles that you may find useful:
Top 5 Dental Software Solutions for Your Practice