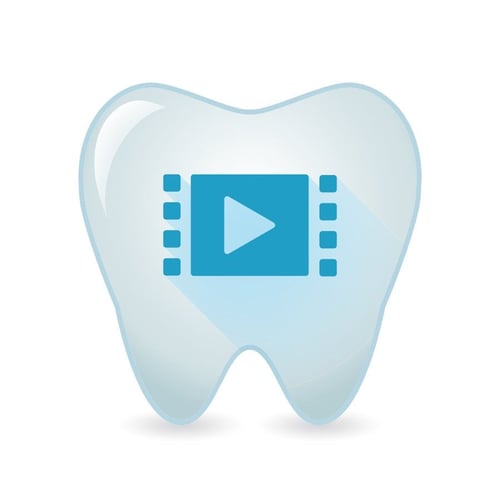 There are few digital marketing channels more beneficial for local service providers than video marketing. For dentists and other healthcare professionals, dental video marketing can help you to connect with new patients, put your expertise on display, and let patients get to know you and your practice before they ever step foot inside the door.
Did you know that more than 500 million hours of video are watched on YouTube every day?
Video marketing offers a unique opportunity to engage with your audience in an incredibly personal way. With the investment in a single video, you'll find an unending number of ways to put that video to use for your business.
You won't just upload it to YouTube and let it sit there. You can email it to your patients and email subscribers, send it to new leads as they arrive, and use it during your sales processes.
As you consider dental video marketing as a way to connect with patients and give yourself some content to use at different points in the sales process, there are a few things that you should take into account throughout the process:
Put Your Practice Culture on Display
As a dentist, your patients already expect that you are an expert. While you still want to put your expertise on display, video marketing really shines in highlighting your personality and the culture of your team.
Videos can be a great way to provide a sneak peek into how your team interacts with each other and clients before they ever step foot inside your office.
Patients want to know that they are going to a warm and inviting environment, where the team as a whole cares about their health and well-being.
Highlighting the way that you interact with patients and giving them an idea of what they can expect when they come in for their cleaning (or other procedure) can be a great way to relieve doubts and worries that they might have had about your practice.
Showcase the culture of your practice. Give them an idea of what your brand means to you and what you want it to mean to them. If you run a family practice, show scenes of you interacting with families and children to drive home the fact that you are a great choice for their family.
Through video, you have the ability to let potential patients learn a lot more about your practice than they would through a newsletter or other marketing materials. Today more than 87 percent of online marketers use video content in some form.
Let's take a look at some examples of how you can use dental video marketing to inform prospects about your practice and highlight your experience:
Dentist Introduction Videos Give a Face to the Name
When patients are choosing a new dentist, they want to see behind the curtain. They want to know that the person working on their teeth is not only experienced and professional but also has a personality that will be a good match for them as a patient.
Recording an introduction video can be a great way to explain your experience and go over your career in the field while giving prospects a chance to get to know you a bit before their upcoming appointment.
A video conveys professionalism. It shows that you have invested into your practice and are not afraid to put yourself out there front and center to win new business. Video can be a great source of content for inbound marketing.
A dentist's introduction video is a good place to start with video marketing for dental practices. It's the number one thing patients want to know — what is the doctor like and how can I find out more?
A great introduction video like the one in our example of there is short, to the point, and gives people an idea of what to expect from your practice. Videos up to two minutes long typically get the most engagement from viewers.
Practice Overview Videos Help Patients Connect
In the same vein as dentist introduction videos, practice overviews can be another way to help your audience connect on a more personal level. In the example above, a practice with several dentists goes over their credentials and introduces the practice as a whole.
This concept could be expanded even further and can be a great way for smaller practices to really let their prospective patients get to know their business.
You could introduce your receptionists, dental assistants, and hygienists. Letting them meet everyone inside of your practice is a great way to convey the type of culture that you offer and helps them develop a more personal connection with your team.
Explain Complicated Dental Procedures to Clients
As a dentist, you probably spend a lot of your time explaining complicated dental procedures to your clients. It's a big part of the job.
However, in the example above, dental implants are explained in a detailed way with visual aids that help patients to understand how the procedure works. Investing in having videos like this one created can be a great way to put your expertise on display while educating your patients at the same time.
Consider the most complicated procedures that you perform. Which ones do patients have a hard time understanding? Are there procedures that are difficult for you to explain without the help of visual aids?
Investing in videos can help you to ensure that your patients have a full understanding of the service that you are recommending.
Patient Success Stories Increase Patient Confidence
In choosing a new dental practice, patients want to know that you're able to deliver positive outcomes every time that they see you.

Telling them about your experience is great, but if they can hear it from a patient it is much more likely to make an impact in their decision-making process.

For this reason, patient success stories can be a great way to quell worries and put new patients at ease.

Choosing a few patients that have had excellent experiences at your practice and filming quick interviews with them about their experience is simple, inexpensive compared to the more in-depth videos you could make, and will have a profound impact on your sales.
In-Depth Talks and Seminars Display Expertise
If you speak at seminars or give industry talks, uploading and sharing those can be a great way to convey authority and let your patients see that you are an authority within your own community.
Keep in mind that you may not always have permission to share the videos taken at conferences. If you can secure permission, allowing your patients to see you talk about your craft can give them confidence in your service.
Dental Videos Convey Authority and Win Sales
At RiseFuel, we know the impact that professional videos could have on your business. Publishing videos for the purpose of marketing your dental practice can help to develop more personal connections with your clients and win more sales.
While it is an investment, a professional dental video can be used for years to come and give patients a sneak peek behind the curtain of your practice.