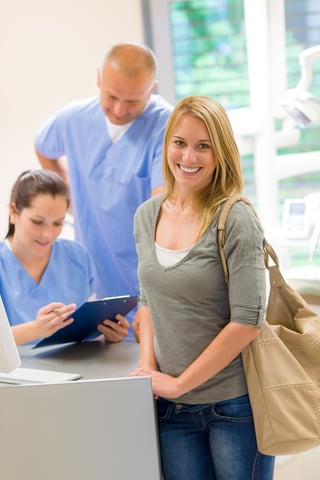 We can agree your patients are using the internet to search for dental inquiries, connect on social media networks, set appointments and make purchases.
In an ever-evolving digital era, traditional and outbound tactics simply do not have the same effect on driving awareness and revenue as they once had.
Most consumers desire to be educated and informed before they consider visiting your office. This is why content marketing is extremely important for your business as we approach 2020.
Dental Inbound marketing attracts clients to your brand through valuable, engaging messages that help your patients overcome or solve a problem.
Rather than using paid ads that promote your practice, you're showing up as a solution provider. People will be more receptive to you because of the value given.
In fact, here are six compelling reasons why inbound marketing is important for dentists and how it's a more effective approach to attracting new patients and building a long-term sustainable business:
#1 Cements Your Expertise and Authority in the Dental Industry
Dental Inbound marketing is one of the best ways to position you as a leader and authority in dentistry.
From blogging to informative social media posts, videos, and podcasts, using these platforms to offer valuable information to help your audience puts you in a more positive light.
Rather than trying to sell your services, you'll quickly gain trust as potential patients look to you as a valuable source.
#2 Increases Visibility on Top Search Engines
Search is the #1 tool consumers use to look up information, find answers to questions, and discover new brands. Google handles an incredible 2 trillion search inquiries annually.
Additionally, 81% of shoppers conduct online research before deciding to make big purchases (Sources: Hubspot). Therefore, it's important to show up when your audience is looking for you on search.
A working inbound marketing strategy gets you in front of your ideal customer on Google, YouTube, and Bing.
By implementing sound SEO practices and maintaining a consistent content strategy, you'll increase traffic generation coming from the top search engines.
It's a great way to increase visibility and drive new people to your pages.
#3 Fosters Authentic Relationships on Social Media
Boasting over 3 billion active users, your audience is present on social media.
These networks have proven to be a viable way for brands to connect, engage and build relationships with followers and customers.
In fact, one-third of millenials prefer to communicate with businesses on social (Source: Business2Community).
So, inbound marketing allows you to strategically promote your practice while creating genuine connections with your followers.
By posting content that offers advice, how-to demonstrations through video, and inspiration using quote images, you'll capture attention and further humanize your brand…making you super relatable.
#4 Drives Quality Traffic to Your Website
Did you know companies who published 16+ blog posts per month received almost 3.5 times more traffic than brands who post only 0-4 monthly? These same companies also generate 4.5 times more leads (more on this next).
One of the biggest challenges many businesses experience in their digital marketing is driving traffic to their websites. Failing to generate enough visitors yields low leads and sales.
Your strategy becomes ineffective because you're not producing favorable outcomes that create business growth.
A rich inbound marketing strategy includes a regular blogging cadence, which drives quality traffic to your pages.
The huge advantage is that these visitors are interested in your content, making them excellent candidates for leads and prospective patients.
#5 Improves Lead Conversions
Growing your email list is the lifeblood of your business. The more leads your business has to work with, the more opportunities created for increasing sales and revenue.
Email marketing is a big component of inbound marketing. By nurturing your leads with remarkable content, you'll move them closer to setting an appointment with your practice.
You'll continue to position your brand as an expert, sharing information they can use to have excellent dental health and overcome common challenges in this area.
Email is a top tactic for boosting revenue and fostering repeat business. Your inbound marketing strategy will set you up for long-term growth that can be scaled year over year.
#6 Creates Loyal Customers
The final reason why inbound marketing is important for dentists is it creates loyal raving fans of your brand.
You see, as you continue to delight your patients through segmented email campaigns, preferred "customer" programs, and content that pertains to their problems, they will stay connected to your practice.
They'll also refer you to their family and friends. According to Zendesk, 87% of customers share their good experiences with others.
Your patients are more likely to share your content on social media, for example, providing you with greater exposure simply due to your remarkable content strategy.
Inbound marketing doesn't end with the sale. It cultivates patients beyond the appointment, providing an exceptional experience with your dental practice.
Conclusion
Implementing inbound marketing is crucial if you desire to remain competitive in an ever-evolving digital era. Your prospective clients are expecting to find useful content from your brand to ultimately assist them in deciding to do business with you.
Maintaining a consistent content strategy gets you in front of your ideal customer, sets you apart from other practices, and helps hone relationships that convert followers into leads, and leads into customers.
It's simply the best way to promote and build your brand in 2020.
Looking for ways to better your dental marketing in 2020? We specialize in dental offices that want to scale and grow. Reach out to us here and let's chat!
We're equipped to help you get in front of new patients, improve your online presence, and create real results from digital marketing.
Check out our Dental Inbound Marketing page.