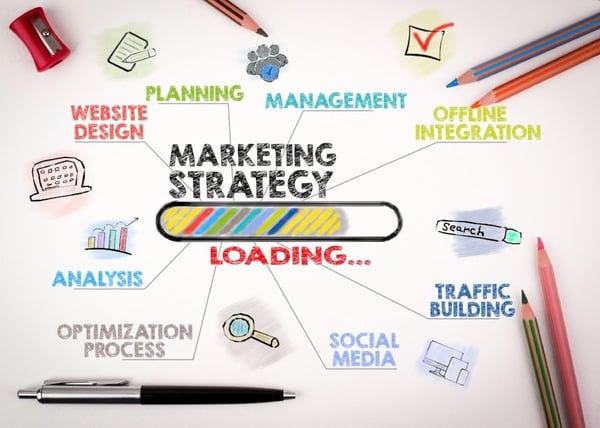 For dental practice owners, putting together your first marketing plan can be a difficult task. As a dentist, there is a good chance that you don't have any experience in marketing. There is a lot that goes into putting together an effective digital marketing campaign for a dental practice, particularly in cities that are competitive.
At RiseFuel, we work with doctors to put together simple but effective marketing plans that grow your reach in your local area while establishing your practice as an authority in your industry.
In this article, we'll go over the specific steps that all practices must take when putting together a marketing plan that results in long term success.
Before we begin, it is important to understand that a general, broad marketing plan is only the first step. For each strategy that you use, you'll have to put together separate marketing plans that outline the steps that you will take to make that particular strategy successful.

Identify a Specific Goal
The first and most important step in putting together a dental marketing plan is defining a goal for your marketing efforts.
What is the most important thing that you would like to accomplish with your new campaigns? Do you want to focus on new patient acquisition? Do you want to sell a specific service? Do you have revenue goals? Are you looking to up-sell existing clients?
Every campaign that you launch needs to have a specific goal in mind. This is so your marketing messaging can be specifically tailored to that goal.
Additionally, boiling down each campaign to a singular goal makes it easier for you to evaluate your campaigns and test changes to those campaigns as time goes on.
Decide on a Specific Service to Market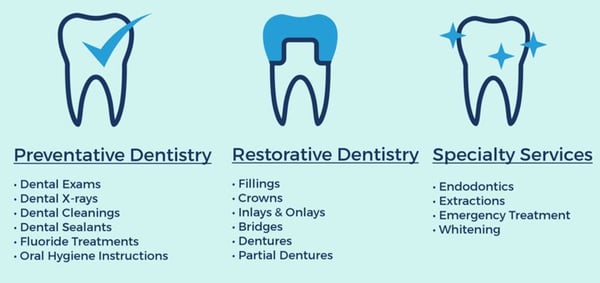 When you send marketing messages to prospects or show ads to those within your demographic, you don't want to point them toward a laundry list of services. That puts too much choice squarely on their shoulders and makes it too difficult to capture their attention.
Instead, pick a specific service that you want to promote through your marketing as a hook to bring new clients into your practice.
Focusing on a specific service makes it easier to attract people that are specifically looking for the service that you are marketing. It could be a basic dental cleaning service, Invisalign sales, or any other popular dental services that you offer.
Keep in mind that the service that you offer needs to be one that prospective patients already know that they need, which can make certain dental issues that are usually spotted during a cleaning a more ineffective choice for your dental office marketing plan.
Remember that the demographics and strategies that you use can differ quite a bit for each service and may require that you put together completely separate marketing plans.
Establish Your Unique Value Proposition (UVP) to Stand Out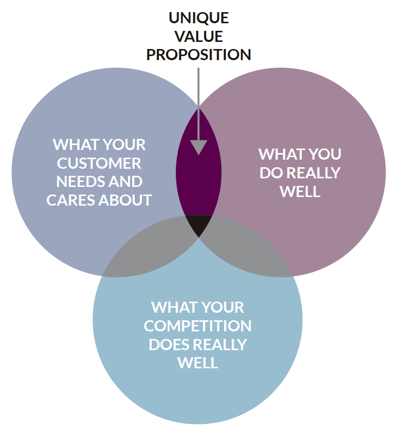 Source: Social Impact Architects
What is the one trait of your practice that makes you stand out? Your Unique Value Proposition is the thing that separates you from the competitors in your area.
A few examples of a unique value proposition for dentists include:
Exceptional customer service. Do you make customer service a huge priority for your clients? If you go above and beyond, this is a huge selling point for new clients that are looking for a more personalized service from their dentist.

A track record of experience. If you have been a practicing dentist for 30 years, that is a very effective UVP. It shows your clients that you are experienced and reliable.

Payment options. Do you have a system in place that keeps them in the loop and helps them to

afford your services

more easily? Many of your clients will not have insurance for dental services and offering several payment options can be a great way to make your service more enticing.
These are just a few of many different types of UVPs that can help a dental practice to stand out in their dental office marketing plan.
Understanding what separates you from your competition is imperative for being able to market yourself effectively. Once you decide on your UVP, it will likely be included in all future marketing messaging that you get in front of clients.
Know Your Audience
To market your services effectively, you have to define the demographic that you will be marketing to. Demographics describe traits like age, gender, income, and location.
If you are marketing your services to mothers of children, you're messaging will look very different than if you were marketing your services to senior citizens.
They have different desires and different needs completely. Imagine sending marketing for denture fitting services to younger clients — you would be unlikely to see any positive results.
Identifying your target market is a huge part of putting together a dental marketing plan that is effective and provides a real return on your investment. Remember, you can always create separate plans for your different services and demographics that you will be marketing to.
Setting a Budget
Your budget plays a huge role in the different strategies that you can use and the scale of your marketing operations in general. Start by outlining a monthly and yearly budget that you can reasonably spend on marketing.
Don't make it so large that it will affect your daily operations, but at the same time, make it large enough to have an impact on your business.
Dedicating $100 per month probably isn't worth your time, but dedicating a $2,500 is a modest budget that could have a measurable impact on your business.
Once you have set your budget, you will need to revisit it every so often. If you start making more money, you'll have more money to invest in your marketing. Your dental office marketing plan should account for this. Make sure that you are choosing strategies that can reliably ramp up with an increase in investment.
Choose a Strategy
You can't have a dental marketing plan without choosing a strategy. You can choose to go broad, and put together a plan that includes several strategies, or you can keep it narrow and focus on a specific strategy. Your budget will dictate what you can afford to pursue.
At RiseFuel, we recommend several digital marketing strategies for dental practices, including:
Measure and Iterate
Once you have chosen your strategy and begin sending out your marketing messaging, the next step in the process is to measure your results and iterate to improve upon those results.
If you aren't measuring the effectiveness of your marketing it is impossible to improve as time goes on. Work with a dental marketing agency to optimize and improve your marketing as time goes on to make your marketing budget stretch farther.
Tying It All Together
Putting together a dental marketing plan can be difficult if you have never done it before. However, with some careful thought and foresight, you can put yourself in a position for measurable success.
It may take time for the results to come pouring in, but once they do you'll be happy that you took the time to put together a solid plan.
At RiseFuel, we work with dental offices around the U.S. to effectively market themselves in their local communities and establish themselves as true authorities by publishing valuable content that genuinely helps their customers.
A dental marketing plan is the first step of many that come with growing a dental marketing practice through thoughtful and precise dental digital marketing strategies. Contact us if we can help in any way.