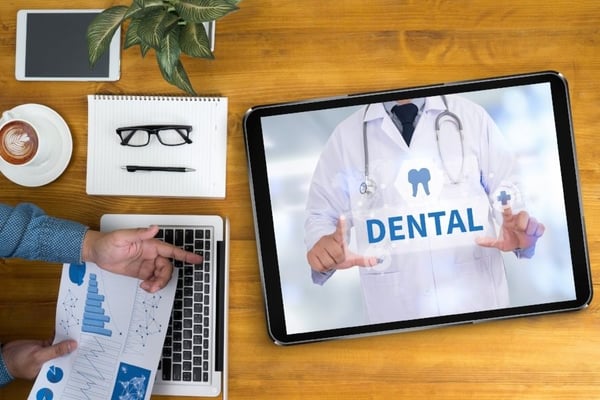 As a dentist or dental practice manager, finding the right dental website designer is a very important step toward improving your practice's online presence. Your website tells your customers a lot about your business.
A great dental website will convey professionalism, educate your audience, and help them identify the services they need most.
At RiseFuel, I have worked with many dental practices to help them formulate a marketing strategy that helps them expand their presence in local search and social media.
We do this through the creation of high-quality websites and publishing valuable content that answers the biggest questions that your customers have about your practice, products, and services.
With that said, there are a few key things that you should look for when you search for a dental website designer.
Keep these traits in mind as you evaluate the options in front of you:
An Impressive Portfolio of Dental Websites
You want to hire a website designer that has an extensive track record in creating high-quality dental websites. In fact, they should specialize in your industry if possible.
As a result, their portfolio should be chock-full of dental website examples that impress you and make you want a similar level of quality for your own website.
Any designer with a wealth of experience in the dental industry should be able to show you many examples of companies that they have designed websites for, with specific requests that they can point to on each website that show that they will work with you to deliver a final product that meets your needs.
Case Studies That Show Marketing Success
Ultimately, your website is your best advertisement for your services. It gives you an opportunity to put your best foot forward and is an integral piece of your online presence.
It's a piece of marketing collateral that will play a key role in your ability to secure new business through digital channels. For that reason, you should always treat your website as a marketing asset and should demand to work with a dental website designer that does the same.
Any competent designer should be able to show the results they have been able to provide to previous dental clients.
Did their website lead to an increase in sales and revenue? Did the marketing automation that they implemented help the practice in other ways?
Is there data to verify the benefits that they delivered? A designer without the ability to show hard data is someone that you should avoid.
Excellent Copywriting and Content
Your website is only as effective as the message that you are able to convey. When you evaluate website designers, don't just look at how nice the websites in their portfolio look — pay special attention to the copy and marketing messaging on the websites as well.
Ensure that their portfolio demonstrates an ability to effectively position the companies they work with as leaders in their industry.
This may require that they work with a professional copywriter, which is a marketing writer with experience crafting content that leads to sales.
Positioning is just as important for speaking to your audience as professionalism is in the design of your website.
A well-executed content strategy can be the defining difference between you and your competition and excellent copy and content are always worth the investment.
Tools for HIPAA-Compliance
As a dental practice, HIPAA compliance is always going to be one of your primary concerns.
An experienced dental website designer should have experience dealing with HIPAA compliance and be able to deliver solutions that meet your needs.
A dental website must be SSL certified to provide security to any data that you collect, receive, or send through your servers.
Source: 24BY7 Security
Mobile-Ready with Responsive Technology
Google prioritizes websites that are mobile-friendly, particularly search results pages for their mobile users. If you are unsure about whether or not your website is currently mobile-friendly, you can use Google's mobile-friendliness test tool to see.
Any design you invest in today should be mobile-friendly and utilize responsive technology, which is the technology that Google has backed for mobile-friendly websites.
Work closely with your designer to ensure that your website checks all of the boxes in regard to mobile usability.
A Strong Track Record with SEO
Local SEO is one of the most important channels for dentists to acquire new business through digital channels. Any designer you work with should design websites with strong SEO principles.
In the end, your standing in search will be so important to your overall digital success that you have to ensure that your website is built with SEO in mind.
Any designer that you hire should be able to show a track record of designing websites that have performed well in search.
At RiseFuel, we offer both dental website design and search engine optimization services. The two are intertwined in our offerings. You can never have one without the other.
Scheduling and Automation
Having a new website designed for your practice isn't just about looking professional or having a website that follows the design trends that are popular today.
Your new website must also enable you to perform better, smarter digital marketing tasks. For dental practices, scheduling appointments and automating your marketing message is just as important as the design itself.
Working with a designer that also offers marketing automation services will put you in a position to further bolster your digital marketing efforts and get the most out of your investment in a new web design.
Your prospects will require fewer touches on their path toward becoming valued clients, and you'll build stronger relationships with them.
Dental Website Design Is More Than a Great Looking Website
Your practice's website is the most integral digital marketing asset that you own. It is often the first thing that potential clients see when they begin to research dental practices in their local area.
Your dental website needs to be built with SEO, marketing automation, and HIPAA compliance in mind.
If it is not, you may find yourself investing in another design in just a few short years when you find how integral those aspects are to your overall digital marketing presence.