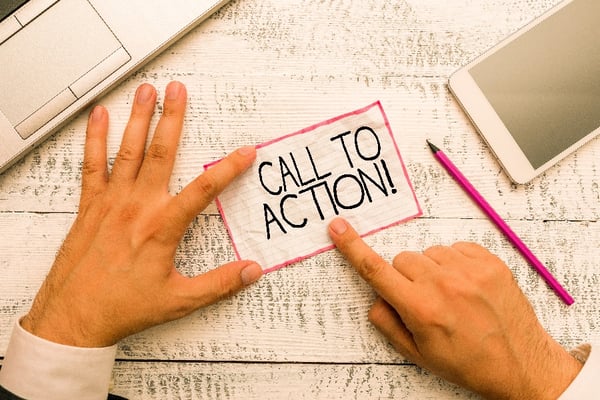 A call to action (CTA) is a statement that is designed to elicit a specific response from a reader. Every time that you browse the web, you likely see dozens, if not hundreds of calls to action during a single browsing session.
Calls to action are a marketing strategy that is used in business to get your target market to respond through action.
The most common place that you will see a call to action is at the end of a sales pitch. Calls to action are designed to not only entice the reader to action but provide them direction on what they need to do next.
A call to action is most often delivered in text form. You might see a "Sign Up Now," button on your favorite website, or a "Subscribe Now" button on a blog that you read.
However, a call to action can be delivered through audio, video, or any medium. It is simply a direction that you would like the reader to take.
Calls to action are important because while it might seem like the next step that customers need to take in order to do business with you is obvious, the truth is that most prospects require a little bit of direction.
Here are some stats that show just how important a call to action can be to your overall success:
90% of visitors who read your headline also read your CTA copy. (

Unbounce

)





A personalized call to action converts 42% more visitors into leads than an untargeted call to action. (

HubSpot

)





Adding a call to action to a Facebook page can increase click-through rate by 285%. (

AdRoll

)
In this article, we'll show you examples of different types of calls to action that you can use to provide direction to your own customers and prospects.
With those examples, we'll highlight what is good about them and provide some simple tips that you can use to inform your own marketing strategies.
Call to Action Example #1:
Here's a great example of an effective call to action from an email series from Bob Bauman, a company that offers survivalist products.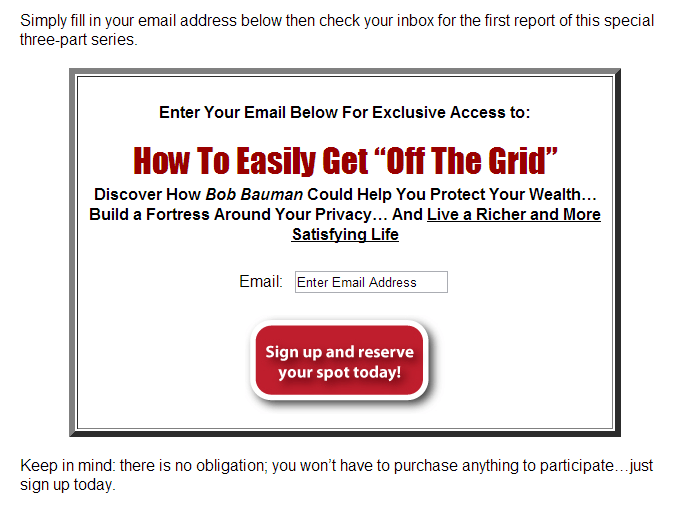 This call to action invites readers to "Sign up and reserve their spot today." All it requires is that they fill in their email address.
But take note of the elements that surround the nuts and bolts. The headline — "How to Easily Get Off the Grid," — is crafted with the specific audience (and the content they usually engage with) in mind.
Then, the sub-headline touches on other worries of that audience such as protecting your wealth, privacy, and living a better and more satisfying life.
Below the call to action, serving as a "P.S." is a blurb ensuring them that there is no obligation and that they aren't required to purchase anything to participate. This helps to quell fears that they may be charged if they follow the CTA.
This call to action makes some pretty big promises to Bob's readership, which is fine. But you do have to have a product that can back up the claims that you make.
This is the type of call to action that you would use if you know your audience very well. You know what they want and can use your call to action to position your product as the solution to those needs.
Call to Action Example #2:
Here's another great call to action, one that may be similar to others that you often see around the web.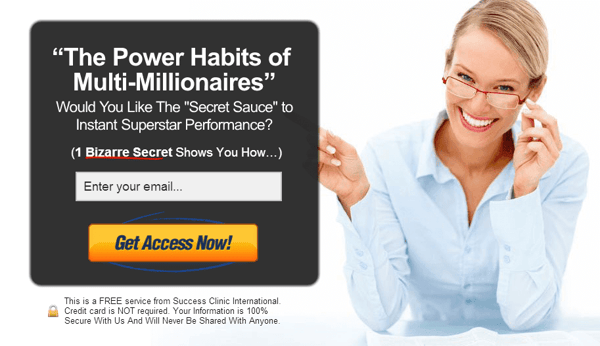 This is a typical call to action that you might see on websites around the web, trading your email in exchange for a free resource.
This particular call to action is promising access to a resource named "The Power Habits of Multi-Millionaires." It goes on to promise a "secret sauce" that leads to "instant superstar performance," and "1 Bizzare secret that shows you how to reach that level."
The "Get Access Now!" button is clear and lets users know exactly what they should expect if they provide their email address.
Also note the blurb below the call to action, letting users know that the service is free, that they do not need to provide a credit card, and that the information that they provide will never be shared.
This can help to ease fears that drive visitors away from converting.
This example represents a simple but effective example of a web-based call to action.
Call to Action Example #3:
Of course, we wanted to make sure that we included at least one of our own examples on this list!
Like the previous example, this call to action is designed to convince the reader to provide their information in exchange for a free download of a coveted resource.

This is the call to action that we used in our Guide to the Best Lead Generation Companies in 2020 post.
It's important that you have that context because this call to action is narrowly aligned with the content that the reader was engaging with at the time.
They land on our "Best Lead Generation Companies" article (usually through Google) and then are offered a resource that will help them to generate leads on their own if they decide not to work with a third-party company.
This call to action promises to deliver "The 30 Greatest Lead Generation Tips, Tricks, and Ideas," along with the best lead-generation content and page design tips.
In-content calls to action like this are very effective because:
They are narrowly aligned with the subject matter. You know the reader is already interested in what you are offering.


They don't require a lot in exchange for the value. In this call to action, the reader receives access as soon as they provide their email.


The value is immense. It not only delivers 30 of the best lead generation tips but also provides tips for content and page design as well.
Call to Action Tips
Getting your call to action right can be difficult for those that don't have a lot of experience in marketing.
However, by following these very simple tips, you can ensure that you are calling your readers to action in a way that will entice them to engage.
Here are some simple tips for improving your call to action:
Align your call to action with the content on the page. Like in RiseFuel's example above, the more aligned your offer is with the content on the page, the more likely your readers are to convert.


Use a command verb as the first word in your CTA. If you run an e-commerce shop, your calls to action should probably start with words like "Buy," or "Shop." "As in "Buy Now" or "Shop Now." The action part is important here. Give your readers a command on what step to take next.


Provoke emotion. Like in the Bob Bauman example above, pull at the heartstrings to increase conversion rates and get readers to take action.


Value above all. Your readers are only going to give you their email address (and therefore agree to receive your marketing emails) if they think it is worth it. That means that they have to receive something truly valuable in return.
Direction Drives Engagement
A killer call to action helps to push readers into your sales funnel, provide them with directions on the next step to take, and ultimately helps companies to get users to take initiative to push their relationship forward.