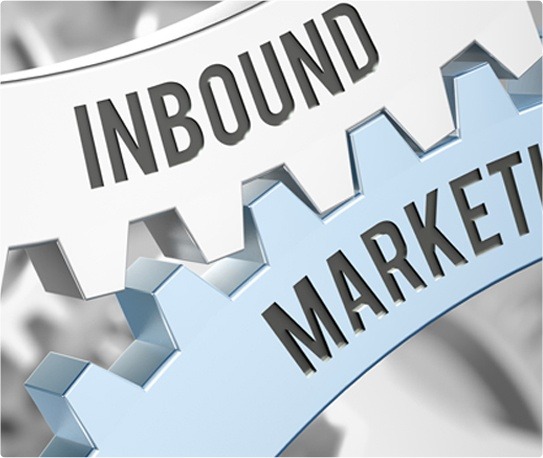 Inbound marketing is a powerful but difficult strategy to execute. The focus on providing value and earning the attention of your audience means that you constantly have to go above and beyond to capture the attention of your target market.
When you're in a very competitive industry, that means that you really need a sharp team to design and execute strategies that help you to stand out from the competition.
I've worked with companies in a wide range of industries, crafting compelling content that speaks to the biggest concerns of my client's customers. The approach is different in every industry but one constant remains the same — quality.
Your customers know quality content when they see it. They know when you are pushing the boundaries and when you are simply just dragging your feet.
Capturing their attention is one thing. To keep it, you have to deliver a consistent stream of high-value content.
When you interact with top-tier inbound marketing content, there is a good chance that you don't even realize that you are being marketed to.
It just feels different from the traditional outbound marketing advertisements we're used to being bombarded with.
Truly great inbound content is so helpful or inspiring that you don't feel like you are being sold anything other than the expertise of the company that published it.
To show this, I'm going to go over some examples of high-level inbound marketing campaigns from some of the world's largest brands:
AMEX Offers Financial Advice on the OPEN Forum
American Express first launched the OPEN Forum way back in 2010. It was one of the earliest examples of a Fortune 500 company diving headfirst into inbound marketing at the time and it has only grown since its earliest versions.
Today, the AMEX OPEN Forum is an online resource and article repository that covers a wide range of topics relating to money management and business. They have gone to great lengths to create a sense of community and allow their users to take part in the discussion.
Their website has a personalized user experience that adapts to your interests. When a user signs up, they are prompted to choose the sections of the website that appeal to them.
From there, the website adapts to their interests and shows them a personalized homepage with the content that they will find the most appealing.
American Express publishes dozens of pieces of content every day and continues to grow its community more than eight years after its initial launch. The OPEN Forum is a great example of inbound marketing done right.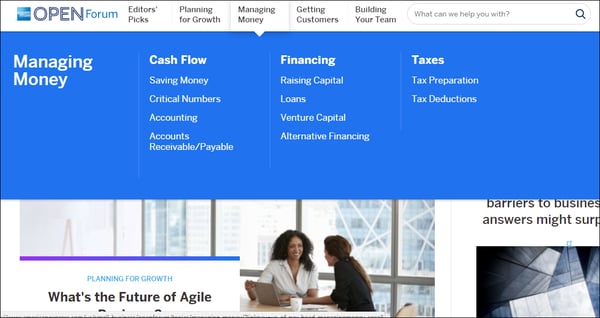 Microsoft Creates Detailed Story-Driven Content
Great marketing relies on storytelling to make a connection with visitors. Microsoft has embraced that concept fully in their Microsoft Stories blog, proving that B2B content doesn't have to be boring at all.
Taking a more journalistic approach, Microsoft consistently publishes high-quality stories with a focus on visual quality with each piece that they publish.
Everything they publish has a heavy visual component, whether it is just a great piece of journalistic writing with professional photography or an advanced piece of content with parallax scrolling and beautiful illustrations.
The content published on Microsoft's Stories blog doesn't read like your typical B2B blog. It's more reminiscent of feature journalism. It serves as an excellent example for companies that want to strive for more with their inbound content.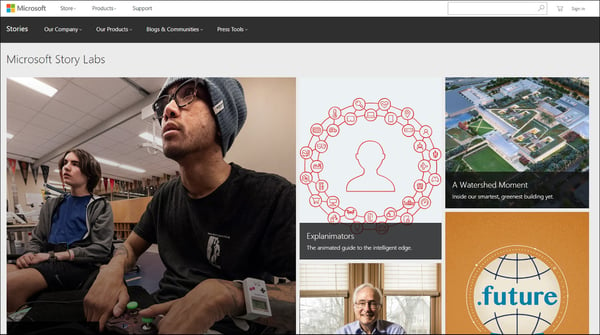 Tesco Delivers Creative Product-Centric Content to Their Customers
Tesco is one of the world's largest international grocery companies. As a grocer (among other things) you might wonder what kind of content Tesco could create that would bring new customers to their brand.
Tesco has placed an increased focus on creating high-quality inbound content in recent years.
That is apparent based on how much of the company's homepage they post recipes, homemaking tips and tricks, and creative articles that give readers ideas on how they can use their products.
GoPro Puts Their Product to the Test by Focusing on Extreme Sports
There are few brands out there that do inbound marketing as well as GoPro. Their product is a small handheld camera that is able to withstand even the most determined beating.
Their marketing teams decided that there was no better way to show the world what their product was capable of than showing it being used to film some of the world's most dangerous stunts.
GoPro has published thousands of videos taken with their product. Some of the extreme sports that they have filmed include jumping out of an airplane (in a pink gorilla suit no less), car racing, shark diving, wingsuit flying, and bungee jumping.
If it's a dangerous sport, GoPro has filmed it using their camera.
The company took the concept a step further by encouraging their customers to upload their own videos taken with their GoPro camera.
An entire community has grown around GoPro cameras and extreme sports, helping to bolster their inbound efforts.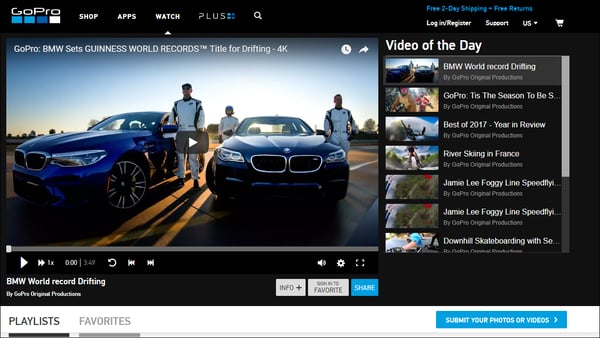 HootSuite Creates Elegant, Professional Video Case Studies
Case studies are a core piece of content for any B2B inbound marketing strategy. We create case studies for most of our clients here at RiseFuel, but HootSuite takes things to a whole new level with their "HootSuite Customer Stories" section of their YouTube channel.
Their company took the concept of the standard text-based case study and translated it into professional videos to help them tell stories and connect with their audience.
To date, Hootsuite has published nearly 20 video case studies.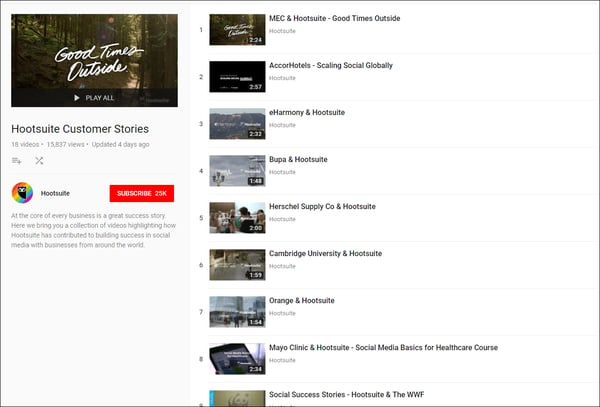 Chipotle Designs a Retro Game to Connect with Millennials
In 2015, Chipotle was looking for a way to stand out and catch the attention of millennials. In September of that year, they launched a retro-style 8-bit video game that allowed players to shoot down the "bad guys" — sodium, sugar, and other additives that weren't included in their own food.
It was a fun and simple way to gain some attention. While the game is no longer available to play when it launched it did garner attention from some of the largest publications in the world.
This is a perfect example of the fact that inbound marketing can be relentlessly creative. Finding innovative and unique ways to connect with your audience is critical for success.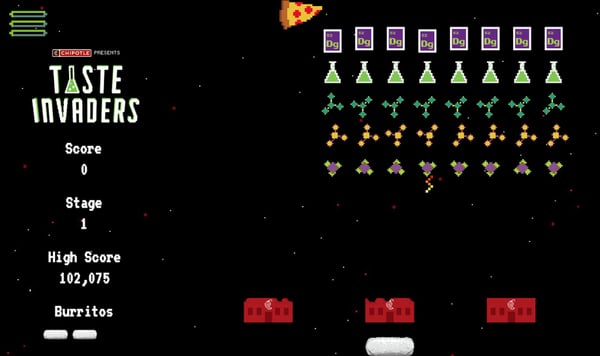 Inbound Isn't Just for Small, Scrappy, Startups
Inbound marketing isn't the lesser-known, niche digital strategy that it once was.
Today the largest brands in the world are investing heavily in inbound marketing to grow their authority within their industry and connect with customers.
The examples in this list show that creative applications of the strategy can help you to stand out from the competition and capture the attention of your ideal customers.