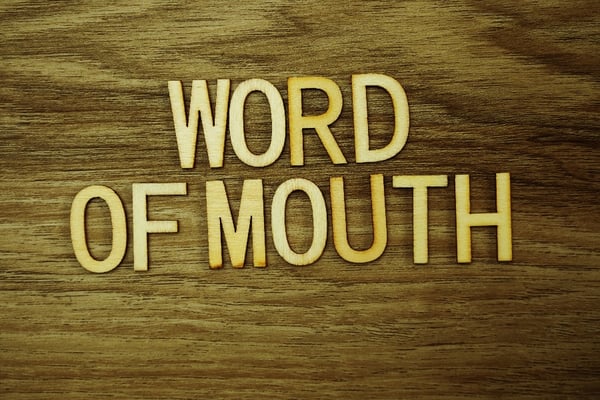 Finding new ways to bring valuable customers into the fold is a constant struggle for most companies. Squeezing the life out of every opportunity in front of you requires constant vigilance and an ability to recognizing those opportunities as they arise.
Word of mouth marketing is a channel where many companies are falling short of their potential.
For many, it could be one of their main channels for new customers and impactful business relationships if they were to put more focus on developing a cohesive strategy.
Let's take a look at a few statistics that show just how important word of mouth marketing can be for your business:
Product recommendations go a long way with customers. But only 33% of businesses actually have a strategy for collecting reviews.
In this article, I'll cover some dead-simple strategies that any business can employ to facilitate word-of-mouth marketing and increase their sales through an underutilized channel.
What is Word of Mouth Marketing?
Before we dive into those strategies, let's start by defining what word of mouth marketing actually is. Traditionally, word of mouth marketing was any marketing message that spread to one person or another in conversations and recommendations.
Modern word-of-mouth marketing is a bit broader, encompassing targeted efforts and strategies that companies can use to get customers to share their products with friends and families.
The era of social media has changed the way that businesses have to view word-of-mouth marketing but has also opened the floodgates to a wealth of strategies that make it more impactful than it ever has been before.
While companies do run detailed campaigns to amplify their word-of-mouth returns, organic word of mouth still occurs naturally as your customers become advocates of your brand because they are happy with your products and have a desire to share them with others.
Source: ModernComment
Benefits of Word of Mouth Marketing
Word of mouth is the "golden goose" of marketing in many industries. It provides a number of benefits that separate it from traditional marketing and advertising strategies.
These are some of the reasons driving the focus on facilitating word of mouth recommendations in recent years:
Grow your sales without increasing your ad spend.

Brands that rely heavily on advertising know just what a double-edged sword it can be. Word of mouth marketing costs you nothing other than the groundwork that you lay to create an advocate for your business and continues to bring in new sales for years to come.



Create a community around your brand and product.

When you are able to generate a healthy number of advocates for your brand, you build an engaged fan base rather than a list of customers. Those customers will interact with each other on social media and compound the returns by bringing more near-advocates into the community's fold.



More liquidity.

When your brand doesn't have to dedicate so much of your capital toward advertising, you have more freedom to expand in other ways. Word of mouth marketing leads to higher customer lifetime values and lower customer acquisition costs.
Word of mouth marketing helps to increase brand loyalty, trust, and awareness among interested parties in your industry.
Source: LeagueSide
3 Examples of Effective Word of Mouth Marketing Strategies
Now let's dive into some specific word-of-mouth marketing strategies that you can use, along with some real-world examples of those strategies in action.
#1: Ambassador Invites
Your most valuable resource when it comes to building a word-of-mouth marketing strategy is your most loyal customers.
The type of customers that come back again and again to buy your products will be the ones that are most likely to go out of their way to share your products with friends and family.
One of the simplest steps that you can take to start generati sales is to simply ask these customers to talk about you. You can offer a simple reward for sharing your products or services with friends.
Let's look at an example of this in action. The Hustle sends an ambassador promotion email a few months after someone joins their program, asking them to refer them to friends and offering a few perks that loyal customers will jump at in return:
To date, this email has leveraged their 500,000+ subscribers to create more than 4,000 brand ambassadors that share The Hustle with 25 people on average.
#2: Create Something Unique and Buzzworthy
If you want people to talk about your brand, you have to give them something they are eager to talk about. Creating something that is unique and different in an industry that really needs it is another way to get people talking about your brand.
That doesn't mean that you need to break new ground completely. You just need to do something in a new and interesting way. It could be the way that you package your product or services or the way in which customers receive it.
A great example of this comes from Dollar Shave Club. They identified an opportunity in the men's grooming industry, where replacement razors were overpriced and a hassle to remember to buy.
They responded by packaging everything a man needs to get a clean shave — razors, lotions, and other products — in a convenient monthly subscription box.
We've seen this model explode in recent years, but Dollar Shave Club was truly one of the first to pioneer the subscription box.
By taking a product that all men needed and packaging and delivering it in a convenient way that saved the customer money, they were able to generate a ton of success through word-of-mouth marketing.
During their initial launch, they gained 12,000 customers in 48 hours.
#3: Surprise Your Loyal Customers
There are few things that increase loyalty to your business and get people talking as much as giving something away for free.
By sending something cool to your most loyal customers (the ones that are already more likely to recommend your product to friends or family) you can jump-start conversations about your business on those platforms.
Here's a great example from Sephora, who occasionally sends free birthday gifts to their most loyal customers:
Source: Oberlo
These kinds of gestures can trigger your customers to share your gift with their social media followers, recommend your products to friends, and come back for repeat purchases.
A Reliable Strategy for Growth
Word of mouth marketing and true brand ambassadorship takes a while to cultivate. You really need to have a healthy number of loyal customers that will happily share your products or services with friends or family to see reliable results.
However, once you have these customers you can leverage them with unique strategies to get them talking about your brand and fostering even further loyalty from already-loyal customers.
More Interesting Articles to help marketing success: