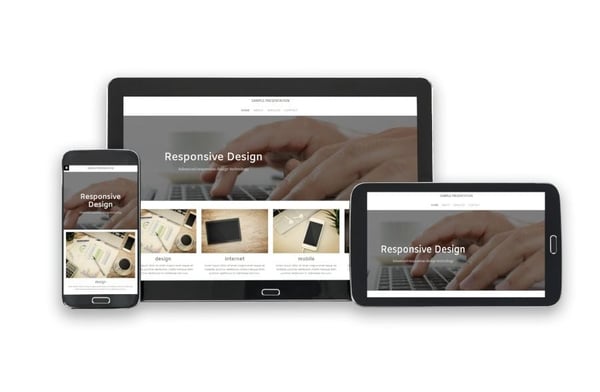 So, you're considering updating your website to be mobile-friendly but aren't sure that it is worth your time and money? If digital marketing isn't your expertise, it can sound like a big expense for a return that may not justify it.
After all — your website loads just fine on your phone, right? Unfortunately, that isn't the case.
Having a mobile-friendly website has never been more important than it is today. Today, responsive technology is the preferred technology for mobile-friendly websites and having a responsive design directly impacts your ability to drive traffic through search engines, not to mention provide a better experience to your visitors. A website that isn't mobile-friendly leaves sales on the table.
Working with a responsive web design agency to convert your website to a mobile-friendly design is a choice that lays the foundation for success for years to come. Mobile devices aren't going anywhere anytime soon. In fact, they have only become more entrenched in our everyday lives.
Some of the reasons why you should consider converting your website to a mobile-friendly design include:
Mobile Usage is Growing Every Year
Total mobile visitor share is growing every year. Today, 80% of internet users own a smartphone, and the average person spends twice as much time on their phone each day as they do on a desktop computer.
Failing to provide a mobile-friendly website means that you are throwing a whole lot of quality traffic out the window.
If mobile users come to your website and find that you don't have a mobile-friendly website they are much more likely to back out without taking a look around. You have to cater to these people.
Beginning now will help you for years to come, as mobile devices become increasingly common for all users.
Google Prioritizes Websites that Are Mobile-Friendly
Google ranks mobile-friendly websites higher in their search results — especially for users that are searching for a mobile device.
They first announced this change back in November 2016 and the importance of a mobile-friendly design has only become a more critical component in SEO as time has gone on.
If search engine optimization plays a big role in your digital marketing strategy, you would be making a huge mistake to overlook the importance of a mobile-friendly design and experience less organic growth over time.
Improved User Experience
If a visitor comes to your website and it doesn't load properly on their device, they certainly aren't going to have enough faith in your company to buy a product from you.
You have to make sure that you are providing an experience that is comfortable and simple. Lacking a mobile-friendly website can be directly connected to measurable revenue losses in the users that bounce or find themselves unable to navigate your website.
The rules for a positive user experience differ between mobile and desktop and if you do not take that into account, you aren't able to provide a good experience.
Mobile Users Spend More
Did you know that mobile users actually spend more money than people do on desktop? While smartphone users account for the lowest average order value per transaction, smaller purchases are made more frequently through a smart device.
Surprisingly, tablet users actually have the highest average order value of users on any device. If you want to target these users, it is important that you are able to provide them with an experience that is consistent with the device that they are using.
Additionally — remember that there is a big difference between the screens on different devices. Just because your non-responsive website looks great on your own phone doesn't mean that it will for every phone on the market.
A responsive web design agency can help you to ensure that your website looks and navigates well on any smart device.
Mobile Users Behave Differently than Desktop Users
Mobile users are not going to behave in the same way that desktop users will and require a user interface to ensure that they are able to interact and navigate your website.
The rules for a mobile landing page are actually quite different than the rules for a desktop landing page. If you collect lead information from your users, for instance, your lead information capture forms should be shorter and require less information from mobile users than they do for desktop users.
According to research from GetResponse, mobile landing pages perform better with 5-word headlines, a minimalist design, bright call-to-action buttons, and fast load speeds.
Users May Engage Through Multiple Devices
Mobile users are fixed to mobile. That is, they may discover your site on mobile and then come back later on a desktop computer if they decide that device would be better suited for the actions that they want to perform. 90% of users switch between different devices to accomplish a goal online.
If most of your revenue comes through desktop, you are missing out on a large portion of users that engage with your website through a mobile device.
If your website isn't providing a great experience for every user, you are missing out on sales and neglecting the fact that many of your customers would like to research your company on their mobile device before making a purchase.
Social Media Traffic Comes Overwhelmingly From Mobile
If you put a lot of time and effort into your social media strategy without a mobile-friendly website, you are wasting a lot of your time. Did you know that 91% of mobile internet users spend a majority of their time on social networks?
A vast majority of social media traffic comes through smartphone apps that are specific to a platform:
An unresponsive site can mean that all of the time and effort you put into your social media and content marketing efforts are largely wasted.
To take full advantage of the social audiences that you have built, you absolutely have to have a mobile-friendly website for social media users to visit. Without it, many of the visitors that come to your website through mobile will leave without browsing.
Mobile-Friendly Designs Lay a Foundation for the Future
If your website isn't mobile-friendly, contracting a responsive web design agency is in your best interest to set your website up for future success.
As mobile devices become increasingly ingrained in our everyday lives, it becomes increasingly important to make sure that you are properly targeting those users and providing them with an experience that suits the device that they are working on.
For further information you can check out how to design a website or why seo is so important to help you on items that are important in addition to mobile-friendly design.