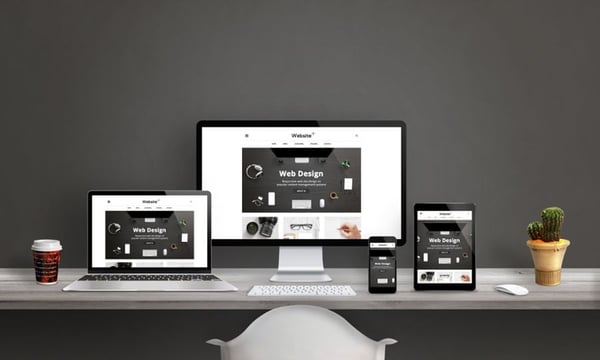 Shopping for a website can be hectic. You see your competitors out there making the most of internet sales and you want the same for your own business. But you don't have the technical skills to evaluate website designers in Charlotte, let alone specific things that you should be looking for from the people that you work with.
A website isn't a commodity. You can't (or at least, shouldn't) pay your nephew $200 to put something together for you.
Sure, you might have a website, but is a website built by someone without business and marketing experience really going to put you in a position to compete in your industry? It's highly unlikely.
It's important to remember that a website is not a high school art project. It's a genuine asset for your business that will play a key role in your ability to attract new customers, facilitate new partnerships for your business, and put yourself in a position for success.
In truth, most companies that are shopping for web design in Charlotte don't need a web designer. They need a digital marketing consultant.
They need someone with experience that will not only help them to determine what they need but clearly explain why they need it and what benefits they will receive.
In my time at RiseFuel, I've worked with companies of all shapes and sizes.
They've come to me in varying stages of the web design buying process, with different ideas of what they need.
During that time, I've always advised my clients to seek out web design companies that can deliver certain features in their service:
A Successful Track Record is a Requirement
You wouldn't hire a roofing company that couldn't prove that they had ever re-roofed a home. Why would you hire a company that makes business websites, but can't prove that they've delivered successful outcomes for a business?
A successful track record is critical. Here at RiseFuel, we try to be as transparent with our track record as we possibly can be.
On our Case Studies page, where we detail our engagements with a range of different companies and publicly display the results that we have been able to deliver.
Don't work with a company that can't prove its track record.
The Internet is Increasingly Screen Device-Neutral
Your website needs to display properly to visitors across a range of devices. The internet has never been as fragmented as it is today, device-wise. People browse and shop using their smartphones, tablets, desktops, and laptops without a second thought.
In fact, the percentage of total visits to websites skews more toward mobile with each passing year.
Source: Stone Temple
Despite the total number of visitors coming to websites through mobile devices, users still lean towards desktops and laptops when it comes to the total amount of time that they spend on websites, but even those numbers are rapidly diminishing when compared to mobile users.
Source: Stone Temple
This trend is only going to continue. As laptops and desktops become increasingly preferred for more serious browsing and business uses, mobile devices will become increasingly common among your average users.
For this reason, it is so critical that your business has a website that caters to them. Today, Google endorses responsive technology, which allows websites to resize themselves to fit the screen that loads them.
Your Website is Only One Piece of the Puzzle
Your website is a big piece of your overall digital presence but it is just that — a piece.
Other critical pieces of your broader digital presence include:
Your search engine presence
Your social media presence
Your presence in business directories and review sites
Yes, your website does affect each of these areas. But your presence on these platforms exists independently of your website as well.
It's important to understand that any company that you work with should understand how your website will fit into your broader strategy.
If you don't have a digital marketing strategy mapped out, you'll need to work with a digital marketing consultancy that can help you to design and execute a broader strategy that covers all of your bases.
They need to see your website as the piece of the puzzle that it is and help you design a strategy that fills in the other pieces.
At RiseFuel, we work with companies to develop a complete inbound marketing strategy. We'll help you design a strategy that encompasses website design, content creation, social media marketing, and email marketing.
Then, we'll tie them all together into a coherent strategy that puts your company in a position for success.
Modern Content Management Gives You More Control
One consideration that you have to consider when hiring a company for web design in Charlotte, is whether or not they will be installing a content management system.
A content management system allows you to edit your website from a simple editor, just like you would edit a Microsoft Word document.
If you won't be working with your web design company in an ongoing engagement, this means that you will need an easy way to update your website to ensure that it always displays your current services and information.
A modern content management system is a requirement for this, otherwise, you would need to edit code, and the process becomes much more complicated.
A Website Built to Grow With Your Business
As you evaluate web design companies in Charlotte, consider the important considerations that we have laid out in this article.
Understanding what you want and need out of your website is a good first step, but engaging with a company that can deliver these features to your business will put you in a position for success.
At RiseFuel, I work with companies all throughout the United States, helping them to grow their business organically through the production of high-value content that positions your company as an industry authority, an active social media presence, and reliable growth in their search engine presence.