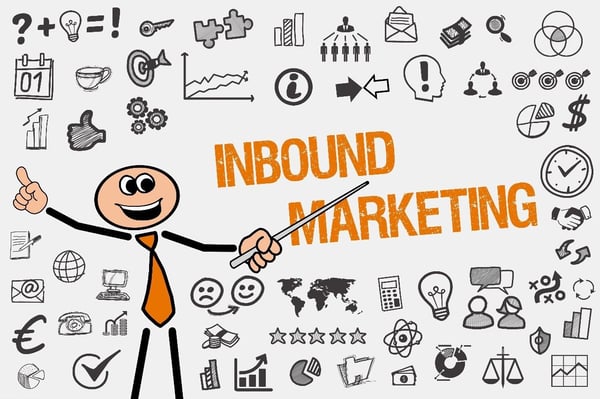 Inbound marketing is a powerful methodology. We've used to help our clients grow their lead generation efforts and build better, more stable relationships with their customers.
However, it's easy to blow through your digital marketing budget on inbound marketing and see little benefit if you aren't following best practices for the strategy.
According to HubSpot's 2018 report on the future of inbound marketing and sales, 65% of respondents stated that lead generation was their top marketing challenge.
Of those respondents, 80% stated that their lead generation efforts were only "slightly, or somewhat effective." Inbound marketing is the perfect strategy for improving your lead generation efforts, but it won't happen overnight.
Because of the fragmentation of customers across many channels, lead generation has become an increasingly frustrating problem for many companies.
Fortunately, a well-designed inbound marketing strategy can help companies to reliably generate leads and connect with their ideal customers.
But you have to have a well-rounded plan that meets your customers where they are and builds your credibility over time.
As you look to improve your inbound marketing strategies, follow these best practices:
Take Time to Really Flesh Out Your Buyer Personas
Buyer personas are critical to an effective inbound strategy and far too many companies overlook them when they first put together their inbound marketing plan.
Many business owners may feel like they have a firm grasp of who their ideal client is and how to identify them in their marketing, but the fleshing out of buyer personas helps to ensure that all of your teams are on the same page.
You have to identify the ideal type of clients that your business would like to service so that you can create custom content around the subjects that they care most about.
Those buyer personas come in handy later, as you build out your email sequences and plan blog content for the different personas that you will be targeting.
It serves as the foundation for future strategies and successes and helps to align your teams around creating content for your core audience.
Source: Neil Patel
Work to Segment your Email Lists
Over time, you want to make sure that you improve your ability to deliver content that is crafted for specific buyer personas. Depending on your business, you may serve clients from completely different walks of life.
Delivering content that appeals to two completely different segments is extremely difficult and typically requires that you segment your lead lists so that you can deliver email content that speaks directly to their most pressing issues.
There are many ways that you can segment your email lists, but the barrier starts with finding a way to collect more information from your leads.
You have to identify that they belong to a segment before you can start sending them materials meant for that sect of customers.
You could collect more information when they first sign up for your email list, but that may make a dent in your conversion rate. Surveys are another simple and effective way to collect more information from your leads, but conversion rates on those may be quite low as well.
Segmentation should be an ongoing effort for any company that is collecting a lot of email leads.
You should always attempt to improve your ability to market to your leads. Start by creating specific email sequences for your largest segments and flesh them out over time.
After some months, you'll have multiple email sequences for a number of different customer persona segments, improving your ability to turn leads into customers by speaking directly to their biggest concerns as a customer segment.
Focus on the Long-Term with SEO, Not Quick Wins
Too many companies get into inbound marketing hoping for quick wins. Really, that is not what the strategy is all about. I recently published a blog article that detailed how long SEO takes to produce results.
We used our own internal data and public statements from Google to give a rough estimate of 4-12 months on average before companies start to see results from their SEO.
You can't go into an SEO campaign hoping for quick wins. Yes, there are some more aggressive strategies that can produce results more quickly, but even then the amount of time that it will take is still somewhat of a guessing game and no company can reliably provide any SEO results in just a few short weeks.
It's important to remember that SEO, and inbound marketing in general, are long-term strategies that are meant to play a foundational role in your overall digital presence.
The benefits from effective inbound marketing begin to make themselves apparent in their first year, but the real goal is to turn your inbound marketing into a lead generation machine that drives your marketing success for years to come. Focus less on the "now" and put more focus on the future.
Continually Optimize your Website for Conversions
Inbound marketing is at its best when you are making the most out of every visitor, lead, and customer that comes into your pipeline. A big part of that is constantly working to split test and optimize your website for conversion.
A conversion is any action that you ask your customer to take on a specific page, whether that is buying a product, signing up for your email list, or filling out a contact form.
Split testing and optimization is the process of tracking conversion rates on your website and testing new changes to see how they affect the conversion rate.
You keep the changes that result in higher conversion rates and overtime and dozens of tests, you measurably improve your conversion rate.
Working to optimize your website helps to ensure that you get the most out of your inbound marketing investment. You'll convert more visitors to leads, and more leads to customers in the process.
Build Out Your Lead Nurturing Strategy
One mistake that many companies make in inbound marketing is placing way too much focus on the top of the funnel and not enough on leads that have already made their way into their system.
According to a study from eConsultancy, for every $92 businesses spend on acquiring new customers, only $1 is spent on converting them.
You have to make sure that you have the content assets to help you continually build upon your relationships with prospects and aren't laser-focused on producing content for new visitors.
The type of lead nurturing content that you should make sure to prioritize includes:
Email sequences for specific personas
Middle-of-the-funnel blog content
Advanced interactive content like webinars or Q&A sessions
Lead generation is useless if you can't reliably convert those leads into customers. To do that, you need content that nurtures your relationships with those prospects.
All companies investing in inbound marketing should focus as much if not more on the middle of their funnel as they do at the top.
Inbound Marketing Requires Long-Term Sustained Effort
Inbound marketing is the most powerful digital marketing strategy available to companies of any size today. It is, however, not the fastest for producing results. Inbound marketing is more about your internal philosophy as it is a marketing tactic.
It places the focus on building relationships with visitors, prospects, and customers through the creation and delivery of valuable informational content.
To do it well means to take your team and work to improve the quality of the content that you produce while also improving your ability to deliver the right content to the right customer persona.
These best practices provide a simple starting point for any company that wants to begin investing in inbound marketing and do it the right way.