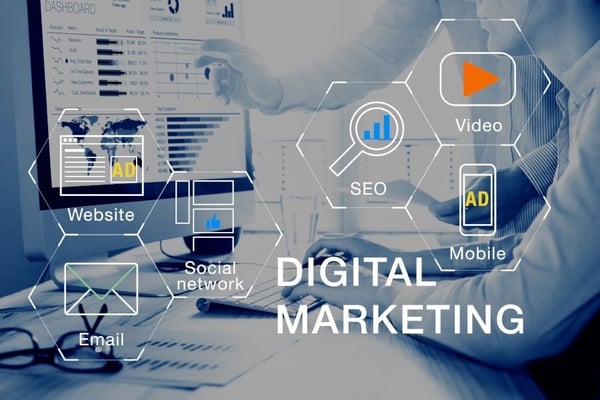 Companies today have more marketing tools at their disposal than ever before. This is particularly true as it applies to digital channels, where there are dozens of high-quality tools for managing marketing strategies and automating your marketing campaigns available at a fraction of the price of custom software solutions.
At RiseFuel, we recommend that companies that we work with use Hubspot to manage their digital marketing campaign. Because our focus is on sales enablement and inbound marketing, two areas where HubSpot is truly head and shoulders above the competition, it is the right solution for the strategies we employ.
There are, however, many digital marketing solutions that can help you to improve your marketing campaigns and strategies.
Let's take a look at some of the more popular solutions in digital platform marketing and provide a quick overview of each platform's standout features.
HubSpot
HubSpot is our platform of choice. Is it an all-in-one inbound marketing platform that provides everything that small and mid-sized companies need to handle their online marketing operations.
HubSpot allows you to build and modify your website without having to bring in a designer and IT personnel, manage your marketing content, and set up automation for specific marketing procedures.
Over time, HubSpot has expanded to become a hybrid solution, encompassing sales enablement tools and in-depth analytics and reporting that can help you to optimize your marketing campaigns. HubSpot is the most popular solution for mid-sized companies today and provides more than enough features to make it worth its price tag.
HubSpot also offers a free customer relationship management tool as an introduction to its system. If you lack a way to keep all of your customer data in a single place, HubSpot's free CRM tool can be a great way to get familiar with their system and see if it will be the right solution for your needs.
Eloqua
Eloqua is the most vital piece of Oracle's marketing cloud. The platform is more popular with enterprise companies than small and mid-sized businesses, but it does provide in-depth marketing automation features centered mostly around B2B marketing campaigns.
Eloqua makes it easy for companies to send marketing campaigns and advertisements through multiple channels, including mobile, email, video and search. The platform also offers excellent optimization features that make it easy for companies to improve their campaigns over time.
The real bread-and-butter of Eloqua comes from its extensive email automation features. It accurately tracks opened emails, customer activity, and customer behavior on platforms.
While it may not be the best choice for smaller companies due to its heftier price tag, it does provide a reliable automation solution with excellent support from Oracle.
InfusionSoft
InfusionSoft is another popular solution for companies with a heavy focus on digital marketing It's part CRM, part automation platform, and also a detailed analytics suite that gives companies all the tools that they need to reliably grow their presence digitally.
InfusionSoft places a heavy focus on marketing automation, specifically as it applies to email marketing. Their system allows you to create follow-up email campaigns targeted to specific customer segments, create custom fields within your CRM to improve personalization in your campaigns, and split test everything you send out.
InfusionSoft's focus is to help companies push their leads down the sales funnel and help companies accurately score the leads that come into their system. With integrated order forms, online sales and payments make InfusionSoft a complex but effective solution for small businesses.
Marketo
Marketo is a platform that focuses on automation. Their system is designed to give companies the tools they need to install and monitor automation solutions that help them connect with a larger audience while speaking directly to that audience's specific needs.
Marketo especially shines in the lead management and email marketing category, with extensive automation features. Their solution is broken down into several individual products, including lead management, email marketing, consumer marketing, customer base marketing, and mobile marketing.
This makes Marketo a more expensive solution if your company wants to invest in several different products, and other solutions are able to cover a broader base for a lower price. Still, Marketo's products are top-notch and provide companies with specifically-tailored platforms for the channels they would like to focus on.
Pardot
Pardot is a digital platforms marketing product from SalesForce and therefore provides deep integration with the CRM and sales tool.
Pardot is the marketing automation wing of the SalesForce product suite, providing detailed lead management and email marketing solutions that allow companies to better understand the leads that come into their system.
Pardot's focus on lead management includes several features that help the platform stand out from the competition.
Their features include lead nurturing features, lead qualification, segmentation and automation, and dynamic content personalization that helps companies to speak to the biggest concerns of their audience.
Act-On
Act-On provides a range of products, separated by intention and channels. Their products include marketing automation products with a focus on inbound, outbound, analytics, and CRM integration. The suite covers all of the bases in the same way that HubSpot's platform does but expands upon some automation features at a higher price tag.
Act-On's defining features are the detailed email nurturing and automation features that they bring to the table, making it easy for companies to launch, monitor, and optimize personalized email campaigns that connect with their audience.
Act-On is a great choice for smaller companies that are looking to get started with marketing automation and have the budget to afford their $900 / month price tag.

Digital Platforms Marketing is the Future
In the last five years, we have seen incredible growth in the marketing tool and software industry. Huge platforms that cover all of the digital marketing bases have risen to the top above the more niche-focused competing products, giving companies an in-depth suite of tools that allow them to cover all aspects of their digital operations.
Investing in digital marketing platforms will put companies in a position to better capitalize on the opportunities in front of them and deploy strategies that will grow their digital presence.