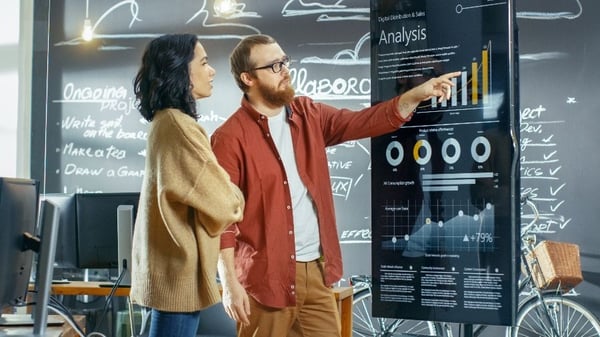 For companies that are based in the Charlotte area, knowing which digital marketing agency to work with can be tough. There are a lot of choices, and there are some very good agencies throughout the city. But, there are also some pretty poor ones too.
For many companies, how their marketing budget is spent can make or break the success of their entire company. Knowing that your marketing investment is in safe hands is critical for having peace of mind and putting yourself in a position to grow.
In my time as the founder of RiseFuel, we've worked with companies in a variety of industries based in the Charlotte area, helping them to maximize their marketing budgets and set themselves up for success in digital marketing with a multi-channel approach.
Typically I don't like to brag, but we offer a stellar service here at RiseFuel. If you're looking for a company that understands the nuances of creating a profitable digital presence (and not just focusing on a single digital channel to produce results) we are the perfect choice.
In this article, I'll go over some of the experience and approaches that we bring to the table that have helped us to deliver amazing results for our clients.
We Start with a Solid Web Design Foundation
Your website design is the foundation for success in digital marketing. It is where your prospective customers go to learn more about your business, get into contact with your sales reps, and learn more about your business and products.
The first task that we undertake with a new client is to audit their website and determine a few important things:
Is the website mobile-ready?
Is the design modern and does it convey professionalism?
Does the design meet all of the technical requirements for a good outcome?
Does the design follow marketing best practices?
To ensure that you can create a digital presence that matches your company's ambitions, we start by making sure we deliver a web design that makes that possible. Every new engagement starts with an evaluation of your current website and either editing your current design or creating a brand new design to match your marketing goals.
An Extensive History of Positive Results
We've been able to help a lot of companies to improve their digital presence here at RiseFuel. While we do focus on some very specific industries (manufacturing, dental, and technology) but we have worked with companies outside of those industries as well.
We always make it a point to audit and evaluate your situation and determine whether or not we will be a good fit based on the results that we can provide.
Here is a small sample of some of the results that we have been able to deliver to our clients. To see more, check out our case studies page.
Caldwell Collision:
Visits Increase - +283%
Engaged Visits Increase - +335%
Mobile + Tablet Visit Increase - +474%
Bounce Rate Improvement - +68%
Wilmar:
Visits Increase - +258%
Mobile Visits Increase - +307%
Engaged Visits Increase - +159%
Conversions - +131%
Survival Armor:
Visits Increase - +319%
Mobile Visits Increase - +215%
Engaged Visits Increase - +169%
Conversions - +96%
These are just a small sample of the results that we have been able to deliver to our clients. Our track record speaks for itself. If you are interested in similar results for your own business, RiseFuel would make an ideal partner for any company looking for digital marketing in Charlotte.
A Multi-Channel Approach to Inbound Marketing
When we put together a marketing plan for a new partner, we don't just focus on one channel. We create a wide-ranging strategy that will cover all of the channels that play a key role in your ability to develop a profitable and reliable presence on the web.
Some of the different services that we offer include:
Web Design
Inbound Marketing
Pay-Per-Click Marketing
Email Marketing
Marketing Automation
Sales Enablement
Lead Generation
Social Media Marketing
In taking this multi-channel approach, we ensure that our clients are in a position to take advantage of a complete and full digital presence that meets their customers wherever they are on the web.
Ultimately, relying too heavily on a single channel is not a winning strategy. We make sure that our clients are positioned for long-term success, not just short-term gains.
Leverage Digital Marketing Automation
One of the best choices that any brand can make as they look to improve their digital marketing is to invest in marketing automation. While many of our clients come to us worried that marketing automation will make them look bad or seem impersonal. However, the opposite is actually true.
We use data and a deep understanding of your customers to help walk them through the nurturing and sales processes by sending automated messages that speak to their biggest needs and concerns. Automation actually allows you to be more personal while reaching a larger audience of your best customers.
Take a look at these marketing automation stats to see how impactful it could be for your business:
Source: Email Monday
Close Sales Faster and More Reliably
We don't just work with our clients to improve their marketing. We focus on results. A big part of achieving those results comes from your ability to close the leads that your marketing generates.
We provide a complete service that encompasses lead generation, sales enablement, and sales policy design to ensure that you are not only generating more leads but closing them more reliably as well. Very few agencies can help you re-shape both your sales and digital marketing in Charlotte.
Understand your Customers & Build Loyalty
When it comes down to it, our services place the focus on getting to know your customers. Every new engagement that I take on starts with a deep research phase to understand your business and customers and design marketing and sales strategies that not only speak to their biggest concerns but position your business as the true solution to their problems.