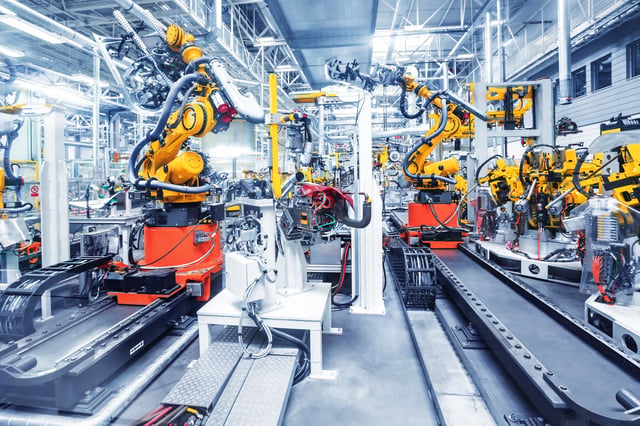 It's no longer a foreign concept. Increasingly, industrial companies of all sizes are beginning to take advantage of the business benefits that inbound marketing has to offer.
Others, of course, still hesitate to jump onto the inbound marketing train. To them, it seems to be a sharp departure from the traditional lead prospecting they have come to rely on.
And yet, it's difficult to deny the advantages of inbound marketing, especially as they relate to this industry. If you or decision-makers in your company are unsure whether or not to embrace this philosophy, here are 6 inbound industrial marketing tactics that are tailor-made for the manufacturing industry.
1) SEO to Engage Buying Agents
We've arrived in a digital society. Even the most complex B2B buying decisions tend to start with an online search. In fact, 90 percent of business buyers start their research on a search engine, most likely Google.
When they type a relevant term into Google, your website should own a prominent placement on the results page.
That requires careful strategy, both in terms of understanding what types of phrases your audience uses and how to build your website for these phrases.
Search engine optimization can take significant time and expertise, but it has the potential to pay off for your manufacturing business. In fact, B2B marketers consider it to be the most effective lead-generating tactic throughout digital marketing.
2) A Lead-Optimized Website
Once they arrive on your website, your potential buyers and prospects should know exactly what steps to take. An inbound-optimized website provides that direction, offering natural next steps that help both you and your audience accomplish their goals.
These goals may differ initially. For instance, your visitors might look for industry news and trends, while you want to convert them to customers.
The key is to find a balance between both, most likely in the form of valuable content that is gated behind a sign-up page for lead generation.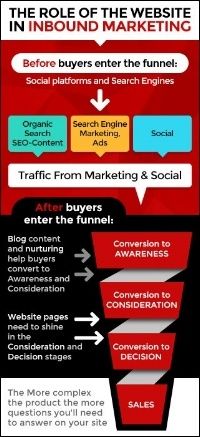 3) Thought Leadership Content
How does a small manufacturing company, even if specialized in a niche product, stand out against the giants in the industry?
How can these giants convince their audience that the niche expertise still exists with them? The potential answer to both is identical: thought leadership.
With the right content, you can build credibility in the eyes of your audience. The way you structure your content can influence who you're looking to reach, and the message you communicate about your brand.
In reality, this content can take a variety of shapes. A regular blog can take your audience behind the scenes of your operations, and showcase your manufacturing processes.
White-papers keep your audience updated about industry news and trends. Build your credibility strategically, and your potential buyers will become more likely to consider you on their shortlist.
4) Professional Social Media for Lead Generation
Most manufacturers do not consider social media to be effective for their audience and purpose. They forget to consider three important truths:
Everyone has a social media profile,
Specific business-based social media does exist, and
social media can offer unique lead-generating opportunities.
Even if your potential clients may not strategically use social media in their process, chances are they (like more than 81 percent of the American population) have a social media profile.
An effective presence can help you get in front of them, even if it doesn't lead to a direct lead conversion.
Some networks, like LinkedIn, offer especially beneficial prospecting tools. Finally, Facebook and LinkedIn both allow for inbound lead generation through ad types where users never even have to leave the platform.
Combine these facts, and social media becomes an important part of any manufacturer's digital marketing strategy.
5) Strategic Lead Nurturing
Most manufacturing marketing is based on leads. Because of a lengthy buying process, these leads have to be nurtured strategically to convert to customers and large production contracts.
How do you currently nurture these leads? For most companies in your industry, the answer is personal - regular phone calls and individual emails. Within a larger inbound marketing framework, that process can be more easily automated and optimized.
Within this nurturing effort, leads receive regular messages that move them closer to becoming customers. Prospects who engage are scored As a result, the leads advanced to your sales team are more qualified and more likely to convert.
6) Data-Based Budget Optimization
Finally, don't underestimate the analytics benefits that a switch to inbound marketing can provide for your manufacturing company.
Because of the strategic visitor > lead > customer flow, everything is inherently trackable. For each of your digital tactics, you will be able how many leads and customers it was responsible for.
Armed with this data, you can make more informed decisions about where to spend your budget. You may find that LinkedIn generates more qualified leads than Facebook, or that a specific type of blog post tends to attract more visitors than others.
These insights, in turn, allow you to optimize your budget. Especially in niche manufacturing sectors with limited audience sizes, this type of optimization is a vital part of marketing success.
Pulling it All Together: an Inbound Strategy for Manufacturers
Of course, all of the above tactics do not tend to be successful in isolation.
Combining them under a larger strategy umbrella, on the other hand, positions you to effective attract customers and increase your client base. That umbrella, of course, is your inbound marketing framework.
Through inbound marketing, you can optimize every tactic toward generating organic leads, and nurturing these leads toward the sale. SEO, social media, and web content can all help you accomplish that goal.
For help in the optimization of that effort, contact us.