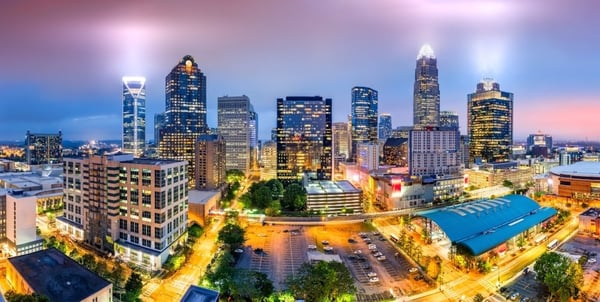 The rapidly expanding marketing technology landscape has opened a lot of doors for small companies, especially when it comes to digital marketing. It's easier than ever for companies to launch, monitor, and optimize their own digital marketing campaigns.
However, the deeper that companies expand their digital operations, the more clear it becomes that they need help to cover their bases and reach their digital marketing goals.
RiseFuel is one of the premier digital marketing firms in Charlotte, NC. We work closely with companies in many industries, helping them to expand their digital footprint and grow their revenue through a range of digital channels.
When a new client comes to us, we have a long list of criteria that we have to check off to ensure that they are a good fit for the services that we provide.
In the U.S. alone, there are nearly 40,000 advertising firms. Choosing the right marketing firm is a big choice and one that can be difficult in highly populated areas.
Digital marketing is inherently an expensive service because of the big returns that it is able to generate. Great firms make your investment well worth your while, but a partnership with a low-quality firm could mean sunk costs for your business.
As you evaluate marketing firms in Charlotte, NC remember to take the following into account:
Evaluate Their Process
Process is extremely important in digital marketing. You want to know not only how they are going to work on your account internally, but also how they are going to fit in with your own current processes and teams.
Do you currently have a digital marketing strategy? Not all companies that hire an agency are looking for a complete solution that covers all channels. Sometimes you'll hire an agency for a very narrow set of tasks and require that their processes be a good fit within your own.
Make sure that any marketing firms in Charlotte, NC are able to articulate their own processes in detail. This should also include the different tools and software suites that they will be using when marketing your business and the frequency that you can expect updates regarding the results that they have been able to deliver.
Source: Ahbiseo
Analyze Their Track Record
Any Charlotte, NC marketing firm worth their salt will be able to prove that they will be able to help you by showing their past successes. Ideally, the types of previous engagements that they show you should be with companies that resemble your own.
You can ask the agency if you can speak with any of their current or former clients as part of the evaluation process. Look into the individual skills and degrees that their team members hold.
Evaluating the skills of the individuals within an agency or firm is important for analyzing the firm's ability on the whole. Ask the company to see case studies and results from previous engagements
It is always a good idea to work with agencies that specialize in your industry. They'll have a better understanding of what works and what doesn't. They'll have resources that companies that work in other industries wouldn't have access to.
In the end, a firm's track record is the most important consideration when making your hire.
How Do They Market Themselves?
How does the marketing firm that you are considering actually market themselves? Are they using the strategies that they claim that they would employ when marketing your company?
A company that sells a service but doesn't find their own service valuable enough for them to use for themselves might not be the best option for you to work with.
The strategies that they use to market their own business can tell you if they keep up with current trends and what strategies they tend to favor. Keep a close eye on how they market themselves to get an idea of how they may market your business and products.
How Integrated Will They Work Within Your Own Processes?
To what extent will the firm's talent work with your own team? Every company has different requirements in the firms that they work with.
Some will want a very closely-knit process, with the firm's team working directly with their own. Others may want a more hands-off experience.
Most agencies have their own processes that put them closer to one end of the spectrum or another. Find a firm that will meet your needs and be as hands-on or hands-off as your company is hoping for.
Nail Down Pricing
Ultimately, cost is one of the most important considerations when choosing a marketing firm in Charlotte, NC.
You don't want to go through a process that will take multiple weeks only to find out that their services are far out of your budget range. Most firms should be able to devise a plan that falls within your budget, but some will always be out of your range.
Make sure that you have an understanding of estimated costs early in the process, even if they have yet to provide you with a full proposal and quote.
How is Success Measured?
How will they measure success in working with your company? What metrics will they use? What are their goals?
Reaching an agreement in this area is important and makes it easy for your company to decide whether to stay with them or not when it is time to re-sign your contract. Understanding how they measure success can enlighten you to the steps that they will take in marketing your business.
Source: Cooler Insights
How Long Will Results Take?
Different firms deliver results in different amounts of time, depending on the services that they provide. For instance, results through paid ads and PPC can be expected in weeks or months.
However, SEO often takes 6-12 months to begin truly delivering results. This affects the contracts that you sign, your budget, and the length of your partnership with different agencies.
Slow and Methodical Evaluation
As you choose a firm to work with in Charlotte, NC, don't rush things. Be slow and methodical in your evaluation of options. Do a deep dive into every potential partner and make sure that you understand the processes, strategies, and methods that they will employ in working with your company.