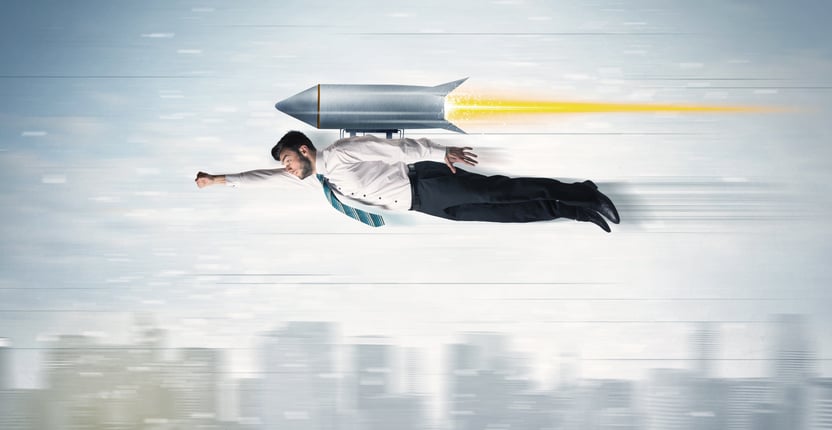 Inbound marketing is still in its infancy. The first search engine launched in 1995. A few years later, social media sites entered the scene—LinkedIn in 2002, Facebook in 2004 and Twitter in 2006. It was about this time that Hubspot was founded, and its CEO, Brian Halligan, first used the phrase.
It wouldn't be an overstatement to say that the new marketing paradigm took the world by storm. Purveyors of the new approach quickly demonstrated its effectiveness, and soon the head-turning statistics attesting to the same were popping up all over the internet.
As so often happens when a new concept captures the imagination of the multitudes, misinformation was rampant.
As the old adage goes, however, a little information can be a dangerous thing, especially when it comes to investing time and money in strategies the goal of which is to grow your business.
When you develop your marketing strategy, it's critically important to know what's true, and what isn't. That said, here are 10 common myths about inbound marketing:
1. It's About Generating Leads with Content Offers
Inbound marketing is a great way to generate quality leads, and they cost about 60% less than outbound leads. You offer some valuable content—maybe a white paper, eBook or how-to-video, and you get someone's contact information in exchange—but it's much more than that.
There's also search engine optimization, paid search, social media marketing, analytics, and sales enablement, among other things.
2. It's About Quantity, Not Quality
Among the more common mistakes is thinking that "more" means "better"—more content, more keywords, more tactics. The truth is that more keywords (that is, "keyword stuffing") can actually hurt you with search engines.
More content often means you're churning out articles without paying attention to their effectiveness with your target audience. Every step you take requires careful analysis, and quality trumps quantity every time.
3. It's the Same As SEO
SEO is one piece of your inbound marketing strategy, but the two terms are not synonymous. Like other strategies designed to pull prospective customers to your products and services, SEO brings them to your website through organic searches. And it's not the only way to drive website traffic.
There's also paid search and links embedded in emails and social media posts, among other strategies.
4. It Makes It Hard to Measure ROI
This is one of the enduring myths. Before the days of big data, there was a belief that, whereas it was relatively simple to measure return on investment for outbound strategies like billboards, television and radio, marketers couldn't do the same for SEO, content marketing or social media marketing.
Actually, the opposite is true. Today, using tools like Google Analytics, it's relatively easy to measure how many visitors came to a landing page, and how many converted to leads or paying customers.
5. It's Just a Fad
It's not likely that inbound will go away any time soon, because it's a response to consumer behavior which has fundamentally changed. The days are gone when consumers were willing to put their trust in traditional outbound strategies, like telemarketing and TV ads.
That's why millions of Americans have signed up to do-not-call lists, and millions more now fast forward through television commercials.
Because the world has changed, and with it consumer behavior, the new paradigm is not ephemeral—it's the marketing that works in today's world.
6. It Will Dramatically Grow Your Business—Overnight
Strategies like SEO, content marketing and paid search are, when effectively implemented, powerful—but they're not a panacea, and they won't generate instantaneous results.
For example, if your content marketing campaigns are successful, they'll generate more qualified leads, but you still need to nurture those leads, and your sales team still needs to pursue them. These and similar strategies will drive sales, but it takes time.
7. It's All You Need to Do
If other strategies are working for you, there's no reason to abandon them. For example, direct mail can be an effective way to create awareness and leverage a call to action.
You'll probably also want to network, leverage client referrals and, when it makes sense for your business, do the occasional TV or radio spot. The trick is to use everything in your toolbox, but to make sure that your overall strategy is integrated and seamless.
8. It Can Be a One-Man Show
In the same way as star athletes make it look easy, successful marketers, given the stellar results they often achieve, might tempt you into believing that you, or your marketing director, can do it all, without help from an experienced digital agency or a dedicated marketing team.
The skills needed to execute effective campaigns—like SEO, content creation, video production and data analysis—are specific, and each requires a good deal of expertise. The best marketers might make it look simple, but it's not something one person can tackle.
9. It Doesn't Really Require Expensive Software
It's certainly possible to execute a campaign without paying expensive software fees, but odds are the results you see won't be as strong. For example, to do it right, you're probably going to need a robust CRM tool.
If you go with Salesforce, you'll see many pricing options, ranging from $5 a month to $300 a month, and each option provides a different level of functionality. The same is true with Hubspot software, with a price range from $200 a month for the basic package to $2,400 a month for the enterprise package.
The point is, it's important to get the software that will do the best job for your business, and that's not necessarily the cheapest.

10. It's Formulaic
Success isn't about robotically checking off items on a to-do list. You can't, in other words, say, "Oh, content marketing? Yeah, I did that."
The fact that you started a blog, or published a white paper, or created a few landing pages on your website doesn't mean that you've effectively influenced your target audience, or built trust in your products and services.
It's not transactional—it's a mindset, one which aims to create a human side to your business and shift your focus from yourself to your customer.
Conclusion
When it comes to the strategies you employ to achieve your key business objectives, you can't afford to make mistakes, and that means you can't put your faith in marketing myths .
The best way to do that is to partner with a forward-thinking digital marketing agency.
To learn more about the ways our website design, content marketing, paid search and sales enablement services will help you drive sales, build your brand and grow your business, contact us today.