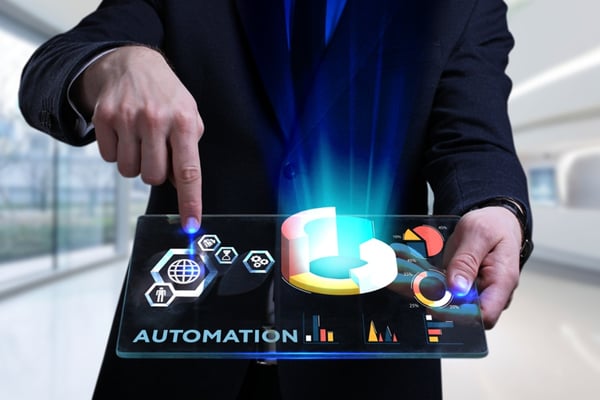 Are you struggling to create sustainable growth through your sales team? Do you find that your team is losing deals because they forgot to follow up? Have you ever lost a prospect's interest due to slow response times? Have your sales teams wasted hours sending emails and outreach by hand only to find that they weren't targeted qualified prospects to begin with?
If any of those sound familiar, you could benefit from sales automation.
Here at RiseFuel, I work closely with companies in many industries to help them build out their sales enablement and sales automation programs. Together, they combine to create a well-oiled machine where sales reps can focus on the best opportunities on the table while automation ensures that you have a constant flow of new leads coming into the system.
Sales automation planning has played a critical role in some of the best results that our company has been able to deliver to clients. I'm not just saying that either — smart automation integrated into your existing sales processes can be an absolute game-changer that positions your company for rapid, sustainable growth. You can leave the competition behind.
To understand how sales automation can grow your sales and keep your pipelines filled, let's define what we mean when we say 'sales automation.'
What is Sales Automation?
When most people hear the term 'sales automation' they have the wrong idea. At its core, sales automation is the process of automating repetitive activities and tasks that would otherwise be handled by hand. This can include a wide range of activities that we will cover later in the article.
The point that I would like to drive home is that sales automation does not mean that the entire sales process is automated. The human component is still intact.
The goal of any marketing or sales automation plan is to automate what makes sense, not to force automation where it doesn't. Genuine relationships are the key to fruitful sales.
You don't have to automate anything that makes you uncomfortable. Any automation that actively harms the experience of your customers and prospects isn't smart automation. In fact, that is the type that we actively try to avoid.
Sales Automation Benefits
There is a good reason why sales automation has become such a popular topic among B2B businesses in recent years. Smart designs and plans lead to a full pipeline of leads, more sales, and prospects that feel that they have had a better, more engaging experience with your brand.
As more tools that offer automation for sales come onto the market, more companies are embracing the practice, for these and additional reasons:
Reduce manual tasks.

Your sales team is simply more effective when they spend more time selling. That means that they have to spend less time sifting through data, preparing for calls, and engaging with prospects that are just at the beginning stages of the buying process. Automation allows your sales teams to focus on what they are good at — selling your product or service.


Keep your pipeline filled. Many of the tasks that are best for automation come earlier in the sales pipeline. That means that large portions of the prospecting and sales nurturing process can be handled for you. Later, as prospects begin to reach the decision-making point, you can take a more personal approach to your communications to close sales.


Stay focused on what matters. Your sales team should spend more time speaking with qualified prospects and less time sending emails, dialing phone numbers, researching prospects, and actively educating your leads. Sales automation frees them to do just that.



Be more responsive.

When your sales teams are responsible for replying to every prospect by hand, your response times will be slower. Automation ensures that you respond right away, deliver high-value materials exactly when your prospects need them and provide a better overall customer experience.


You don't have to sacrifice personalization. Personalization is a hot topic in sales. Every customer wants to have a personalized experience with a sales team that is laser-focused on their needs. They want companies to know how they've interacted with each other in the past and use that to inform future conversations. Just because you are automating part of the process doesn't mean that you need to sacrifice personalization. You can inject data and information that you collect from them throughout your campaigns, just as you would in normal sales conversations.


Create reliable processes. All sales teams try to create a process that they can follow to reliably close sales. The problem is that when they are responsible for handling all communications by hand, that process can fall by the wayside as reps are pulled in so many different directions.



Measure, Iterate, & Optimize.

Automation gives companies the ability to measure, test, and optimize their communications for higher conversion rates. When your sales teams handle all communication themselves, there isn't the consistency in messaging that allows you to draw reliable conclusions from the data. Automation can be tested because you reliably send the same messaging to each prospect, with personalized variable aspects sprinkled throughout.
These are just a few of the many benefits that in-depth, smart automation in sales can bring to the table. Now let's dive into some of the specific tasks that you can automate throughout the sales process to provide more flexibility to your sales reps.
What Do Sales Automation Solutions Do?
This is a very common question when we begin a sales automation engagement with a new client. They know that the idea sounds good, but they aren't actually sure what processes they will be automating.
The truth is that the potential for automation in your sales campaigns is almost unlimited.
You can create a foundational layer of automation and grow the number of tasks that you automate over time as you begin to understand how it works, how it helps, and what can reliably be automated within your current processes and structure.
Some of the common tasks that we automate for clients include:
Prospecting
Your sales reps are probably constantly searching through LinkedIn for prospects. They have a Sales Navigator account but are doing most of the prospecting by hand.
They also might be reaching out to people directly on other social media platforms, sending cold emails, cold calling, or any number of prospecting tactics that take up their valuable time.
Often, sales reps will spend a great deal of their time prospecting. For some, they may spend the majority of their time on their task. That's what makes automating the prospecting tasks so valuable for any company.
Sales automation can enable you to completely automating your prospecting efforts through LinkedIn, email, social selling, or even aspects of cold calling. LinkedIn searches can be automated so your reps receive email alerts with ideal prospects directly into their email.
Cold emails can be personalized and sent automatically to prospects that might be a good fit. Social media direct messages can be automated. Cold calls can be queued up and auto-dialed so your team spends more time talking and less time between calls.
HubSpot offers many sales automation features that make sales automation easy and helps to integrate your sales and marketing campaigns seamlessly.
For instance, their email tracking tool helps pull details from your CRM records, social media profiles, and company webpage so that your sales teams have a bird's eye view of a prospect. Other popular prospecting tools include Hunter (company email finder), Uplead (B2B lead database), Mailshake (cold emailing).
Source: WordStream
Lead Enrichment
Lead enrichment is critical for sales and every sales team engages in it, whether they realize it or not. Knowledge is power. The more information that you have about your prospects, the more clearly you can position your product as a solution to their biggest problems.
Lead enrichment involves the collection of information about their responsibilities, social media, vendors, and all information that may be relevant to the end sale. Lead enrichment automation tools allow you to gather information from thousands of potential data sources to give you an updated, top-down view of each prospect.
Lead Scoring
For your sales reps to know which prospects present the best opportunities, you have to have a way to grade and rank those opportunities.
While most companies sift through information and data by hand to manually rank prospects and opportunities, automated lead scoring uses a range of demographic and behavioral data to point your sales reps in the right direction and qualify your leads.
There are many things that can and should go into an effective lead scoring system. First, you need to have enough leads for this kind of investment to make sense.
If you only have a handful of leads, scoring them won't be as helpful as if you had hundreds. In that case, it may be better to focus on lead generation.
Additionally, automated lead scoring solutions require that you have enough raw data on hand to effectively score those leads. If you aren't collecting enough data, it may be wiser to invest in data collection automation instead.
Source: Zoho
CRM Updates
Do your sales reps still enter all of your customer information into your CRM by hand? If they do, there are several problems with that fact.
First, your sales reps are wasting valuable time on manual data entry. Second, the fact that they are manually entering data means that your error rates will be high, which can torpedo deals down the road.
Sales automation software allows you to automatically create, update, and append records that are in your CRM. Through the use of forms and automatic data collection, much of the information that is entered into your database can come from the customers themselves.
Another benefit of this is the fact that you can be certain that all new leads and prospects are being entered into your system, with none being overlooked.
You can integrate leads from different sources including active information seekers, blog readers, social media connections, ad respondents, and a host of other channels.
Email Nurturing
Not all leads that come into the possession of your sales team will truly be sales ready. Some may be ready to buy right away. Others may need a bit more convincing. In those cases, they'll need consistent communication and value added to get them over the hump.
You don't want your sales reps to spend their valuable time putting together emails, follow-ups, and staying in contact manually with these prospects.
Automated sales email sequences help to walk your prospects through the buying decision without requiring that your sales team stay in constant manual contact with those leads.
Meeting Scheduling
How much time do you think your sales reps spend setting, planning, and reminding prospects about calls, demos, and meetings? If they are handling all of this themselves, you can bet its a whole lot of time.
Automated meeting scheduling should become a part of any sales process. It simply saves too much time with no discernible effect on the experience of your leads.
HubSpot Meetings is a free app that allows your prospects to schedule meetings with your sales reps at a time that is convenient for them, capture leads, and send reminders in the hours leading up to the meeting to improve attendance rates.
Source: HubSpot
Sales Call Automation
For sales teams that rely heavily on cold calling and sales calls in general, it is important that you are able to collect data from those calls so that you can evaluate your efforts and identify areas for improvement.
Conversation intelligence tools like Gong and Chorus make it easy to analyze your sales calls immediately after they happen. These tools will analyze your conversation, pull summaries of your calls, and transcribe them for you.
By evaluating key pieces of your sales conversations, you can determine which sales reps need improvement on the phone and where your organization as a whole could use training to improve conversion rates.
Proposal Generation
For sales teams that are offering a customized service, putting together proposals can be a lengthy process that makes it difficult for your team to put their focus into selling.
Digging through your CRM to find relevant data to include in the proposal is a time-consuming process and one that is perfect for a sales automation solution.
PandaDoc is the perfect example of proposal generation automation. The tool integrates directly with your CRM so that when you create a quote or proposal, key information from your CRM (customer details, product information, pricing information) are automatically populated in the proposal itself, with no extra effort required from your sales teams.
PandaDoc also sends reminders to new customers to sign their contracts so that you don't have to bother them yourself.
Source: RapidGPRS
How Can I Get Started with Sales Automation?
Sales automation is a game-changer for B2B businesses. With so many different sales tasks that are perfect for automation, there is no reason for companies to not embrace it. Your sales teams will thank you when their jobs become easier and they are able to close more deals.
Here at RiseFuel, we'll work with you to design a sales automation strategy that fits seamlessly into your current processes while freeing up time for your sales reps to focus on selling to high-value prospects.
We prefer to take a slow-roll approach, integrating new forms of automation slowly over time so that your team can become accustomed to the changes and maximize their effectiveness.