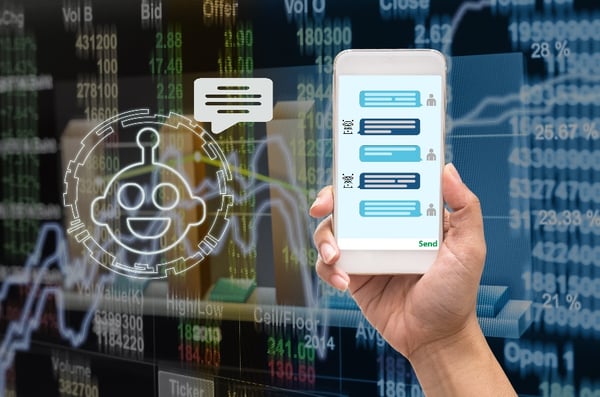 Delivering excellent customer service to your customers is an absolutely critical task for any e-commerce store.
No matter how great your store looks, if the support that you offer your customers is lackluster, you greatly diminish the chances that they will return to purchase from you again.
However, scaling a customer support team can be difficult. You want to make sure that you were taking advantage of Automation and content where available, to limit the numbert of support tasks and questions that your support team has to deal with on a daily basis.
Chatbots present an excellent solution for e-commerce companies in this position.
Chatbots can help you to diminish the number of support tickets that your team has to deal with, answer commonly asked questions from customers and help to direct customers to the right places on your website to make purchases.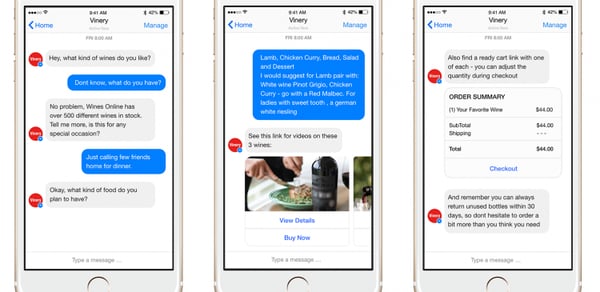 What Are Chatbots
Chatbots are automated Bots that interact with your customers on your website. Often, they will be displayed as a circular button on the lower right-hand of your web page. A chatbot is capable of answering many common questions from your customers, or directing them directly to a live chat agent.
You can use chatbots for a wide variety of different purposes. For eCommerce businesses, the most obvious benefits of a chatbot come from improved customer service and increases in sales. They provide on-demand responses for simple questions and doubts that your customers might be having.
They are gaining popularity. By 2025, it is predicted that AI will power 95% of all customer interactions.
Here are some reasons why all e-commerce businesses should consider using chatbots:
Increased Usage of Messaging Apps
One tech trend that we have seen come to fruition over the course of The Last 5 Years is the increased use of messaging apps, with Facebook Messenger leading the way. People are using instant message chatting Services more often than ever before. 1.3 billion people use Facebook Messenger each month.
Do not cater to these individuals wouldn't be not keeping up with the times. If your customers are using Facebook messenger and want to engage with you there, you should not avoid it. Meet your customers where they are and where they are comfortable.
More Personalization
It is no secret that customers prefer personalization over unpersonalized experiences. Doesn't it make sense? If you went to your local corner store and they knew you by name, knew what your favorite products were, and could recommend you new products because they had that understanding — wouldn't you be more likely to visit their store more often than your local 7-Eleven? The same applies to digital.
There is nothing more personal than a direct one-to-one conversation. An individual getting answers to their questions from a chatbot is having a highly personalized experience, even if the bot is providing answers based on a rule set in a set conversational pass.
Chatbots simply provide better experiences to customers, allowing them to more easily find answers to their most pressing questions.
Reduce Support Tickets
One of the biggest benefits of using a chatbot on your e-commerce website is being able to reduce the number of support tickets that your team has to deal with on a daily basis.
Because people are comfortable engaging with chatbots, they will be more likely to receive answers to common questions. Not only does this reduce the workload of your customer support team, but it makes each individual customer more likely to engage with your brand while on your website.
When a question pops into their head, the answer to that question is just a click away. They don't have to figure out how to navigate the website. They don't have to go through a support ticket system. They just get answers quickly and efficiently.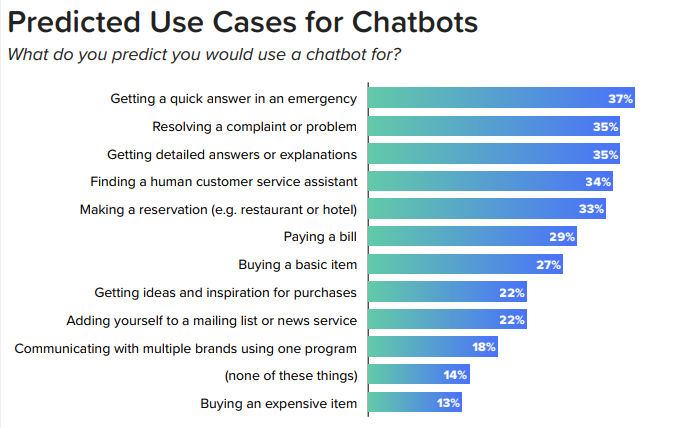 Source: ReveChat
Increase Sales with Chatbots
Last but not least, companies are able to better direct customers to products through chatbots. A customer can ask a simple question like "Do you sell snowboards?" then quickly receive an answer that directs them to your top 3 best selling snowboards that you have available in your store.
Making personalized recommendations based on the purchase history of each user is one of the biggest benefits of a chatbot. They get your products in front of your customers, and ensure that simple upsells and recommended products are always being shown when relevant.
A chatbot also makes your e-commerce website easier to navigate. Rather than clicking around on your men used to find the items they want, they can simply ask a question and be given a list of products that meet their specifications based on what they asked.