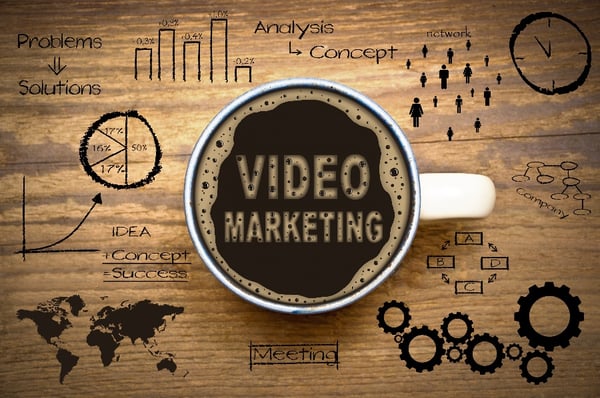 Video marketing is perhaps one of the most effective tools that businesses with an online presence can utilize to build instantaneous trust with prospects.
There are few things more effective than a video.
If you were evaluating two different companies, and your evaluation was equal, but one of them had a video with the owner speaking about their products or services, you would be more likely to choose the business with the video.
Why is that?
Video is personal. It gives a face behind the brand. It allows companies to explain more complicated subjects in a more conversational way than they would through blogs and articles.
Videos are also easy to consume. Videos on Facebook get 135% more organic reach than posts with images. A short video that only takes a few minutes of your time and says just as much or more than an article that would take 15 minutes to read can be a powerful content asset and low effort, comparatively.
For people, a lot of our communication is visual. We give visual cues about how we feel that often differ from the words that we use. Video allows us to utilize the full spectrum of communication when dealing with customers and clients, and use it to our advantage.
Let's take a look at some of the biggest benefits of video marketing, and try to understand why it is so effective.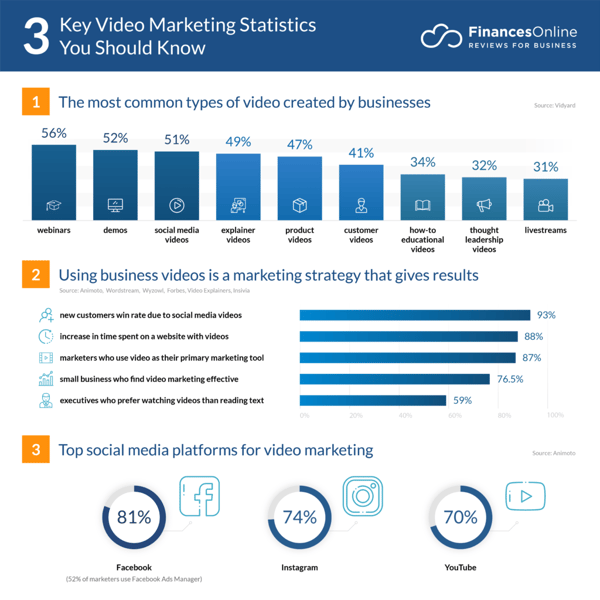 Source: FinancesOnline
Put a Face to the Brand
People like to work with companies that make it clear that there are real people behind the brand, operating it day in and day out. Creating high-quality videos that show the Founder's face, or other employees that work at your company, helps to give all of your communications a more personalized feel to them.
Video marketing is a powerful tool for creating that personal touch. It's as close as you can get to scalable 1:1 conversations, and partially why television commercials have been such a relied upon channel for local companies for many years. It gives companies a simple and easy way to convey professionalism and create trust with their audience.
There is something to admire about a Founder being willing to get in front of the camera and put their face and name to their brand.
It's no wonder that video marketing helps to create trust with your audience. The instant credibility that getting behind a camera adds to your business facilitates that trust and put your company in a better position to close New Deals.
YouTube is a Huge Platform
Did you know that YouTube is the second biggest search engine in the entire world? That's right, YouTube falls in line only behind Google itself, and ahead of other search engines like Bing and Yahoo.
YouTubers watch over 1 billion hours of video every single day.
This presents a huge opportunity that is criminally undersaturated compared to other platforms. You likely have few competitors out there producing sales or educational videos about topics that are important to their company in industry. Doing that alone can put you in a position to reach a wider audience that your competition has no opportunity to reach.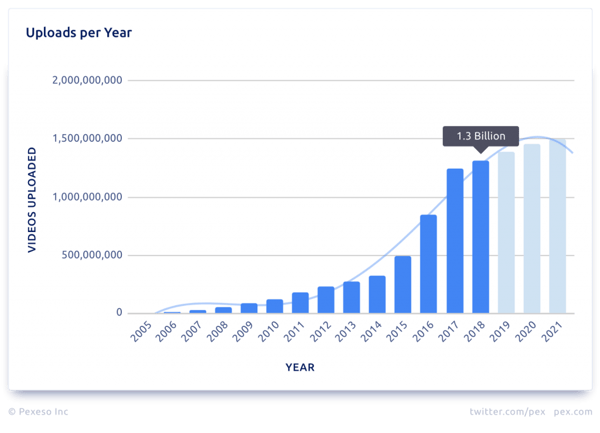 Explain Complicated Subjects
Video also presents an excellent way for companies to better explain complicated and complex subjects to their customers. You can leave in animations and presentation slides to help convey complex topics that would be hard to convey in a conversation.
Additionally, those videos can be used throughout your sales funnel, whenever the relevant subject comes up with a particular Prospect. Video is more than just a marketing channel, it's a method of communication that can serve any business well.
Video Case Studies and Testimonials Are Powerful
Video case studies and testimonials are perhaps about the most valuable marketing asset that you can have on hand. A case study is a huge deal. A case study shows that you have done a great job for another company in that they are willing to go on the record to recommend your brand, service, or product to others.
But a video case study takes things to the next level. If a customer is willing to get on camera and vouch for your business, that speaks volumes about the type of product or service that you provide to your customers.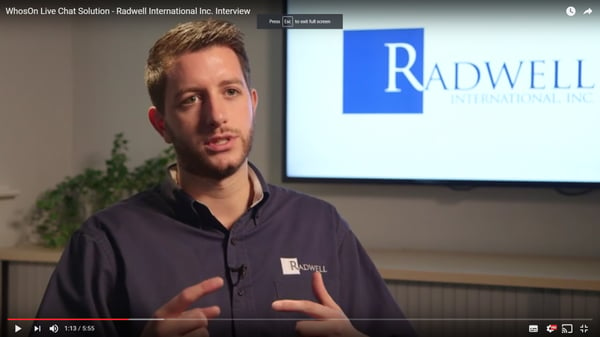 Source: WhosOn
Video Marketing is a Powerful, Evergreen Channel
Video marketing provides perhaps the most straightforward way to speak to your customers. It presents a powerful, evergreen channel that can become a consistent source of leads for your business and give you a leg up in negotiations by facilitating trust with your audience before they hop on a sales call.