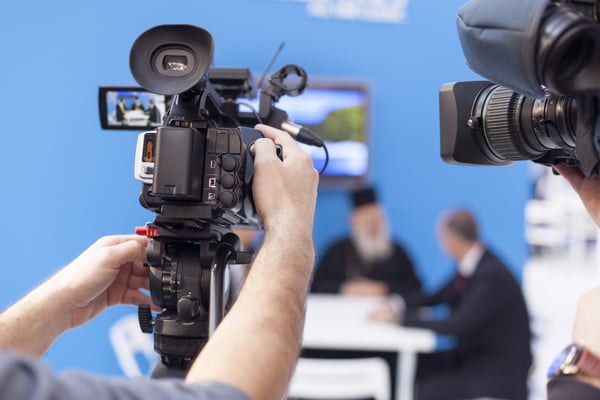 Video marketing has been declared the future of content marketing (Source: Forbes). Simply put, videos have a remarkable way of engaging your audience and drawing them into your brand.
It quickly builds trust, captures attention, and moves your viewers to action. With that said, videos are super effective in achieving inbound marketing goals like boosting awareness, driving traffic to your content, and producing leads for your sales funnel.
In an era where consumers are flocking to videos to discover more about products and brands, implementing a strong video marketing strategy is key to connecting and reaching your desired audience in 2020.
Don't Believe Us?
Courtesy of Hubspot and Small Business Trends, we've got the stats proving the value and power video has on amplifying your inbound marketing strategy.
By 2019, global consumer Internet video traffic will account for 80% of all consumer Internet traffic


Facebook users watch a whopping 8 billion videos per day


4 times as many consumers actually prefer to watch a video about a product versus reading about it


Companies implementing video enjoy a nice 41% more web traffic from search than brands who do not use video


Including the word "video" in an email subject line boosts open rates by 19% and click-through rates by 65%


After watching a video, 64% of users are likely to buy that product online
You see, video marketing has a profound effect on every facet of the inbound marketing way. Choosing to use video can significantly catapult your goals, getting you in front of your audience fast.
In fact, here's how to successfully leverage videos in your marketing to promote your brand and achieve results from your online efforts.
5 Ways to Use Video in Your Inbound Marketing Strategy
#1 Capture Your Brand's Story
Storytelling is a powerful marketing tactic to bring your followers into your brand's message. People connect with you through stories so it's an excellent way to humanize your company, separate you from other brands, and create memorable experiences.
Use videos for storytelling by delving into the "why" behind your brand. What motivates your team to get up and go every morning? How do you want to impact the market you desire to serve? What gives you the slight edge above the competition?
Share the story and showcase your brand's personality through the lens of video.
#2 Highlight Your Products and New Launches
As mentioned, people are more likely to purchase your product after watching a video about it. Videos give you the opportunity to demonstrate your product and highlight its features and benefits.
Viewers glean a better idea of the way it works and how it can help solve their problems.
They're also perfect for promoting new product launches to pique curiosity and keep people in the know.
Create a video for each of your products and services, particularly your flagship ones. The good news is, this is evergreen content that can be leveraged long-term. Think about how they will add to inform your social media audience, email list, and YouTube followers.
#3 Share Customer Testimonials
Did you know that 88% of people trust online reviews just as much as personal recommendations? Customer testimonials are a fast way to build the know, like and trust factor with your audience online.
It shows what you're doing is working…and people will believe that it will work for them too!
Focusing on increasing customer reviews is crucial for your digital marketing. The more good things you have people saying about you, the better you will position your brand for success.
Here are a few ideas on how you can boost video testimonials to share with your prospects and social followers:
Collect, organize and post

user-generated

content in your marketing. Encourage customers to share video testimonials on their

social media

page and use your brand hashtag in the post





Give an incentive when customers highlight your brand on video





Gather user-generated content and convert it into one compelling video




Host social media content on either Facebook or Instagram. Have people enter by posting a 15-30 second video of followers using your product. Make sure they emphasize a benefit they've experienced and include the contest hashtag or keyword. Decide on how you will select a winner and the prize offered
#4 Capitalize on Live Streaming Video
People are spending 3 times longer watching live videos than ones that have already been prerecorded (Source: Social Media Today). Apps such as Facebook Live, Periscope, and Instagram Stories are generating tons of engagement on social media.
As they automatically play in newsfeeds, live social videos are successfully capturing attention and driving better engagement from followers.
Also, live videos help build authentic relationships with your audience. Connecting with you in real-time means that viewers are able to ask questions on the spot and receive "right now" responses. People are able to see and experience the real you…a key ingredient to attracting prospects to your brand.
Use live-streaming video to host Q&A sessions, bring followers behind the scenes, or expand on a recent blog post. Report breaking news, showing that you remain current in industry happenings. Finally, give live product demonstrations to encourage quick leads and sales from your audience.
#5 Repurpose Popular and Evergreen Blog Content
Repurposing content is working smarter with your inbound marketing. You're simply taking one piece of content (typically your blog article) and converting it into different formats to appeal on multiple marketing platforms. It significantly increases visibility and allows you to speak to different learning preferences.
You see, although some may enjoy reading your blog post, most will love engaging in your topic when shared on video.
Therefore, repurpose your evergreen and most trafficked blog content into video. A stellar idea is putting together a mini-video series that emphasizes each of the subheadings within your blog article.
It gives you more real estate for search and YouTube while allowing you to capitalize on your longtail keyword.
Conclusion
Using video will skyrocket your inbound marketing results. You'll drastically improve brand awareness and create additional opportunities to send new visitors to your website, capture fresh leads, and increase your revenue.
Commit to incorporating videos in your inbound strategy. Brainstorm how you can methodically leverage videos for each phase in your marketing that leads prospects closer to the buying decision.
Doing so will drive better engagement from your market and position you for long-term success.
We know how to help craft a winning inbound marketing plan that includes multiple strategies like a video that engages your audience. Contact us here for a free consultation