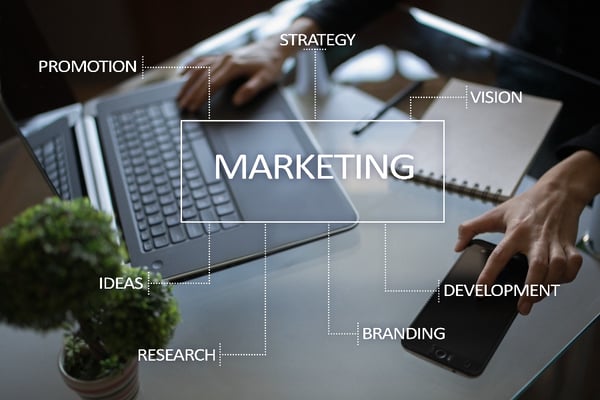 So, you are looking to grow your marketing operations and as a result, are looking for help with marketing management.
There are two ways to go. You can hire in-house or you can hire third-party help. There are benefits to both choices and each may be right for different organizations.
Either way, to make things run smoothly, you need to ensure that you have marketing management ready to help you navigate the range of different channels, strategies, and tactics that come together to form a coherent and consistent messaging strategy for your company.
So what is marketing management, exactly?
Well the format definition from the guys that literally wrote the book on marketing management is:
"The art and science of choosing target markets and getting, keeping, and growing customers through creating, delivering, and communicating superior customer value."
It's a bit of a mouthful, but it does strike right to the heart of what it is that a marketing manager does, whether they work within the company or for an outside agency or consultancy.
Marketing management is the process that informs a company's marketing plan from inception to execution.
This includes the process of researching, surveying, and understanding your market, customers, and industry to ensure that they are able to speak directly to your target audience in a way that will resonate.
Marketing managers are tasked with enacting marketing plans and strategies for the companies that they work for or with, while working within the allocated budget for the activities.
In a nutshell, marketing management is the process of designing, planning, and executing a marketing strategy on behalf of the company.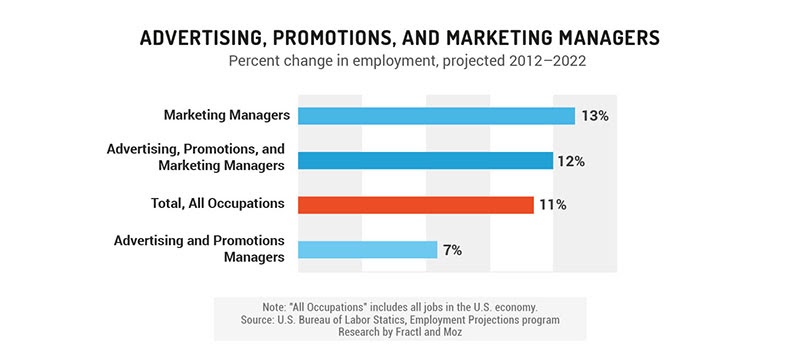 Source: Moz
What Does a Marketing Manager Do Everyday?
Understanding what a marketing manager is doesn't necessarily tell us what they do.
"Designing effective marketing strategies," might describe what their goal is, but it doesn't tell us much about how they do it.
"Marketing management" is a term that sounds very corporate if you just go by the standard definition. But inside of every marketing manager's job is hundreds or thousands of individual tasks that all encompass their job duties.
Let's break down what the day-to-day work life of a marketing manager (both internal and in an agency) might look like.
Set & Review Goals and Objectives
A marketing manager has to have a way to measure the success of the strategies and individual campaigns that they run.
There may be dozens (or even hundreds in larger companies) of campaigns running within a company's marketing department at any given time. Each of those campaigns will have their own goals and objectives.
Additionally, the company and department as a whole will have their own goals and objectives when it comes to marketing. They also set overarching strategies for the areas that they oversee.
When you work with a digital marketing agency for marketing management, you may task them with working on an individual piece of your total marketing strategy (such as an individual channel) or running the whole show for you.
Customer Profiling & Segmentation
When it comes to marketing automation — your customer and prospect data is the most important asset you have. Customer data tells you what your customers care about most.
It informs the way that you engage with them throughout the customer lifecycle. It (should) inform every step that prospects take on their way to becoming customers.
As marketing managers help companies climb the ladder of customer data management, they are able to dig out new insights that inform the strategies that they employ.
They gain a clearer picture of what their prospects and customers need to hear from them at a variety of points throughout their experience with your brand.
Customer profiling, segmentation, and general customer data management are all important aspects of a marketing manager's job. That data is the lifeblood that fuels the strategies that they employ.
Marketing Project Management
Depending on the level and seniority of the marketing manager, they will have some level of involvement in marketing project management.
Lower level marketing managers are often the ones to get their hands dirty and are actively out there facilitating individual marketing projects through the production pipeline, from strategy to launch.
Others work a level above, with project managers under them. Either way, the two have similar goals — to ensure that projects are coming in on time, on budget, and helping them to reach their KPIs.
Coordination with Other Departments
You probably have heard quite a bit about "marketing and sales alignment."
Great marketing and sales alignment is a core piece of any sales enablement strategy, but true alignment can be a difficult peak to reach.
Marketing managers are responsible for coordinating with other departments (including customer support and success) to ensure that the strategies that they employ are working in the favor of the company as a whole.
See, simply generating more leads is not the only job of a marketing manager. They have to make sure that the leads are quality and panning out on the backend for sales.
They should seek to not only ensure that the customers are leading to sales, but are also going on to become great customers. This is a marketing KPI that many marketing managers measure — customer lifetime value.
Developing Relationships for Co-Marketing
Developing beneficial relationships with companies with similar audiences can play a big role in the success of any marketing department.
Whether you work with an in-house team or an outside agency, developing these relationships is a core part of any marketing management position and key for the long-term growth of the company.
Deep Customer and Market Research
Marketing managers should always be working to grow their understanding of their customers and market at large. No company can have a complete picture of what matters and at what level those issues matter to their audience.
There is always more to learn, and the more you know, the better you can convey your value to your key audience.
It's critical that companies are able to continually work to grow their customer data and improve their understanding of their market, or else they risk falling behind the competition.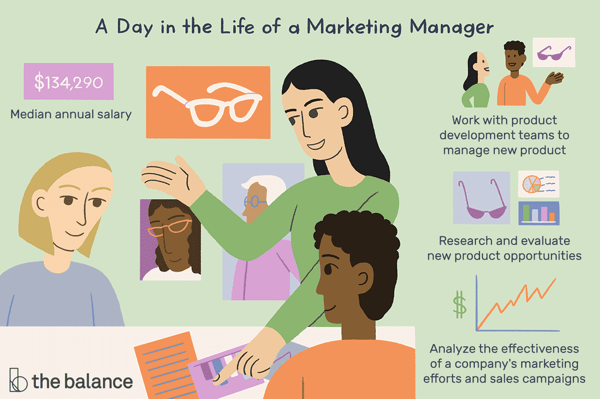 Source: The Balance
RiseFuel - Effective Marketing Management
RiseFuel is an inbound marketing and lead generation agency that works with companies in a variety of industries, helping them to effectively manage their marketing efforts, launch new strategies, and grow their market share.
Sound interesting?
Click here to schedule your risk-free consultation with Tony today.