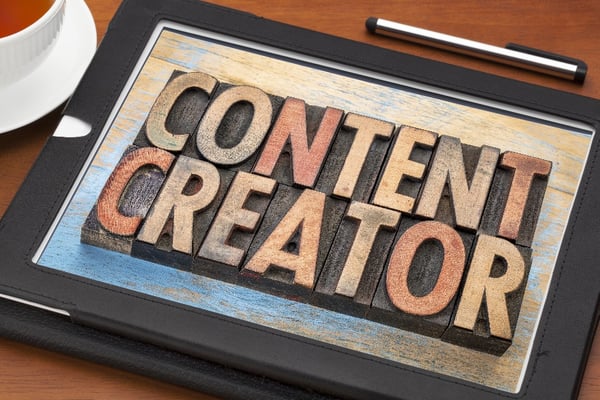 You've probably heard the term "content creator" thrown around a lot online. If you aren't fully sure what people mean when they say that — don't feel bad! A "content creator" can be many things.
Creating content is becoming the norm for businesses in nearly every industry. Marketers who prioritize blogging are 13x more likely to see positive ROI.
We'll focus on what a "content creator" is in the sense of digital marketing. So what is a content creator, exactly?
A content creator is an employee that is responsible for creating or contributing to the production of any media, but most prominently digital media. Typically, a content creator will create content for a very specific audience.
For example, a skiing and snowboarding brand might employ a content creator on social media. There, they'd post updates that are custom-tailored for their specific customers.
They might interact with skiing and snowboarding legends, other competing brands, and take part in discussions around the sport.
A content creator can contribute almost any type of media to a brand's social media presence:
Blogs and articles
Industry news articles
Images and infographics
Videos and screen captures
Audio and podcasts
Email
Social media
Your content must fit with your overall brand strategy. Professional content creators specialize in creating compelling, performance-based content that helps the companies that they work for to build their authority, build trust with their target audience, and ultimately generate more sales.
Content creation comes in all shapes and sizes. But the truth is that the format that you deliver the content in is less important than the information that you are able to deliver through that content.
If you are considering creating more content for your business, there are a few ways that you can go. You can hire someone in-house.
Work with a freelance. Or, hire a professional agency to handle your content creation and help you put together a winning strategy.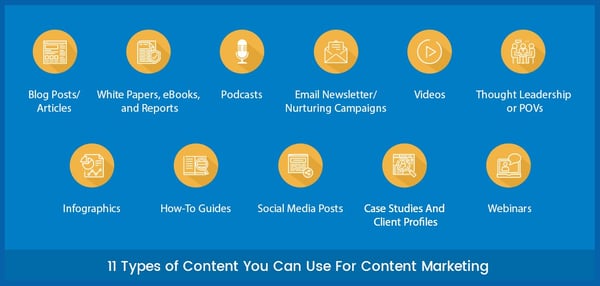 Source: E2MSolutions
In-House vs. Freelance vs. Agency Content Creators
The good news is that if you are looking to hire a content creator for your business, you have many options available to you.
In-House
The first would be to hire an in-house, full-time content creator. There are upsides there — namely that they become intimately familiar with your product and brand in a way that outside content creators just can not.
However, they do require a substantial investment compared to the other options. You'll need to provide them with a salary, benefits, office space, and other perks just like you would any employee.
Companies that operate in more complicated industries may have an easier time bringing an employee in-house.
Freelancers
Next, you can work with a freelance content creator. The gig economy is bigger, and more robust today than it ever has been in the past.
It is estimated that more than 50 million Americans now take part in the gig economy in some form. Many freelancers fall into that boat.
We recommend working with someone that specializes specifically in your industry and has the previous experience that is relevant to the content that they will be creating.
Freelancers represent a cheaper option, but also one that is more likely to fail. Putting your faith in someone that can technically move on to another opportunity at any time is a risk that you have to be willing to take when you work with a freelancer.
A freelancer may or may not be the right fit for your business. Yes, you'll likely pay on an hourly or per-project basis and save money on salaries, benefits, perks, and additional office space (most freelancers today work remotely).
But you will also have to spend a great deal of time interfacing with them to ensure that you receive the content that you want to fit with your existing strategies.
Agency
Agencies present a unique option to companies that are looking to grow their content creation output but find a middle ground between hiring in-house or having to work with a freelancer.
Agencies that specialize in your industry are likely to have relationships with writers, marketers, and industry publication editors that can work to your advantage if you plan on investing in content creation.
Additionally, agencies can be flexible. They can scale their content production up and down based on your needs. Agencies can handle your entire content strategy or function as a cog in the wheel for your own in-house strategies as well.
3 Traits to Look for in a Content Creator
As you evaluate potential content creator options, there are a few things that you need to keep in mind to ensure that your content strategy is successful and that you make the right choice for your business.
1. Quality Craftsmanship
Only quality stands out among modern readers. No one wants to read some article that someone slapped together in five minutes. They want genuinely insightful content, created by someone that is an expert in their industry.
This is especially true in B2B industries. They are looking for expert-level content, not your basic run-of-the-mill content.
Always opt to pay more and work with someone that will produce high-quality content, even if it means producing less of it in the long term.
2. Industry Experience
Working with freelancers or agencies that have a lot of experience in your industry is almost certain to yield better results than trying to teach someone your business just because they are a decent writer.
There is just too much to catch them up on for this to be a realistic option for most companies. Content creation is already a long-term process, and you shouldn't look for reasons to make it longer!
3. A Track Record of Results
Don't hire content creators that do not have a proven track record of results for the companies that they have worked within the past.
Any content creator with a wealth of experience should be able to point to similar content that they have created for others as a reference point for the type of content that they will create for you.

Source: Cision
RiseFuel — Inbound Content Creators
Here at RiseFuel, content creation plays a key role in every inbound marketing strategy that we put together for our clients.
We work closely with their teams to launch content initiatives that position them as a leader in their industry, build trust and authority with their audience, and put them in position to close more sales.
Interested in finding out more? Click here to book a 1-on-1 risk-free consultation with Tony.