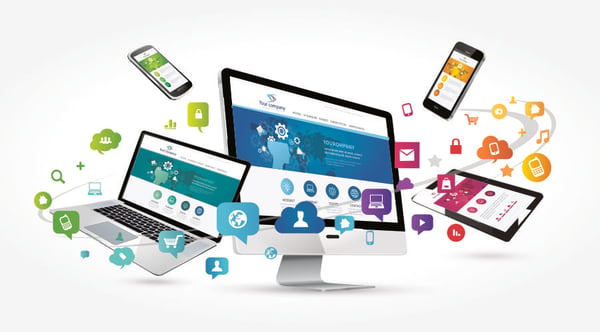 Searching for the right website design services can be an aggravating task. There are so many different freelancers, agencies, and web design services out there that it can be almost impossible to separate them from one another and find the right fit for your own company.
It takes time to evaluate what your actual needs are (especially when you don't have the technical experience to figure this out easily) and evaluate the different designers that could help to fill those gaps. Many companies end up speaking with dozens of different designers before they find one that they believe will be a good fit for their company.
As you search for design services to help you build a modern website that will complement other digital marketing activities that you undertake, go into conversations with criteria in mind. Having a list of things that need to be met for you to work with a website design company will help you to quickly narrow down your list and spot providers that stand out from the competition.
At RiseFuel, I work with a lot of companies that are wandering aimlessly through the process of having a website designed and rolling out digital marketing strategies to help them reach their audience online.
Most don't have a clue as to what they are looking for, and while I am more than happy to guide them through the process of auditing and evaluating their online presence and identifying gaps in their current strategy — they would always be better served to come into these discussions with an understanding of what they need. It simply leads to a more meaningful conversation and faster evaluation period.
Some of the basic things that all companies should look for in website design services include:
A Focus on Mobile-Friendliness
Having a mobile-friendly website is incredibly important to your business. In fact, in 2017 mobile traffic leaped well above the number of desktop visitors. The percentage of visits from mobile devices grew from 57% to 63% in 2018.
While not all industries will receive more traffic through mobile than they do through desktop (and where actual purchases and orders are placed from can vary quite a bit based on a number of different factors), a good number of your prospects and customers will visit your website through mobile during the research phase and you have to make sure that you are providing them with an experience that facilitates that.
This should shape the type of design services that you seek out. You have to work with a company that is not only capable of providing a website that suits the current environment but design a website with the future of the internet in mind as well.
Source: Stone Temple
Proven Experience with Results
Of course, you should seek out a company that actually has experiences designing websites, right? That seems like common sense because it is common sense. But the real key here is to seek out companies that can back up their experience with real, verifiable results — even better if those results apply to your own industry.
Ask for things like case studies, hard figures, and testimonials from previous clients. Inquire about how investing in their services worked out for the companies that used them. Plenty of companies can design a website, but not everyone can design a website that meets the goals of the organization that they are designing it for and delivers proven results.
As to see any proof of results from the outset of the conversation. Companies that shy away from providing these materials likely don't have any results that they can actively show and you should avoid them.
In-House Designers and Experts
Any website design services company that you work with should have their own team of in-house designers and experts that will work closely with you. Take heed — there are a lot of companies out there masquerading as web design or digital marketing companies that are really nothing more than middlemen.
They might engage in the initial consultation, but then all of the actual work is farmed out to overseas freelancers who won't be able to design your website with the care and expertise required for you to get the best possible result.
Keep in mind — I am not saying that a company can't use contracted work to deliver marketing or design services. Many agencies out there work with freelancers or contract talent on a part-time basis.
Plenty of contractors and freelancers have the same chops that an in-house hire has or perhaps even more. Those are real relationships they have that work to your advantage. The key here is that they have real experts working on your projects and aren't farming the work out to the cheapest overseas talent that they can locate.
A Focus on Marketing
In the end, your website is a large piece of your digital marketing plan. Think of it as a central hub advertisement for everything that you do online. Anyone that is going to design this asset for you, has to do so with a focus on the business.
You don't want to hire struggling artists with a passion for web graphics — you need someone that is going to design something that will help you propel your business forward.
You need a website that won't just be attractive to potential customers but will also help you to attract traffic through search, social, and other channels. A well-rounded approach to marketing and website design is important.
Experience Within Your Industry
Industry experience isn't always a requirement but is an important consideration. Companies that have a lot of experience designing websites for your industry will know the best practices and be able to use their previous experience to design a website that produces results. A track record (that they can prove) of providing high-level results to clients in your industry would make any web design services provided an excellent choice.
Research First
Before you have your first conversation with a web design company, the best thing that you can do is to conduct enough researched to be well-versed on what you need, who is best suited to help you, and how much you expect it to cost. Research is perhaps the most important first step when it comes to choosing a web design company. Then you can narrow the list of possibilities down by using the tips provided in this article.