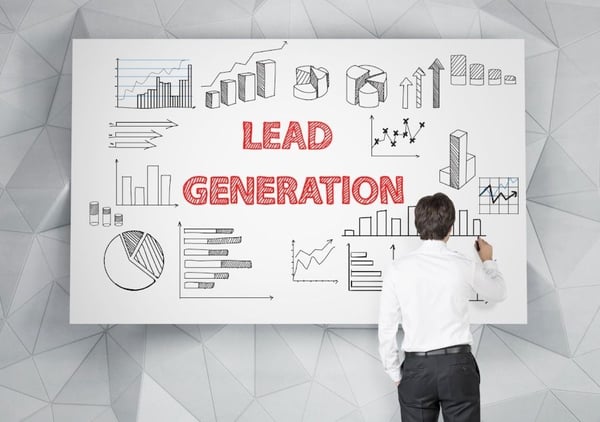 For B2B companies, there is nothing more important than your sales strategy and ability to keep your sales funnel filled with high-value prospects.
Lead generation is often the number one problem of B2B businesses, leading many to work with a lead gen agency to help them solve this problem and focus on other areas of their business.
53% of marketers say that half their budget is allocated to lead generation, but lead generation is a huge category that encompasses both your sales and marketing teams.
In my time running RiseFuel, a premier lead generation agency, I have worked with clients in many B2B industries. The one problem they all consistently have is generating enough high-value leads consistently enough to facilitate predictable growth.
For many, signing with a lead generation agency makes perfect sense. It allows you to focus on the areas of your business that you have the most experience in while ensuring that you have experts working by your side to help in areas that you don't.
Running an effective lead generation campaign requires experience. It isn't about telling your sales team to hit the phones. It's about building a foundation that facilitates inbound leads that keep your pipeline filled and your sales team busy.
I work closely with clients to put together a lead generation plan that will not only generate valuable leads in the short term but will set them up with a lasting inbound strategy to keep their pipeline filled.
But before you sign on the dotted line with a lead gen agency, there are a few questions that you should ask them to make sure that it will be a good fit:
Who Will Manage My Account?
One of the most important questions you can ask is "Who will be managing my account?" In smaller agencies, it may be a head consultant or a marketing manager that works for the agency.
In larger agencies, it could be any number of people within their team. Knowing who you will be working with is absolutely essential for developing a personal connection with them.
Before committing to a contract, it is a good idea to have some meetings with the person that will manage your account. With some agencies, this person may not be the same person that speaks to you during the sales process.
What Planning and Strategy Meetings Will Be Needed to Get Everyone On the Same Page?
What are the initial steps that need to be taken to get things kicked off in an effective way?
In most engagements with lead generation agencies, there will be several meetings required to get everyone on the same page and ensure that the agency and your team are working together to ensure a smooth transition.
Lead generation requires that you have alignment between your marketing and sales teams. That takes time and planning.
When you work with an agency that specializes in lead generation, there is a good chance that they will want to make some changes to your processes and technology to provide better results.
This will require some coordination, and it's best if you have what that coordination will look like prior to getting started.
How Will Communication Be Handled?
How often will you be communicating with the agency? Will you be holding weekly calls, bi-weekly calls, or monthly calls? Is there a person within your sales team that the agency should be interfacing with?
Communication is an absolutely essential element to a successful agency engagement. Without having a plan in place, you set yourself up for failure.
Make sure that your communication plan is built into the contract that you sign with the agency. You want to make sure that you have the expectations for both parties clearly defined before beginning your work together.
What Technology Do You Work With?
Some agencies will only work with certain software packages, which can add another thing to consider before you sign on the dotted line.
Sometimes it might be best to work with an agency that specializes in the solution that you are already using, rather than upending your own lead gen processes completely.
I always recommend to my clients that they adopt HubSpot for their inbound marketing management. HubSpot is a robust solution that covers all of the important considerations for an effective inbound lead generation system.
Understanding what technologies you will have to adopt can also help with your understanding of the total cost of the engagement.
You may be required to buy expensive software to work with some agencies, which can really cut into the budget
What Makes a Client Great to Work With?
This is a great question that many clients overlook. Agencies enjoy working with clients that meet certain criteria. It's different for every agency.
I personally love working with clients that are engaged and responsive throughout the process. Communication is a key pillar for a successful outcome and without continued engagement, I find it hard to facilitate a successful outcome.
Asking this question can clue you into what is important to that particular agency.
Knowing what is important to them can help you to structure your own communications in a way that keeps you on their list of favorite clients and create a positive working environment.
What Key Performance Indicators Will We Focus On?
What are the most important key performance indicators that you should be focusing on in your lead generation efforts? A great lead generation agency isn't only driving new leads, they are setting you up for long-term success in lead generation.
Knowing which key performance indicators they will be targeting can give you an idea of how they will be reshaping your strategies and what the future of your own internal teams might look like.
How Will Reporting Be Handled?
For an agency to be worth your investment they have to produce results. Part of that effort involves sending detailed reports are regular intervals to update you on their progress.
You should work with the agency that you choose to nail down a detailed timeline for reporting to keep everyone on the same page.
Will they be sending monthly reports? Weekly? Find a time frame that works for both parties, but gives the agency enough time to focus on execution without getting bogged down in reporting.
Great Agency Partnerships Facilitate Success
Working with a great agency can be a fruitful relationship for both parties, provided they both have a good understanding of their goals and requirements.
Asking these questions will give you a good understanding of what your engagement with a lead gen agency might look like, while also giving you insight into how your own company may be changed in the process.