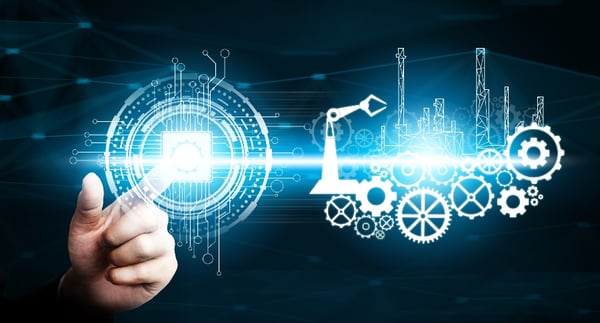 The marketing landscape has been changing rapidly for manufacturing companies.
In an industry where many deals are still sealed with handshakes and rounds of golf, the rise of digital marketing has upended the relationship and word-of-mouth marketing practices that were so critical to the success of many companies in the space.
As digital marketing continues to play a bigger role in the industry, we have noticed some discernible trends emerging. Many manufacturing companies are still getting their feet wet when it comes to digital channels. For many, they are just beginning to scratch the surface of what is possible for them through digital.
Here are some of the big trends that we've seen growing in recent years and will continue to play a vital role in the marketing operations of those in the manufacturing industry for years to come.
1. Manufacturers Are Embracing Content Marketing
Content marketing is already being embraced by most manufacturing companies. In fact, 85% of manufacturing marketers are using content marketing in some form.
We can expect this trend to continue in the coming years as more companies get on board. Content plays a critical role in educating your prospects and customers.
This is especially important in manufacturing industries where sales cycles can be longer and prospects will require a fair amount of education before they are ready to enter into a partnership with your company.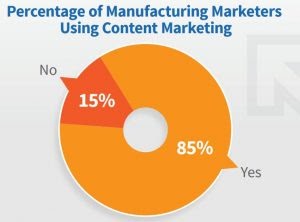 2. Manufacturing Marketing Has Room to Grow
Only 1% of manufacturing marketers view their marketing operations as sophisticated. This shows that marketers in these organizations recognize that there is a lot of room to grow. Many are just budget constrained.
Working toward a more sophisticated operation is something that can take years for many companies. It is something that companies look to slowly creep toward over time, rather than expecting it to come together right away.
3. Manufacturing Marketers Blame a Lack of Content for Stagnant Growth
67% of manufacturing marketers state that a lack of time devoted to content marketing is responsible for their stagnant success over the last year.
This is another sign that manufacturing marketing budgets may be lower than what they should be. Marketers are recognizing opportunities but are unable to capitalize on them due to time constraints.
In many cases, it may be wise for companies to invest in content creation now, as the content will be dividends for years to come.
4. A Move Toward Data-Backed Decisions and Analytics
A move toward digital usually coincides with an effort to take a more data-backed approach. Digital marketing channels simply provide too much valuable data for most companies to ignore. This is evidenced by the fact that today, 76% of manufacturing marketing departments use analytics and tools.
However, that still leaves a lot of room for growth. In the next few years, we will see many more companies embrace a data-backed approach and make the switch.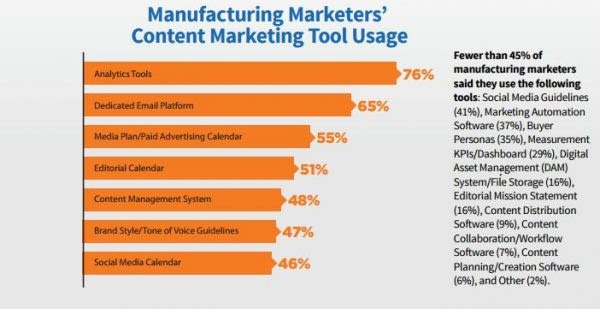 5. Growing Interest in Inbound Marketing
It isn't just content marketing — manufacturing companies are embracing inbound marketing as a whole.
Companies aren't just producing one kind of content. They are producing several, working together to ensure that they provide a complete picture for their prospects across all channels that they would like to interact through. 78% of manufacturing marketers use some form of inbound marketing.
6. Email Continues to Play a Critical Role
Email is the most widespread digital marketing channel used in the manufacturing industry. 92% of manufacturing companies are currently using email to distribute the content that they create for their audience.
In the future, we will see more companies in this space find innovative ways to use email marketing. In fact, email marketing will play the central role in the next trend that we cover in this article — marketing automation.
7. Marketing Automation to Play a Big Role in Manufacturing Growth
Marketing automation is the key to unlocking consistent, reliable growth through digital channels. Manufacturing industry companies are already embracing marketing automation, but there is so much room for growth in this area that is currently unexplored.
Marketing automation provides a frictionless way for prospects and customers to get their most important, most pressing questions answered. Forward-thinking companies are already embracing more automated sequences and are reaping the rewards.
51% of companies today are using marketing automation in some form. While the manufacturing industry typically lags behind digital adoption, you can expect to see rapid growth in this area in the next few years.
8. Branding to Play a Bigger Role in Recruiting
There is an increasing understanding that your marketing operations don't just impact your ability to connect with customers, it also impacts your ability to attract top-of-the-line talent to your organization as well.
As this understanding becomes more common throughout the industry, we'll see a higher level of focus on branding, especially as it applies to attracting talent. As the industry becomes more connected through digital channels, top talent typically has their "pick of the litter" when it comes to what companies they work with.
9. Influencer Marketing An Untapped Resources for Many Manufacturers
Influencer marketing and social media as a whole are untapped avenues for consistent and reliable growth for manufacturing companies. Too often, social media is written off as something that is more suitable for B2C. Today, professional networks like LinkedIn can be an excellent way to engage with your target market.
In the next few years, expect more manufacturing brands to hop on the influencer marketing train and try to carve out a larger amount of traffic to their website through those channels.
RiseFuel - Manufacturing Marketing Experts
Here at RiseFuel, we have worked with many manufacturing companies, helping them to embrace a content-centric approach and educate their audience through inbound marketing and sales enablement. We provide a full marketing and sales approach to systematically growing your manufacturing company across a range of digital channels.
If you are interested in learning more about embracing digital manufacturing marketing or just want to learn more about what a digital-centric approach might look like for your company, contact us today to schedule your risk-free assessment with our founder, Tony Shannon.