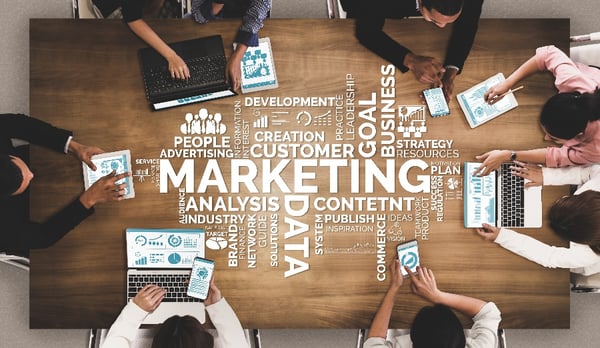 Putting together an effective manufacturing marketing strategy in modern marketing requires a broader approach than in previous years.
Traditionally, most manufacturing companies found new business through their extensive network. They had a foothold in a region, industry, or business circle and leveraged their relationships into new business.
But in this modern era of business, it is important to supplement traditional marketing activities with digital channels.
Here at RiseFuel, we specialize in helping manufacturing companies to create alignment between their traditional offline marketing programs, digital marketing, and sales teams to create a consistent lead-generation machine that keeps your pipelines full and your team busy.
In this article, we'll look at seven of the growth channels that we consistently leverage in our manufacturing marketing strategy engagements to deliver exceptional results to our clients.
1. Search Engine Optimization
Search Engine Optimization (SEO) is the technical process of ensuring that your site is set up to perform well in Google and other online search engines.
Manufacturing SEO allows you to ensure that your site is most likely to be discovered by your target market when they go looking for solutions like the ones that you provide.
SEO is a long-term strategy and can take between 3-12 months to really begin to peak. However, that investment is one that will serve your manufacturing company for years to come.
Once your website is appearing high in the search results for keywords that your customers are searching for, your pipeline will be filled with a consistent stream of high-quality leads.
SEO plays a key role in every strategy we put together for our marketing clients.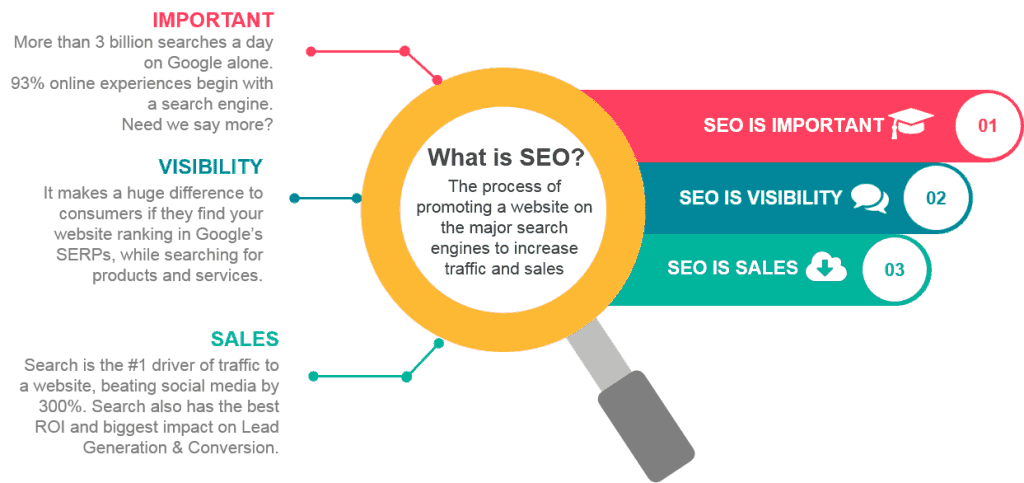 Source: SEO Checklist
2. Content Marketing
Content marketing is the process of publishing content that educates, persuades, attracts, and sells to your target audience.
Think of the most common questions that your customers ask you throughout the sales process. As a manufacturing company with a long sales process, there are probably a lot of questions that you are asked.
What if, instead of having to go through the same conversations all of the time, you could cut down the length of your sales process by pre-educating your prospects and ensuring that they come into every engagement with your sales team with a firm understanding of what is most important to know when working with your company.
Content marketing also plays a key role in SEO, helping you to target new keywords, expand your reach in Google, and attract new, interested prospects.
3. Search Ads
Search ads provide a shortcut to getting your company in front of search audiences. You can target the same keywords that you would with SEO and skip the 3-12 month waiting process that is required for your website to gain Google's trust and begin ranking highly.
The difference here is that you pay every time that someone clicks on your ad, while with SEO those clicks are `free' (not including all of the work that goes into getting you to show up for coveted keywords in the first place).
Search ads that run profitably can provide a consistent flow of new, qualified leads into your marketing and sales pipelines. Additionally, over time, we work with companies to help them optimize their campaign and maximize their return on ad spend.
Search ads can play a key role in any manufacturing marketing strategy.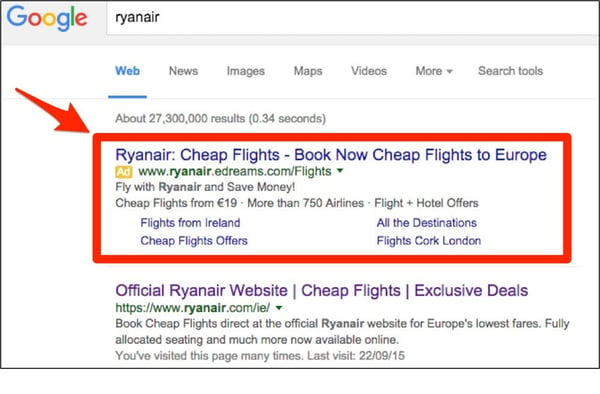 Source: Business Insider
4. Social Ads
Social ads are a bit tricky in the manufacturing industry, but can still be a powerful tool.
When working with manufacturing companies, we recommend a narrower focus when it comes to social ads — retargeting.
Retargeting allows you to show ads only to people that have visited your website in the past.
So that means that when a customer comes to your website and views it, even if they don't enter any information, you can make sure that the next time that they login to Facebook, LinkedIn, Twitter, or other social networks, that they see your ads.
This helps you to stay top of mind and ensures that you continually engage with potential leads.
5. Sales Enablement
Sales enablement is a long-term strategy of creating processes and content that allow you to better sell your services to your target audience.
Sales enablement involves taking a look at and auditing your current sales processes to identify where improvements can be made.
Those small optimizations that lead to an even 2% increase in sales could mean millions of dollars for your manufacturing company in the long-term.
When it comes to sales enablement content, there is both customer-facing and internal content.
An example of customer-facing content might be information about your process, machinery, or other aspects of your business that prospects typically want to know about throughout the sales process.
There is also internal sales enablement content that includes things like process sheets, sales scripts, and email scripts.
An investment in sales enablement is a long-term investment in the future success of your business.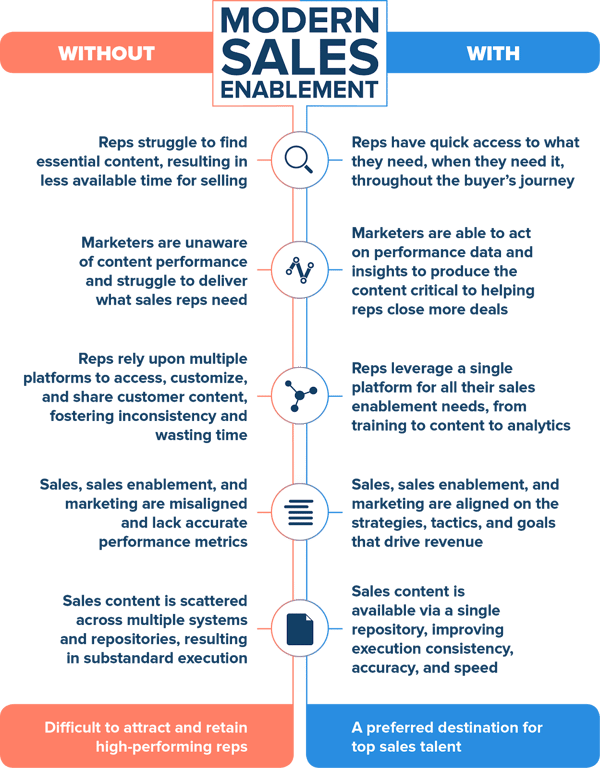 Source: Highspot
6. Marketing & Sales Alignment
A manufacturing marketing strategy can only be successful if there is genuine alignment between your marketing and sales teams.
They need to be working together to consistently generate high-value leads and identify new messaging and areas of growth that work in the favor of both departments.
This is often easier said than done, but here at RiseFuel, we believe that both customer-facing and internal content creation can help to align teams around common goals.
By identifying what is important to both teams and working to bring those together into a consistent strategy, you can generate more leads while closing more sales on the backend.
7. Digital Networking
Just like in traditional networking, digital networking can play a key role in the success of your organization as well.
Having an active presence on LinkedIn and other social networks can help to get you in front of your target marketing, position yourself as an authority, and stand out from the crowd.
Relationships matter, particularly in the manufacturing industry. You can plant the seeds of relationships by being active, participating in conversations, and sharing content on social networks.
Work with RiseFuel
Want to work with RiseFuel to launch an effective manufacturing marketing strategy that targets these channels?
Click here to schedule your risk-free consultation with Tony today.