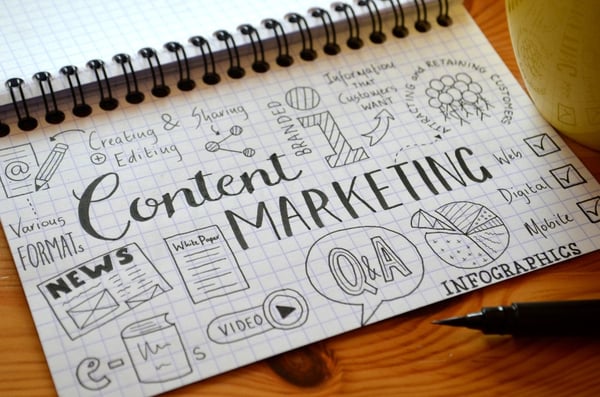 In my time working with manufacturing companies, one of the areas that I consistently see businesses falling short is in their content production.
Manufacturing companies often have many complicated processes and aspects of what they do that they need to explain to new customers so that they can work well together.
Often, they have built this educational process into their sales processes. They educate customers as they walk them through the sales funnel, on their way to closing a deal. 60% of marketers create at least one piece of content each day.
And that certainly can be an effective way to handle that side of the conversation.
However, content scales. You can spend your time or invest in working with someone to help you create a piece of content one time, that can be shared with all of your prospects from that moment forward. Investing in content is a long-term investment that allows you to free up your employees to focus on other, big picture strategies that move the needle.
78% of CMOs believe custom content is the future of marketing.
Let's take a look at some of the different ways that manufacturing companies can leverage content marketing to their advantage, and help them to close new deals.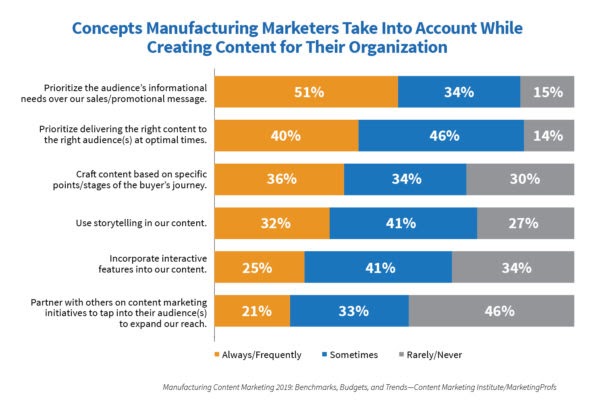 Explain Complicated Products or Processes
If you have to explain complicated products or processes to your customers, as many manufacturing companies do, content is a necessary investment.
By creating content, you free your sales team from having to have the long-winded educational conversations that are required to close big-ticket and enterprise manufacturing deals.
But with the right content on hand, much of the education that your customers and clients will require can be self-guided. You don't need to walk them through The same story every time that you begin to explore a new relationship.
For some companies, content is an absolutely necessary investment. Otherwise, they spend so much time trying to explain things to customers that they lose sight of what is important in the sales process.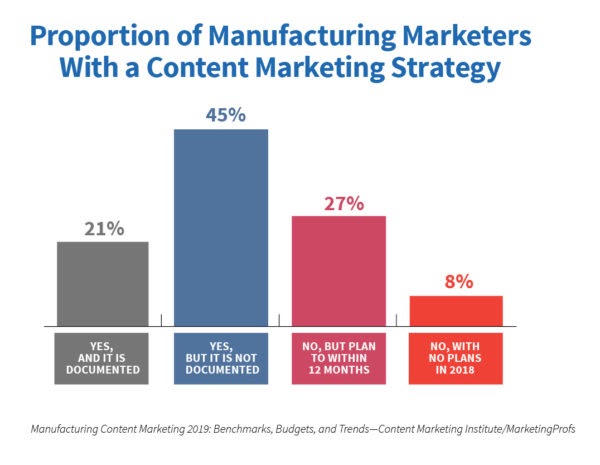 Let Your Customers See Behind The Curtain
When companies look to work with manufacturing companies they want to be assured that they are working with a company that values professionalism, and can deliver timely and effective communication right when they need access to it. Video content is self-serve in a way that conversations can never be.
Content can provide new customers with a look behind the curtain. They can gain deeper insights into how your company looks at certain issues and thinks about their relationships with customers. By getting personal in the content and being willing to talk about your own experiences, you can provide them with a look behind the curtain that can endear them to your brand and facilitate trust.
Facilitate the Sales Funnel
As your customers make their way through the buying process, having high-quality content there for them at every step of the way not only makes your company look professional but helps your customers to better understand the buying process as well.
Think of the common questions that your customers ask you. Wouldn't it be easier if you had a nice ebook, article, or video that you could show them for each of those questions, that delivered a perfect answer each time? This is the power that content unlocks for manufacturing companies. This is what is known as sales enablement content.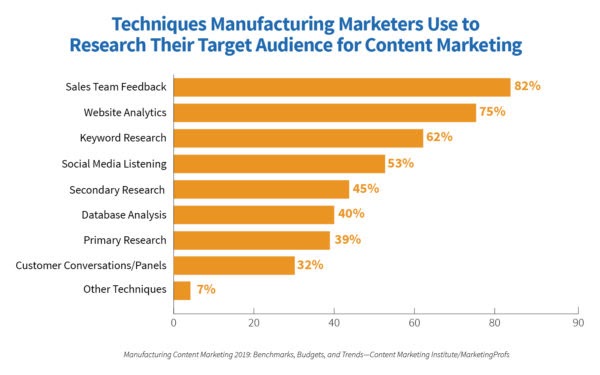 Become a Source of Critical Industry Information
But content is not always about sales in the short-term. Content is a long-term investment that helps to position your company as a critical source of information. When people have questions about your industry and they come to your brand, that puts you in a position of authority that can help to facilitate a constant stream of new leads.
By being seen as an authority in your industry, you are attracting not just customers that are in need of your products or services now, but will need them in the future as well. And when they do, your business will be the first that they think of.
Content is Critical for the Manufacturing Industry
Content is a critical investment for any company in the manufacturing industry. It allows you to explain complicated products and concepts, give your customers a look behind the curtain, and become a source of industry information that positions you as an authority, drawing people to your brand over time.