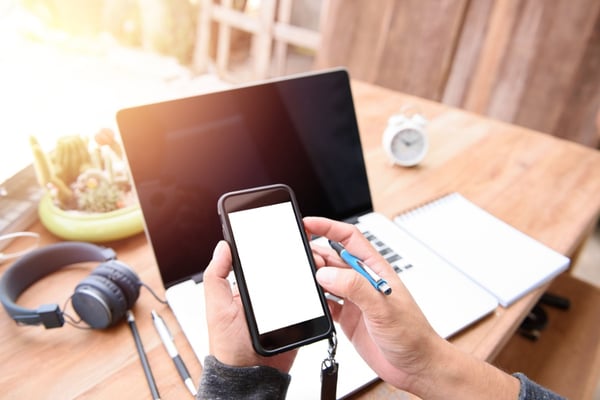 For a long time, LinkedIn company pages weren't much use. LinkedIn's user base of nearly 600 million users mostly focused on the people that they connected with and the ability to follow brands was a little-used feature that kind of fell by the wayside over time.
It was clear that LinkedIn wanted to do something bigger and better with their company pages.
They had drip-fed new features onto the platform over the last few years but these additions hadn't amounted to much interest from their users.
Recently the company announced that they had rebuilt company pages from the ground up and altered some of the functionality of those pages.
These changes were made to not only make company pages more useful to companies but to the users that choose to follow them.
With the change to "Company Pages" came a rebrand to "LinkedIn Pages," opening the door to more potential uses for the feature.
Of the key changes that LinkedIn announced in their late 2018 rollout of LinkedIn Pages was a new focus on content and communicating with audiences through those pages.
Many of the changes were designed to help companies better communicate with their audiences through the platform.
Of these changes, perhaps the most interesting and impactful addition to LinkedIn Pages was their features that focused on helping companies share the right content with their audience.
This was driven primarily by their new "Content Suggestions" feature, which provides new content curation and promotion opportunities to LinkedIn Pages and the admins that run them.
What Are LinkedIn Content Suggestions?
LinkedIn Content Suggestions are the new feature that they are using to help LinkedIn Page admins to better align the content that they share with what their target audience wants to read.
The feature works by recommending specific articles for the page to share. This provides a number of benefits.
First, it helps the company to ensure that they are sharing valuable content with their audience consistently.
It also helps to bolster traffic for the publishers of the content as well, which some companies could use to their advantage.
The suggestions come from content that has been trending on the platform over the course of the last two weeks: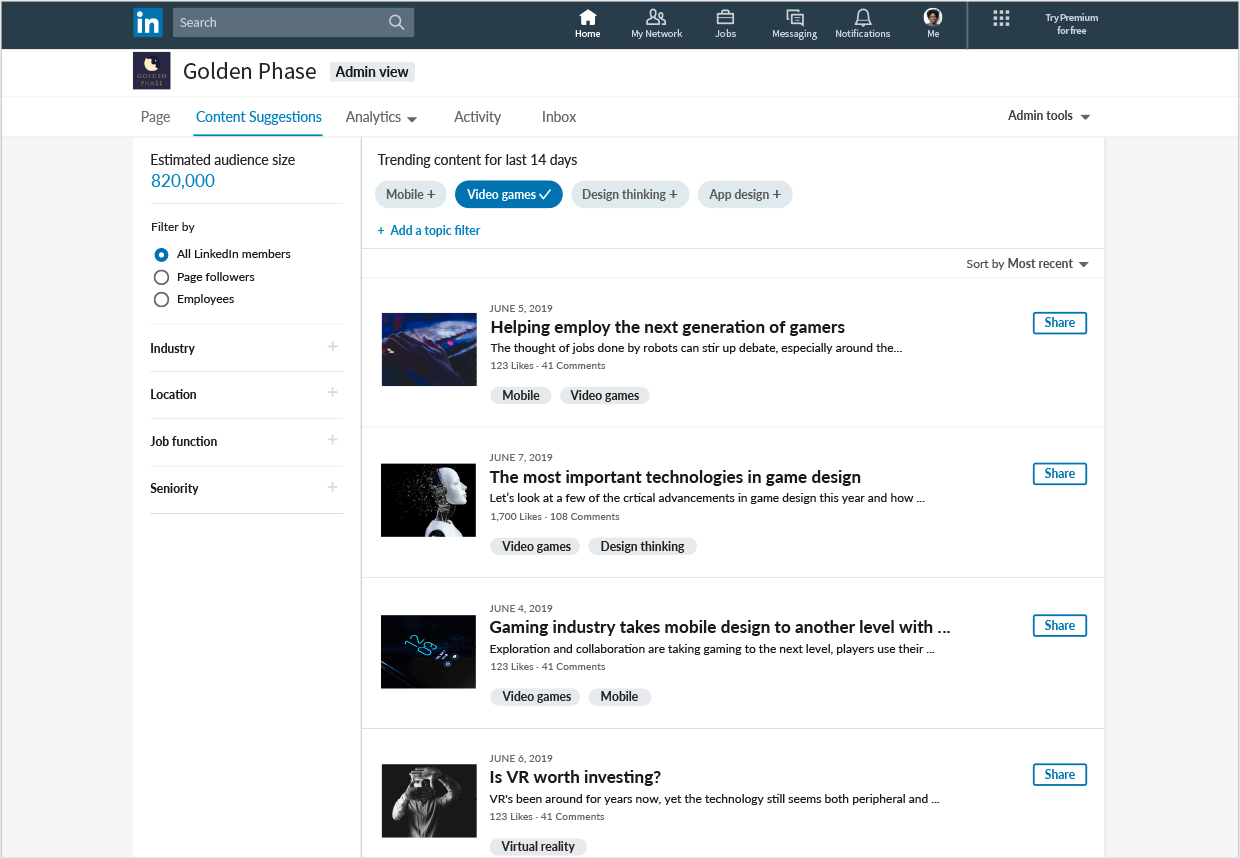 Businesses can use this feature to guide their own suggestions as well.
When you find a lot of your network is engaging with certain types of content, that can be a sign that the company should produce similar content on their own.
Other updates included in the LinkedIn Pages rollout include:
Mobile app improvements. LinkedIn Page admins can post and respond to updates and comments from the LinkedIn mobile app. They will also be able to associate their LinkedIn Page with specific hashtags, share documents, and generally grow the types of content that they can share with their mobile audience. Page managers will be able to engage more easily and more often with their followers.



Share employee posts.

Most users don't care so much about what a company itself as posting as they about what ranking individuals within the company are posting. To remedy this, LinkedIn allowed for Pages admins to re-share and publicly post content that has been shared by members of their organization directly on their personal pages.


Integrations with Hootsuite and Crunchbase. LinkedIn pages will be able to directly integrate with these tools for scheduling and company data insertion on the LinkedIn page.
But — the bread and butter of this update, from my perspective, comes from the Content Suggestions update.
Why Is the Content Suggestions Update Important?
This update may not seem to critical on the surface but it does provide a lot of new data and insight to B2B companies.
The new LinkedIn Pages and features will give companies more opportunity to share, engage with, and develop loyalty among their followers.
Using the new content suggestion tool, LinkedIn Page admins will be able to choose a topic by filtering selections.
They'll be able to filter the content recommendations by location, job function, and seniority level.
Then, they'll be able to add customized call-to-action buttons to post that could potentially be used to call users to action using phrases like "Read More," "Request Demo," "Contact Us," "Sign Up," or "Visit Our Website."
It gives them more ways to call followers to action.
Additionally, content suggestions can be shared directly with employees who can share it on their own feeds.
This can help the company to roll out the content that they publish in an organized fashion, gaining as much traction as possible on the platform.
This will not only help you to drive more interest in the content that you publish, but it will help you to drive social signals toward your pillar content for SEO purposes.
In fact, the new Content Suggestions and sharing features could actually play a pivotal role in SEO strategies.
Your public LinkedIn pages could act as excellent cluster content in the "Topic Cluster" SEO model, as visualized below:
Source: HubSpot
Letting your LinkedIn Pages act as a source of cluster content and driving users and authority back to your website could play a critical role as a spoke in your clustered content strategy.
By leveraging personal accounts to share these updates, you drive more authority back to the pillar content as well.
A Useful Update
There wasn't a whole lot that LinkedIn had done to increase the popularity of their Company Pages.
People just weren't interested in following companies on the platform and instead most focused their attention on following individuals that worked at the companies that they were interested in.
However, the re-work of the Company Pages feature (and rebranding to LinkedIn Pages, which gives people a bit more leeway in how they use them) have made them more useful not only for companies but for the users that follow them on the platform.
With the content suggestions update they have made it easier than every for companies to deliver valuable and interesting content to their audience while supporting their own content initiatives.