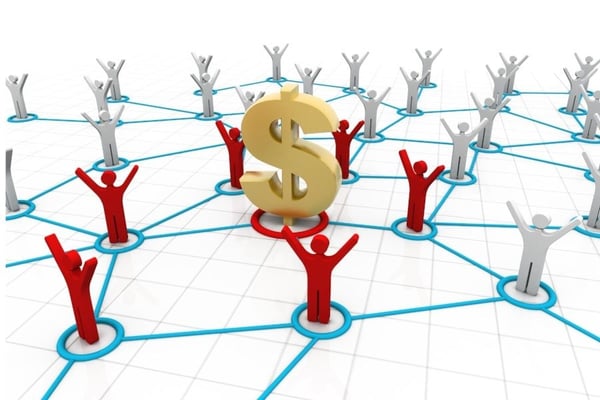 LinkedIn is the largest professional network in the world. Today, there are more than 630 million users on the site, with more than 250 million of those being active users on a monthly basis. For B2B companies there is no better source of prospecting and lead information than the LinkedIn network.
Although LinkedIn did not always embrace using their platform for prospecting, in recent years they have embraced the practice and have expanded their Premium features to include prospecting and sales features for B2B companies.
If you are a B2B company and aren't using LinkedIn for lead generation, now is the time to start. However, you don't want to go into LinkedIn lead generation slinging your sales pitch at anyone who will listen. Instead, focus on building relationships with your prospects and genuinely sharing valuable advice with them.
As you begin using LinkedIn as a tool for lead generation, there are a few tips that you should keep in mind to give yourself the best chance at success:
Go In With a Plan
Knowing what you want out of your lead generation efforts on the platform is important because it will inform the strategy that you use to accomplish your goals. Going in with a set plan and strategy gives you a checklist of activities to execute.
Like any lead gen strategy involving a social network, LinkedIn lead generation is a long-term strategy that requires persistence to complete it effectively. Go in with a plan so that you have a set list of activities to execute that all work toward your bigger goals on the platform.
Connect Directly With Ideal Clients
The first step in LinkedIn B2B lead generation is actually connecting with people that fit with your ideal client avatar (ICA).
The first thing that you need to do is use your ICA or other persona profiles that you have developed to help you identify job titles, industries, and companies that you would like to work with.
The great thing about LinkedIn is that they have very advanced search features. You can define the type of prospects that you would like to connect with using their search function and receive extremely accurate results.
Whether you want to connect with founders, marketing managers, sales managers or any position within an organization — LinkedIn gives you the tools that you need to identify and connect with those clients.
To "connect" with someone on LinkedIn is the same as adding them as a "friend" on Facebook. It allows them to see your full profile, things that you post to your feed, and send messages to them.
With some Premium accounts, you can send messages to people that you aren't connected with. Still, connecting with your ideal clients gives you the ability to begin building a rapport with them in a natural way.
Share Valuable, Insightful Content With Your Best Prospects
You don't want to connect with your ideal prospects and then start bombarding them with sales messages. LinkedIn is a platform where people in high positions are likely used to receiving lots of unsolicited messages from salespeople.
You have to stand out and find a way to attract their attention before you delve into the really heavy sales messaging.
The best way to do that is to share valuable, insightful information with your prospects. You can do this through messages and your feed. Ideally, you should share information through both avenues.
Once you have a healthy number of connections with ideal prospects, you want to focus on building awareness so that when you do reach out to them with sales messaging they will be more receptive.
Keep a Close Eye On Engagement
The posts that show up in your feed are the posts that receive the most engagement. Engagement (likes, comments, views) are the metrics that LinkedIn uses to determine what their users see.
When you post something new, it is first shown to a small segment of your connections on the platform. If it shows high engagement levels for that small segment, it is then passed to LinkedIn's manual review team.
If the content is approved, your post will begin to show up in a larger number of feeds and even mutual connections (friends of friends) may begin to see the content that you post.
Engagement determines how widespread everything you post will become. Finding ways to encourage engagement and testing different kinds of content are important for maximizing your reach on the platform.
If you are going to spend a lot of time building connections you want to make sure that your content is reaching your intended audience.
Source: Ross Simmonds
Engage and Take Part in Conversations
Social media is a two-way street. You can't expect to only post content and develop genuine connections with your prospects. You need to have conversations with them to begin building that rapport.
To start this process there is nothing more impactful than actively commenting on posts that your ideal clients have made. Join conversations. Offer suggestions.
Be a part of solutions and make yourself known. The more helpful you can be (in a genuine way that doesn't seem like you are buttering them up for your eventual sales pitch), the more personal of a connection you will make with your prospects.
It's essential for maximizing your effectiveness on the platform.
Expand Your Reach with LinkedIn Ads
To further expand your reach on LinkedIn, you can turn to LinkedIn ads. Similar to Facebook's advertising platform, LinkedIn ads are a potential goldmine for any B2B company that has a solid idea of who they would like to target.
They offer a wide range of targeting options, allowing you to drill down into individual prospects by targeting things like locations and company names. You can also target individuals with options like job titles, fields of study, skills, and job functions.
LinkedIn ads aren't for every business. You'll need to run some tests to see if they are profitable and optimization will be required to reach profitability like with any ad network.
However, with more than 500 million users, the reach on LinkedIn is exceptionally high for B2B companies and it does present a real opportunity to grow your coverage on the platform.
Benefits of Upgrading Your LinkedIn Account
LinkedIn offers four different premium accounts that you can upgrade to. Each account is special tailored for a specific need. Sales accounts allow you to message prospects without connecting with them, and promote your company.
Other accounts are tailored toward those looking to advance their career and recruiters looking to identify talent.
Each of the accounts gives you an unlimited search allotment, so there is no limit on the number of profiles that you can view, which LinkedIn limits for free accounts.
At $50+ per month, it is fairly expensive for a premium LinkedIn account. However, the benefits of the account will far exceed the price if you are placing a lot of focus on LinkedIn B2B lead generation.
LinkedIn is Great for B2B Awareness & Social Selling
Like any social network, LinkedIn is all about connecting with individuals and engaging in conversations. The "social" aspect of social networks is as present here as it is on any platform.
A presence on LinkedIn is an incredible asset for any B2B company, but it does require some effort and a willingness to engage.
Using LinkedIn B2B lead generation to your advantage can help you to fill your sales pipeline and grow your revenue, but it does require a significant time and process investment on your part.
Check out this article which explains the LinkedIn content suggestions feature that they recently added as well.