You might have heard about HubSpot inbound marketing, a marketing automation solution that over the course of the last decade has revolutionized the industry.
It invented and popularized the term inbound marketing, and since its founding in 2006 has developed into a comprehensive digital tool to help businesses across sizes and industries grow their customer base.
Today, the company is as much as thought leader as it is a marketing solution. Case studies of small, medium, and large businesses who have used its capabilities to become market leaders abound.
But if you're not a customer or take advantage of the server, you might not know what you're actually in for.
This article will change that. After you're done reading, you will have a better idea about why experts across industries tend to agree about a simple, digital truth: HubSpot marketing rocks.
In fact, it might just be the single best way to help you implement an inbound marketing strategy.
Here are 5 reasons why:
The HubSpot Growth Platform
With HubSpot's marketing, sales, service, and CRM software, you can focus on hitting your goals — not managing a stack of scattered tools.
1) A Comprehensive Digital Solution
You might be used to using different platforms for your search engine optimization, blogging, and social media efforts.
With HubSpot, that no longer has to be the case. Instead, it proposes to solve all inbound marketing-related needs, including:
SEO keyword research
Web landing page design and development
Blogging and publishing tools
Link tracking
An integrated email builder
Social media publishing tools
Social listening tools
And much more.
In other words, the software is designed to become a one-stop-shop for companies across industries looking to integrate and enhance their digital efforts.
That, in turn, makes it uniquely user-friendly, offering easy access and a fast learning curve even for those just getting familiar with the concept of inbound marketing.
Where All of Your Marketing Comes Together
With HubSpot Marketing Hub, we'll help your team grow traffic, convert leads, and track your entire funnel in one place ...
Build & Modify Your Website Without Depending on IT
Drag and drop your way through web pages, blog posts, landing pages, and models for email. It's just as easy to edit your content and change your layouts.

And since your templates are reactive out of the box, you will be prepared for visitors from any device.
Get Your Content in Front of the Right People
Develop a content strategy that adapts to the way modern search operates, and publish blog content quickly without the formatting hassle.

Get SEO tips in real time and the best times to post them on social media to reach the right influencers and followers.
Serve up relevant content, images, headlines, and CTAs based on past behaviors.
Drive More Traffic to Key Landing Pages
Design call to action that your visitors can't help but click and customize your messages based on location, traffic origin, device, persona etc.
Convert More Visitors Into Qualified Leads
Launch professional-looking landing pages in seconds without relying on a web developer, attach a form with a single click, and run A/B tests to increase conversions over time.
Engage with interested website visitors in real time with live chat.
Turn Leads Into Customers With Less Effort
Give each lead a custom route to buy. You can queue up a series of emails with powerful email software and drip campaigns that give them everything they need to become customers.
And any communication with your content will automatically trigger the perfect follow-up or next move.
Track Customers and Report Your Impact on the Bottom Line
Connect with HubSpot CRM or Salesforce to automatically record and organize every interaction customers have with your brand.
Use this data to confidently report on how each marketing campaign and asset contributes to sales.
2) Visual Reports to Meet Your KPIs
In 2020, it's no longer enough to simply put your message out and hope for the best.
Leaders in marketing spend as much time tracking their efforts as they do developing them, discovering trends and focusing their resources on only the most effective channels to reach their audience and build their unique selling proposition.
These reports have to be visual as much as they are accurate. A simple sheet of numbers will do little to discover trends that help you improve your digital strategy.
HubSpot comes with its own, pre-built marketing reports, which cover all aspects of your inbound efforts. Of course, you can also customize them to fit your company's unique needs and goals.
3) In-Depth Resources to Deepen Your Marketing Expertise
A solution this comprehensive needs to come with plenty of tutorials that help you implement it. The world's leading inbound marketing solution didn't just meet this requirement; instead, it went one step further.
Through the HubSpot Academy, you can learn everything you need to know about the concept of inbound marketing, and how to implement it in your company.
Naturally, this online learning tool integrates seamlessly with the solution's tools and features.
At the same time, even non-customers are able to take advantage of resources like the online certification course, designed turn anyone interested into a verifiable inbound marketing expert.
If that's too in-depth, the company also runs one of the industry's most informative and comprehensive blogs, covering all things digital.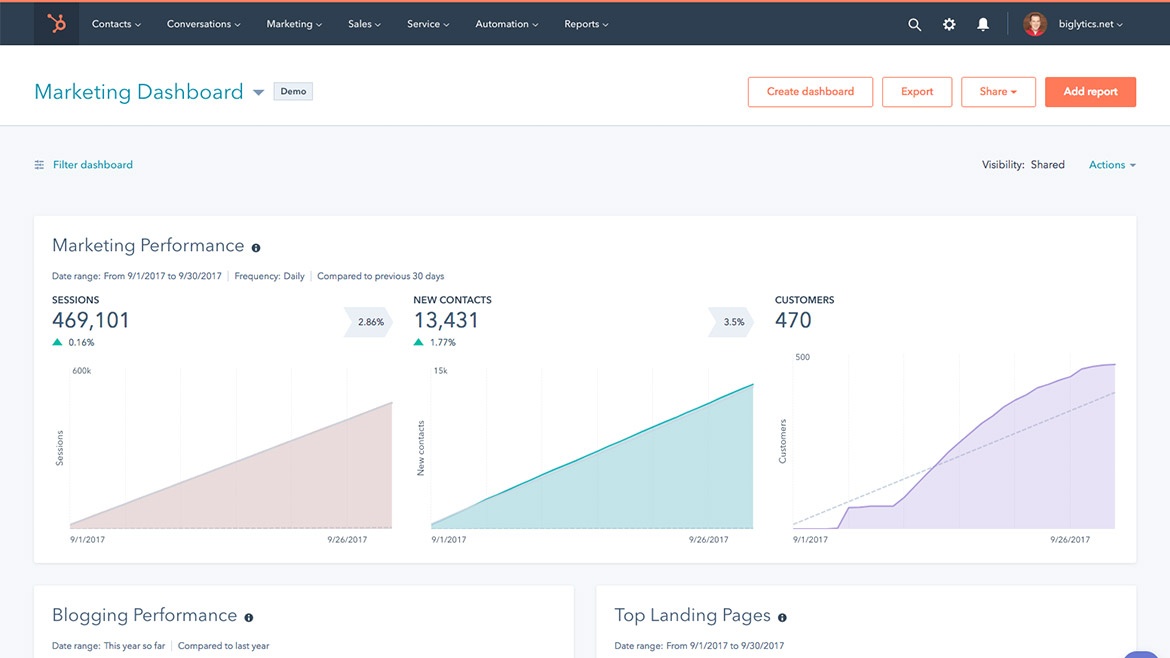 4) Adjustable Levers for Any Industry
Searching for a marketing solution that meets every industry's needs can sometimes feel like looking for a unicorn.
After all, a construction company will need to promote its services very differently than a local tax consultant or fashion boutique. Believe it or not, HubSpot might just be that magic unicorn.
We believe that for two reasons. One, the company's core marketing automation solution can easily be integrated with its customer relationship management software, a free solution that helps businesses with sales-heavy approaches improve the way they convert leads and manage existing customer relationships.
In addition, the solution offers a wide range of integrations with products that could further aid your marketing efforts.
From invoicing software to live chat capability, these integrations help you customize the platform to fit your unique marketing and customer needs.
5) Instantly Connect Your Favorite Tools to Build Out Your Growth Platform
HubSpot has powerful integrations with SurveyMonkey, Eventbrite, Wistia, Zendesk, and many more of the most used tools in the world.
Using their seamless integrations, simply plug in your favorite software and start sharing data across all your must-have tools.
When you integrate HubSpot with other software, you'll use fewer log-ins and dashboards, and receive better insights. And with data shared across teams, everyone will have a single view of every customer.
Grow better by building your unique growth platform.
6) Fair and Flexible Pricing
Finally, we'd be remiss to end this article without discussing the cost of HubSpot. Here, the company once again shows off its flexibility to work with companies across industries, and regardless of size and especially compared to some of its competitors.
HubSpot's prices, in fact, are almost completely customizable. New startups can take advantage of a free version, while enterprise businesses get the full power of the platform with a $2,400 per month price tag.
Add ons such as ad integration and additional reporting, along with the number of contacts you look to manage within the platform, further allow you to customize exactly how much you want to spend on your inbound marketing solution.
Get Started on Your HubSpot Marketing Integration Today
All of the above benefits contribute to the fact that across industries, more and more companies use HubSpot for their digital and inbound marketing needs.
To make the most of the software, you still need to make sure that you implement it in a way that suits your business.
That's where we come in. In fact, when you work with us, we can help you make the most out of everything that the software has to offer, getting the most out of your budget and meeting your marketing goals. As one of the company's partner agencies, it's the least we can do.
Contact us to learn more about a potential partnership, and begin to leverage HubSpot's unique and extensive capabilities.