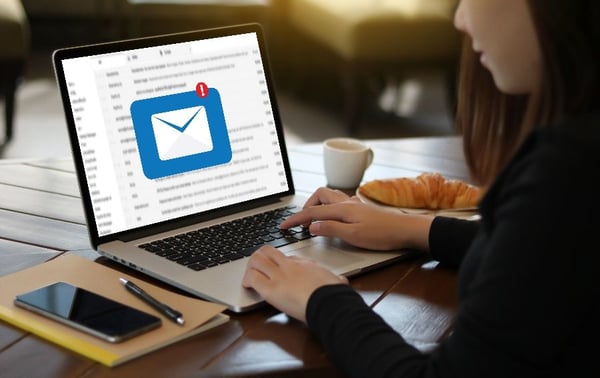 If your company is not leveraging your customer and prospect emails effectively, you are leaving money on the table.
There is no way around it.
A strong, engaged email list is the gift that keeps on giving for brands of all sizes. The ability to reach out to customers and prospects at any time and have them be excited to hear from you and engaged with what you have to say is priceless.
It allows you to keep your sales pipeline filled during slow times and allow you to reliable generate sales and hit your goals.
Email is the most effective digital marketing channel. This is particularly true for small businesses that seek to create more personal connections with their customers and offer one-on-one service.
Let's dive into why email marketing is such a critical investment for companies in all industries.
The Effectiveness of Email Marketing
To understand why an email marketing specialist should be one of the first marketing hires that any company makes, let's take a look at some stats that show just how critical email can be.
With stats like that, it's hard to discount email marketing. It's the most personal and least invasive way for you to stay in touch with your audience and continue to deliver relevant, personalized marketing materials that help to generate leads, nurture them, and turn them into loyal customers.
Source: Oberlo
How Does an Email Marketing Specialist Help?
Knowing that email marketing could change your business for the better is not enough if you don't have the expertise on hand to execute effective strategies.
The potential is high, but only if you are able to use solid, proven marketing strategies to convince your audience to open, read, and take action on your emails.
Chances are, you're too busy growing your business and handling daily operations to truly invest in learning email marketing. Your internal team may not have expertise in this arena either.
Hiring an email marketing specialist can be the best marketing investment that your company will ever make. They can bring a wealth of experience to the table.
For companies with large untapped email lists and customer data, they can generate a near-immediate ROI with smart email campaigns.
Some of the specific ways that an email marketing specialist can help companies to leverage the channel and grow to include:
Experience and Insight
It may seem like common sense, but it can't be overstated. Real-world experience in email marketing is necessary for successful campaigns. Without it, you're just throwing darts in the dark, hoping for a bullseye.
A great email marketing specialist acts as more than a service provider, they are a consultant and a guide to reliable return on investment.
They help you to not only identify where opportunities lie in your digital marketing strategy, but also provide guidance and consulting on how to turn those opportunities into reliable long-term growth.
Find an email marketing specialist that has years of experience, preferably in your industry, with case studies and testimonials to back up their claims. Vet them.
If things check out, you may have found yourself someone that will be invaluable to your company moving forward.
Identify the Right Tech Stack
The B2B software industry is growing at a rapid pace. There are hundreds of different email marketing solutions that are available today.
It can be downright overwhelming to try to figure out which solution might be the right one for your company. This can take weeks of research and thousands of dollars in consultations for some companies to identify.
Email marketing specialists come with the right knowledge to help you quickly identify what platforms make the most sense for your company to invest in.
They can point you in the right direction and help to narrow down your list, potentially saving you weeks of research in the process.
Industry-Specific Knowledge
Knowing how to leverage email marketing platforms is one thing. But combining that with deep experience and knowledge of your customers? That's where the gold lies.
Finding a specialist with deep knowledge of your customers and industry could be the leg up that you need. They know not just how to deliver emails to your audience, but how to speak to them in a way that answers their fears and concerns.
While you don't have to work with an email marketer that specializes in your industry, the more success that they can show you for similar companies, the more likely they are to deliver those kinds of results for your business.
Leverage & Inject Personalization
Maybe you're already sending emails, but are you speaking directly to your customers? Are you calling them by their name? Are you referencing previous interactions that they have had with your brand or content?
Can you recommend new products or services to them based on the previous purchases that they have made? Or are they simply an email that receives whatever new marketing materials you are looking to send out.
Email marketing specialists will help you leverage the full breadth of your customer data to speak more directly to their wants, needs, and fears.
Injecting customer data directly into your email marketing campaigns has been proven to improve results:
Personalization is a key component of any effective email marketing strategy. With a specialist, you'll be able to better leverage customer and prospect data that you collect and turn it into measurable returns.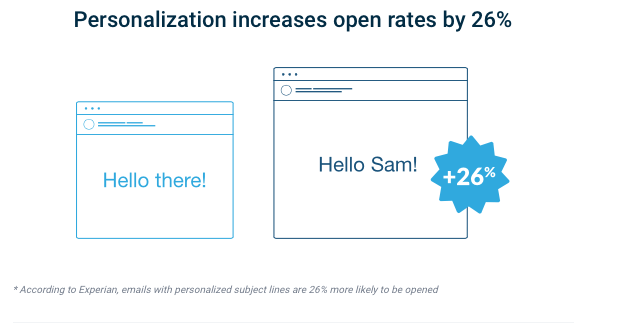 Source: Campaign Monitor
Split Test for Optimization & Improvement
Not only does an email marketing specialist help you to improve your campaigns and generate returns quickly, but they can work with you to optimize and improve your campaigns over time.
By measuring how well campaigns perform and comparing those changes to altered campaigns, a process known as split testing, an email marketing campaign will improve in effectiveness over time.
Now consider that this can be done for every email campaign that you run. A campaign that initially generates a 1% conversion rate could, over time, be improved to deliver a 3% conversion rate.
Split testing is critical for improving your success through email over time. An experienced email marketer will not only be able to split test your campaigns for you, but they will also have the experience to know which changes to test to give you the best chances for a successful outcome and measurable improvement.

Source: Zapier
Build Email Marketing Automation
Here's the thing — email marketing automation is your ticket to scaling and increasing sales. It gives you a direct way to connect with your audience and continue to leverage data to deliver messages that connect with them.
Through automation, you can walk your prospects and customers through the process of making the buying decision. In the early stages, you can deliver materials that help them to get to know your brand and product.
You create awareness. You create that first nugget of trust that a customer develops for a brand. Then you nurture and grow that trust over time with automated emails that will put your company in a position to capitalize.
An experienced email marketer will know how to use trigger-based emails to stay top-of-mind and connect with your audience at the right time. Trigger-based emails take customer actions into account and deliver timely emails based on those actions.
For instance, when a customer reads a blog post on your website, you could use trigger-based emails to follow up with more related information that they might find interesting.
This endears you to customers. First, you are able to track their actions and anticipate their needs. That's a lot better than most of your competitors are doing, you can count on it.
Second, it allows you to stay top-of-mind as the customer nears the point of reaching the buying decision.
Effective Segmentation
Effective segmentation is another critical aspect of email marketing automation that a specialist will be able to help with.
You can segment customers based on a wide range of different data points across four key categories.
These include:
Geographic Data
Country
City
County
Language
Climate
Population
Demographic Data
Age
Gender
Income
Education
Social Status
Life stage
Occupation
Psychographic Data
Lifestyle (activities, interests, opinions)
Concerns
Values
Attitudes
Behavioral Data
Benefits desired
Buyer stage
User status
Customer lifecycle stage
Engagement data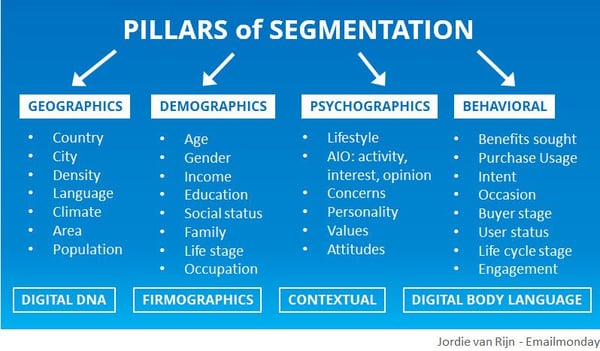 Source: Email Monday
An email marketing specialist will be able to use data across these different categories to segment your lists and deliver personalized marketing materials that speak to their biggest concerns and needs.
The deeper the segmentation, the more effectively you can speak to your customers. So, part of an email marketing specialist's job is to identify ways in which companies can not only use more data but also collect more data as well.
Segmentation is the key to true personalization. You can't speak to every customer the same way unless you target one very narrow customer persona.
Segmentation gives you the ability to hone in on different sub-groups of customers and speak to them as if you were writing each email by hand.
Fast and Reliable ROI
Companies that have a large, untapped email list or database full of customers stand to benefit almost immediately from hiring an email marketing specialist.
If you aren't currently emailing your customers have no defined email marketing strategy in place, you are leaving a lot of untapped potential on the table.
In these situations, an experienced email marketing professional can deliver ROI very quickly, leveraging existing customer databases and other data to upsell, cross-sell, and reduce churn among your existing customers.
Email marketing is perhaps the most reliable digital marketing channel. You can bet that nearly all of your customers use it, trust it, and are willing to receive marketing messages from brands and companies that they trust.
What Does an Email Marketing Specialist Cost?
So, what will this run you? This is a good question.
When you hire an email marketing specialist there are a lot of things that need to be taken into consideration that will play a key role in the cost, including:
The experience of the specialist
The results that they have been able to deliver to other similar companies
What your current customer database looks like
Whether you have done any email marketing in the past
Whether you still need to invest in an email marketing solution
Ultimately, email marketing projects are always unique and your specialist will have to give you a personalized quote once they have a full understanding of your needs.
Here at RiseFuel, we typically evaluate our email marketing clients on a case-by-case basis and design a quote around the value (ROI) that we will be able to deliver through our services.
In the end, the ROI of an effective email marketing operation far outweighs what any company could reasonably spend on a consultant.
Much of the work that we do for our clients serves as a long-term asset that will generate ROI and benefit their marketing campaigns for years to come.
Better Communication, Better Customers
Email marketing is a long-term strategy. Effective email marketing requires the experience and knowledge of someone that has been there before and knows how to leverage customer data for in-depth personalization and segmentation.
Here at RiseFuel, we build email marketing into any of the inbound marketing strategies that we put together for our clients. It's a key part of any marketing automation plan.
It serves as a foundation for the other marketing campaigns and strategies that we employ and puts you in a position to capitalize on the data that you collect from your customers for years to come.