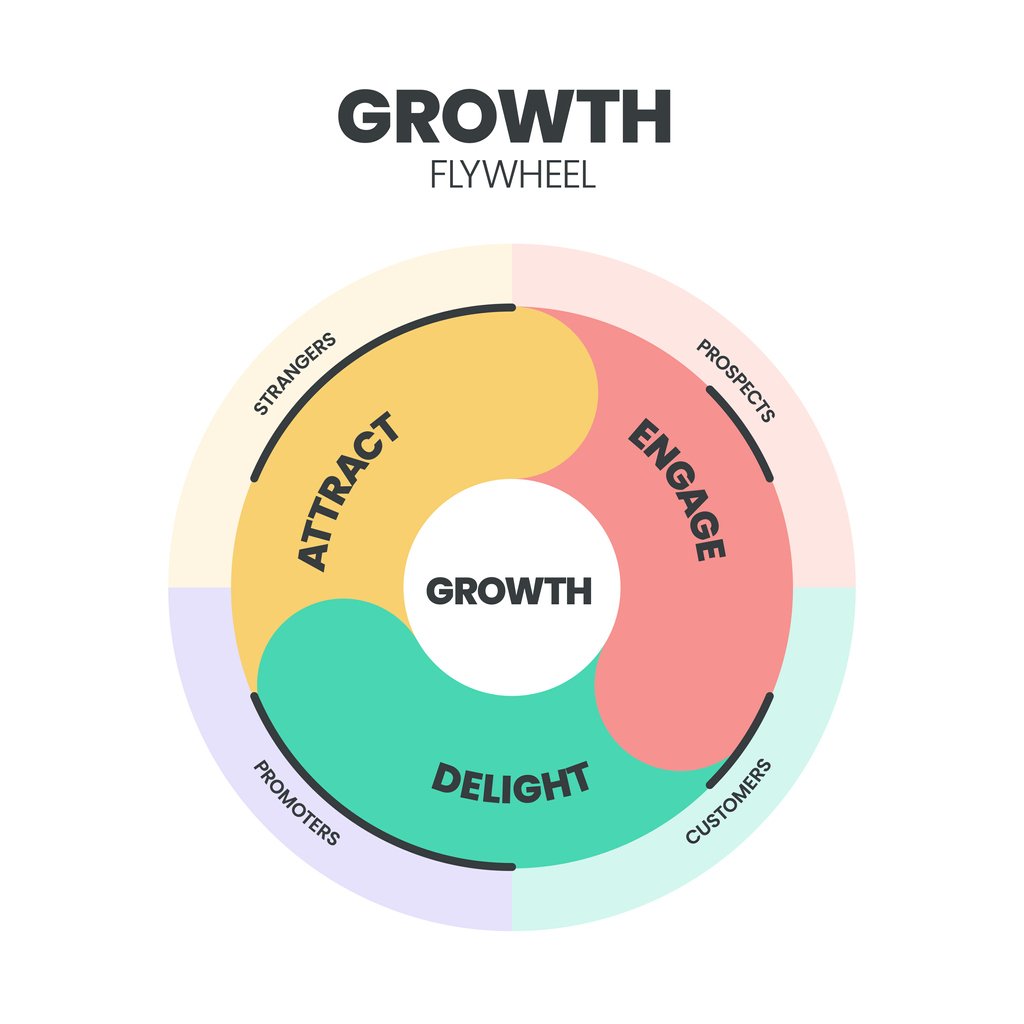 Today, the biggest threat to your company is no longer your competitors. It's your customers.
A 2018 online survey by ReviewTrackers Online found that 94% of consumers avoid companies with negative reviews. You cannot afford to lose that many customers to lose from a negative comment about your brand online.
Today's customer has more access to knowledge and higher expectations of what they want your brand to do for them. Buyers want you to care about their wants and desires and keep changing with them instead of just trying to sell them services or products.
The current business environment requires you to make marketing decisions that take your focus off just scaling and marketing to building long-term customer relationships — That's where the money is. Happy customers will spread the experience and help you grow your business, which is the foundation of the flywheel model.
What Is the Flywheel Model?
The flywheel is a sales approach that puts your customer at the center of all your marketing decisions. It revolves around aligning your business strategy with your customers' needs. The end goal is to delight your customer so that they stick to your brand and not just convert them.
The fly model is a series of repeat business processes that involve the following stages:
Attracting customers involves pulling in prospective customers to your brand with helpful content that is easy to discover. Social media, targeted advertising, SEO, and live/virtual events all play a role here. Your goal should be to earn their attention rather than forcing your content in front of their eyes.
After attracting customers, you need to let them learn about your product on their terms and in their own time. It is also an opportunity to build relationships. Some of the activities that build engagement are nurture campaigns, free trials, self-serve purchase flow, and engaging with customers in their preferred channels.
The goal here is to turn users into brand fans by helping them reach their goals. Some of the actions you can take include launching loyalty programs, customer feedback surveys, and documentation and knowledge that help users get more from your products or services.
Reviewing and improving your processes is part of the process of keeping your customers around. Find areas where you can improve and let go of dead-end activities that do not yield much profit.
What a Successful Flywheel Model Looks Like
The flywheel describes the momentum you gain when your customers are happy with and loyal to your brand. Happy customers drive referrals and repeat sales. How fast your flywheel spins (how fast your business grows) depends on these three factors:
Having a fast-moving flywheel involves adding force to (investing or increasing) strategies that have the greatest impact on your sales. These could be your inbound marketing efforts, a customer referral program, or investing in your customer outreach team.
The Amount of Friction in the Wheel
Friction describes the things that slow down your flywheels such as miscommunication between customers and employees and poor internal processes. You can reduce friction by investigating issues such as where your prospects are getting stuck and why your customers are churning and resolving these.
Having more promoters equals a bigger wheel. Once you add force and decrease friction, you will create more promoters in the form of happy customers, which means faster business growth.
You have to constantly adjust these factors to create consistent success with the flywheel approach.
7 Reasons Why Brands Are Adopting the Flywheel
Here are 7 top reasons why businesses have fallen for the flywheel model.
1. Delighting Customers Is the Key to Retention
Delighting customers is the top benefit of the flywheel approach and is what differentiates flywheel from other marketing approaches.
The sales funnel approach, for instance, focuses on customer conversion. Your marketing team gets that promotional content out, your sales team does the sales, and the process ends. The customer pays and goes, falling out of your funnel. Companies that use the sales funnel approach do not view customers as their driving force. The funnel generates lots of customers but those customers do not promote company growth. The funnel approach then leads to an ultimate waste of resources since you have to start the process of customer acquisition over.
The flywheel focuses on making customers happy because customers who are satisfied return again and again. Happy shoppers also leave raving reviews that attract more buyers.
Some of the ways to delight your customer are to:
Listen to customer needs and plan for custom solutions
Change with customers' needs
Communicate with customers and take feedback seriously
Have a reputation as an expert and leader in your field
Offer a timely positive experience

2. Improved Customer Engagement
Customer engagement is cultivating a relationship with your customers, far beyond the transaction. Engaged customers get an emotional connection with a brand and can develop loyalty before they even make a purchase.
Implementing the Flywheel Model leads to enhanced customer engagement, pushing customers to become brand ambassadors. The model helps build focus on nurturing customers by building that emotional connection through consistent brand messaging and nurturing campaigns. The flywheel model nurtures customers throughout their journey until they mature, gain brand expertise, and become brand advocates.
Engagement practices such as responding in real-time and sending brief guides and explainer videos give customers a good impression of your brand, increasing loyalty and sales.
3. An Efficient Way to Increase Sales
A flywheel approach aims to convert customers into promoters through superior customer experience. You have most of your marketing work cut out for you and your business grows fast.
Some of the steps to achieve superior customer experience are:
Identify your customer touchpoints
Identify customer problems
Analyze the data and plan solutions
Put the plan into action
Evaluate and review the plan to improve customer experience
4. Results in Unified Teams
The funnel model shuffles customers between sales and customer service teams which can ruin the customer experience. While sales funnels produce customers, they do not consider how to use those customers to grow your business.
In a flywheel model, the entire team attracts, engages, and delights customers, creating a much better customer experience. Each team member's actions impact each other. Members of all departments can evaluate the customer journey, identify friction points, and solve customer concerns simultaneously. Furthermore, the flywheel models allow your teams to interact in real-time, reducing friction and delays.
5. The Model Helps Identify Force and Friction Areas in Marketing
The flywheel model effectively identifies force and friction points in marketing, sales, and service.
Common causes of friction areas are:
Unresponsive or slow customer service resulting in negative reviews or customer churn
Poor lead qualification, leading to rejection and resource wastage
Common force areas include:
Sharing customer success stories and positive feedback
Increasing the production of customized content such as optimized forms and landing pages
Businesses can then take the necessary actions to reduce friction and increase force.
6. Customer Reviews are Driving Sales
According to a McKinsey survey, 57% of B2B brands make purchases before reaching out to vendors or vendor marketing materials. Third-party reviews, word of mouth, and peer-to-peer recommendations are largely influencing buying decisions. Customers have gotten over brand marketing materials and speaking to salespeople to learn about a company's products or services.
They ask for advice from their networks, search for mentions of your company on social media, and read third-party review sites. The flywheel model focuses on the importance of the customer experience because how you treat your customers will affect how they speak about you online and in their circles.
7. Puts Focus on Revenue-Generating Operations
The flywheel model helps businesses increase sales while reducing unprofitable processes. The model can help you help grow your revenue through:
Focusing on areas that will attract, engage, and delight customers, so that you get that energy back through customer referrals
Analyzing activities that are contributing to the greatest customer satisfaction and minimizing unnecessary work-related tasks
Enabling each team to check and analyze the same sales process data, which reduces everyday workflow
An in-depth view of where your company growth and potential growth areas so that you can modify your sales approach to achieve a revenue increase
Grow Your Business Using the Flywheel Approach
Having a competent marketing strategy is not enough in today's ever-changing market. You need an advocacy program to grow your business. Implementing the Flywheel Model helps you passively market your business for more sales. The flywheel business strategy is effective in building a long-term business that keeps growing. Your customers also fuel your growth efforts by spreading positive reviews of your company.
Knowing your customers better will enable you to generate sales and nurture them to promote your brand. Risefuel can help you implement a successful flywheel approach to marketing to grow your business to the next level. Schedule a call today and let's discuss how we can help your privately held company make more sales.