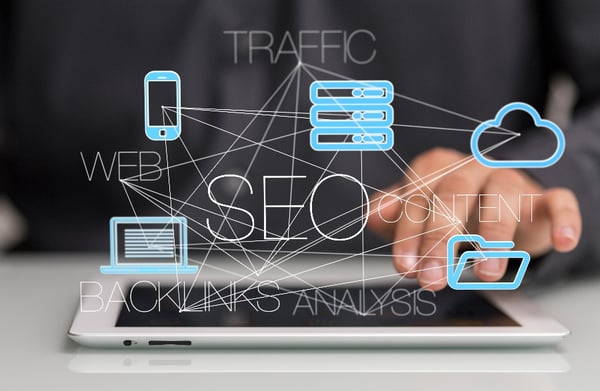 So you want to get your website ranking in Google for popular search terms that your customers are searching for.
You've heard of search engine optimization (SEO). But you aren't quite sure exactly what it is and everything that it involves.
This is a common theme among clients that come to us. There is so much misinformation and bad advice out there regarding SEO that it can be difficult to discern fact from fiction.
A big part of our job is to explain how SEO works to new clients, dispel myths and rumors, and implement proven, process-based strategies that can help our clients to attract more customers through search engines.
But without a guiding hand, SEO can feel a bit intimidating. In this article, we will define SEO, dive into what real SEO actually entails, and provide some simple tips for improving your presence in search.
SEO Definition
What is SEO?
In short, SEO is the process of optimizing your website for search engines to attract more high-quality traffic.
It sounds simple, but there is a lot that goes into optimizing a website for success in search engines like Google and Bing.
In fact, there are more than 200 total ranking factors.
How Do Search Engines Work?
Search engines like Google work by using "spiders," which are online robot apps, to crawl your webpage.
Those spiders visit your website, scan it, and gather as much information about it as they can. Ideally, when your website is well optimized, those spiders will visit every page on your website.
Then, that information is brought back to the search engine itself. Google, for instance, uses many different algorithms to analyze the information that is brought back to index your website and display it for appropriate keywords that are searched by their users.
Google's algorithms attempt to determine the relevance of your web pages for given keywords, the quality of the information that you provide, and the overall trust of your website and brand in determining whether or not to rank your website.
As an example — Google's crawlers will visit this page and see that it is relevant for search terms like:
SEO definition
What is SEO?
How Does SEO Work?
Etc.
Keep in mind that "SEO" only applies to organic listings, which show up below the paid advertising results on Google search results pages (SERPs).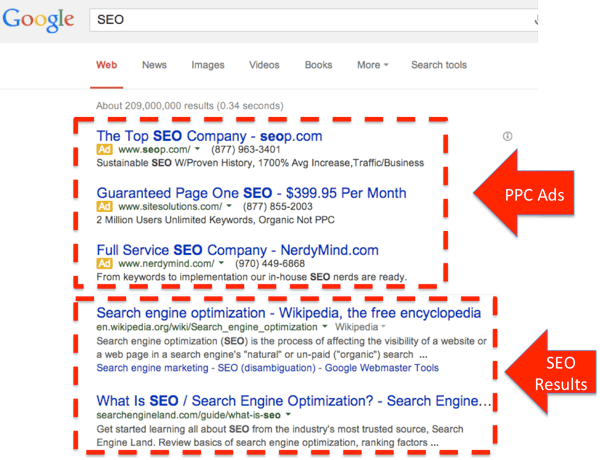 Source: Kapost
How Does SEO Work?
Now let's dive into the nuts and bolts of how SEO actually works. As I previously mentioned, there are more than 200 different factors that Google evaluates after their spiders crawl your website.
Some of these factors matter more than others. Some of them barely matter at all. Still, all of them play a role in how often (and how high) your website shows up in organic search results.
Let's dive into some of the more important factors that Google is analyzing when they evaluate your website.
On-Page SEO Ranking Factors
On-Page ranking factors refer to things that Google is evaluating on your actual website as they crawl your pages and analyze your content.
There are many on-page ranking factors that Google considers, but some of the most popular include:
Domain age. How old is your website? Older websites are viewed as more trustworthy and given higher priority in organic rankings.


Keyword usage. Is a keyword included in your domain? In page titles? In the content of a page? Using a keyword shows that your website (or a specific web page) is relevant for that keyword.


Content length. Lengthier, more in-depth content tends to be more useful and informative to users.


Page loading speed. Google wants to provide a good experience to its users. Fast-loading pages ensure quick access to information.


Internal links. Pages on your website that have other pages that link to them signal that the page is a priority.


Other technical factors. There are dozens of small technical factors. Google evaluates these because they impact the usability of the website and therefore the experience of their users.
Off-Page SEO Ranking Factors
In addition to on-page ranking factors, there are also off-page (around the web) factors that they use to evaluate your website as well.
Backlinks. Other sites that link to your website. Google views these as a vote of confidence. Backlinks play a critical role in where you rank for critical keywords.


Competition. Just like you, your competitors want to optimize their website for search too. Google compares your website and individual pages against competing pages.


Social metrics. Having a strong presence on social media is a sign of trust and one that Google values.


User Engagement metrics. Google monitors how their users utilize your website. If they stick around, read your content, and click around on your website — this is viewed as a sign that they found it useful and leads to higher prioritization by Google.
These are just a few of the more important on-page and off-page metrics that Google looks for when deciding how to rank websites.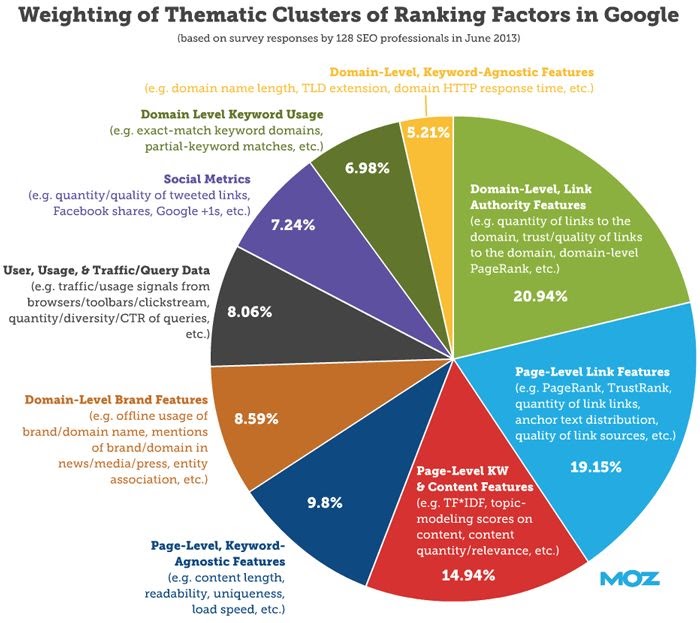 Source: Moz
SEO is a Long-Term Strategy
Moving up in Google's rankings is not something that happens overnight. In fact, moving your Google rankings can take up to a year. It requires an upfront investment but pays off on the backend for years to come.
We always advise new companies that we work with that SEO is a long-term investment, but one of the best investments that they can make.
Unfortunately, navigating SEO and optimizing your website are typically not something that non-tech-savvy people are able to navigate.
RiseFuel - Defining SEO
At RiseFuel, we've worked with dozens of companies across many industries to help them improve their presence in organic search, increase traffic to their website, and put themselves in a position to flourish digitally.
We use SEO as a piece of the larger inbound marketing puzzle, and combine it with other channels that complement one another.
If you would like to learn more about our search engine optimization services and how we can help, please schedule your risk-free consultation with Tony today.