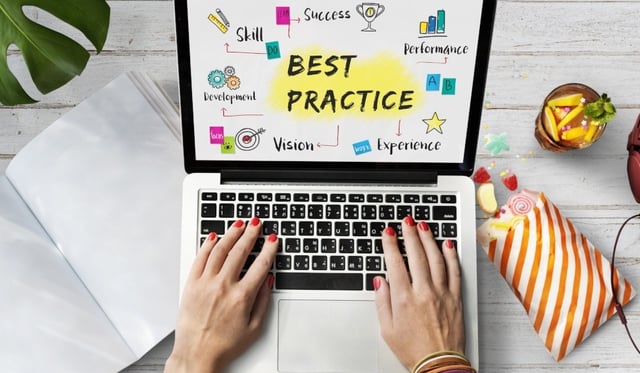 Where past the question of whether manufacturing companies should be on social media. In 2021, at least one social network exists for every demographic, which means that even if you look to reach niche B2B markets, integrating social media is no longer optional.
Of course, that doesn't mean your company should embrace the medium in the same way that a fashion boutique or service business might. Rather than promoting fun, you're looking to emphasize the tangible benefits of both your product and the process of building it.
To get to that point, here are 7 best practices on social media that every manufacturing company should embrace.
Social Media Best Practices for Manufacturers
1)

Find Your Audience
First, and most importantly, you have to focus any marketing efforts on channels where your audience actually spends time. For business-focused manufacturers, that tends to be LinkedIn. But don't underestimate the power of more consumer-focused networks like Facebook or Instagram.
Even business buyers, after all, are consumers in their spare time. To find the perfect social media network for your brand, you need a basic understanding of your existing target audience. Then, match that audience with the demographics of a variety of networks, and choose the one with the closest overlap.
2)

Listen to Relevant Conversations
Before you even begin to post content, it makes sense to build a comprehensive social listening strategy. On the network, you chose above, build a system of sourcing conversations that relate to either your brand or your industry. A variety of tools can help you in that regard.
Prioritizing systematic social listening comes with significant advantages. Above all, you will begin to understand the type of content that your audience tends to share and engage with.
That, in turn, allows you to build a strategy designed to focus on these types of content. In addition, listening allows you to better gauge how prevalent your brand is in these conversations, and where you can improve in that regard.
3)

Build a Content Calendar
With a better idea of the type of content to focus on, it's time to get strategic. A content calendar can help your business plan not just what to post, but when to post it for maximum audience engagement.
Frequency matters on social media. Studies show that depending on the exact network, you might have to post as often as 15 times per day for maximum exposure and engagement.
A content calendar can help you keep up with that demand, while still maintaining a high quality for each post.
4)

Leverage Video Opportunities
Video matters, regardless of industry. Our brain processes visual information more quickly, and that effect magnifies with moving images. As a result, a wide range of social media experts recommends adding video to your content mix.
In manufacturing, however, this emphasis is especially important. Your goal is to show off your product, and nothing can accomplish that better than this type of content.
From showing the actual manufacturing process to use-cases of finished products, you can leverage video on networks from Facebook to YouTube.
5)

Promote and Elevate Your Content
While social media is still a relative novelty for many manufacturers, content marketing is far from it. In fact, 85 percent of manufacturing companies report using content to enhance their brand presence and generate sales leads. Social media can play a vital role in supporting and fulfilling both of these goals.
The content you already use in your marketing efforts can range from blog posts to whitepapers and webinars. Regardless of which exact types you use and prefer, you can use social media to elevate it.
Link to the content, and track how many clicks you get out of those links. Extract small pieces from your long-form content for social media, to ensure a reciprocal and integrated marketing experience.
6)

Take Advantage of Paid Opportunities
Much of what we have discussed above can be accomplished with organic (or unpaid) social media efforts. However, it also makes sense to start thinking about and implementing, some paid efforts into your overall social media strategy as well.
Social media offers a variety of detailed targeting opportunities, from demographics and interests to industries and job titles.
You can also place retargeting ads designed to reach recent visitors to your website, or upload lists of your existing sales leads to target so-called 'lookalike' audiences. As a result, you can reach even niche audiences successfully and relatively cost-effectively.
7)

Evaluate and Adjust Regularly
Finally, social media is beholden to a simple fact that rings true for all marketing efforts: the more often you evaluate and adjust your efforts, the better. Even implementing the above best practices is not a guarantee for success.
In reality, only constant tracking of your current tactics, and making gradual improvements where necessary, can lead to sustainable success.
Over time, you may realize that Facebook works better in generating qualified leads than LinkedIn. Retargeting may prove to be more effective than interest-based targeting. Some topics will outperform others. The more you know about your efforts, the better you can adjust for more success in the future.
Implementing these practices, of course, takes both time and expertise. If you are one of the many manufacturers just beginning to discover the benefits of social media, you might be short on either or both. In that case, work with us.
If you are looking to elevate your company's profile and attract potential buyers, contact us to inquire about a potential partnership.