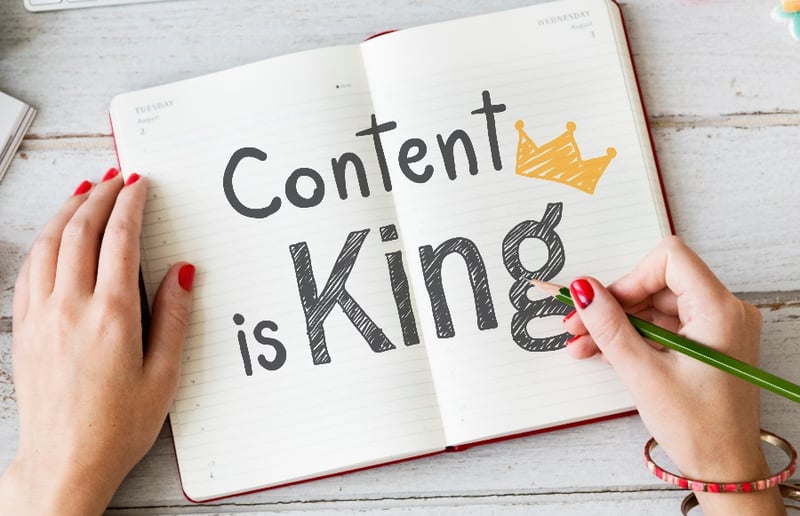 The potential of content marketing to boost awareness, demonstrate industry knowledge and expand a brand's reach makes it essential for any B2B marketing strategy.
However, as content marketing continues to bring success to most marketers and evolves as a result, determining the right strategy has become a continuous challenge.
In this article, we explore five content marketing trends for 2022 and tactics for staying ahead of the competition.
The Rise of Visual Content
Visual content has been steadily becoming the dominant content format, especially on social media, as marked by Instagram's CEO Adam Mosseri announcing the platform's move towards prioritizing video in July of 2021.
Below are some tips for creating impactful visual content in 2022:
Video marketing: With the number of digital video viewers reaching 244.4 million in the US alone (Business Insider, 2020), it is no wonder that 86 percent of marketing professionals are using video as a primary marketing tool (Wyzowl, 2021).
Creating video content that resonates with your target audience is far from an exact science. When developing your initial strategy, be sure to invest time in researching your audience's preferences. Test variables such as video length, which platform to publish on, and stylistic choices that may stand in the way of your success.
Another good tactic for video content is adding subtitles. Not only does this aid accessibility, but it also helps to increase views and watch time for viewers who prefer to consume videos without sound.
Infographics: Rather than adding simple imagery to break up articles or long sections of text, consider creating infographics. These can help to dissect and illustrate complex topics and serve the purpose of content, rather than simply acting as visual relief. Punctuating your content with detailed infographics can boost the impact and reach of your articles, especially if a share function is enabled that allows visitors to republish on their site.
This content can also easily be repurposed for social media promotion, such as on LinkedIn, or sales enablement materials.
Leverage on-demand events
The movement towards working from home and virtual events, brought on by the impact of the global pandemic, has continued into 2022. Although in-person events are making a comeback, the future promises a mix of hybrid and online events as marketers take advantage of these changes to meet more diverse needs.
Indeed, virtual events being embraced by marketers presents its own advantages and challenges, namely event saturation. This can be avoided by leveraging webinars and other events as on-demand content. Allowing attendees to watch content at their leisure after the fact helps to maximize the potential of these events and their role in lead generation.
Online Courses
As more and more companies seek to build brand awareness and their audiences with thought leadership content, it has become problematic to create content marketing that aids competitive positioning.
Developing eLearning or online courses specific to a company's area of expertise can help to combat this challenge. At the core of successful content marketing is relevancy, and most importantly, the value (educational or otherwise) that the content offers prospects. Hence, the power of courses as content marketing.
It comes as no surprise that courses are a priority for strategies, with learning materials accounting for 64% of the content published in 2020 (LinkedIn, 2021).
Although a significant investment is required, learning materials assist by establishing a brand as an authority in their space and can help to encourage sales as a result. Courses can end with official qualifications or certifications of completion to add authenticity and boost reach as these are shared on social media profiles.
Start by taking existing and popular content to build a syllabus and its various modules. This will help to kickstart development, cut down on costs, and the time needed to create the course. These can be added to and updated as you continue to publish your other content marketing, boosting its performance and potential.
A Shift Towards Buyer Enablement
As the line between B2B and B2C buyer experiences continues to blur, prospects are seeking more real-time buyer enablement. This represents a huge change to the typical sales infrastructure of the B2B world and the role of content marketing.
Much like the implementation of on-demand events and webinars, this movement is motivated by the need for buying committee members to research solutions in a way that fits their busy schedules.
Content must not only build towards brand discovery but also enable buyers by covering important and relevant topics related to products and the results they can deliver. Essentially, content pieces should aim to fill as many sales steps as possible.
This alters the definition of successful content marketing as the performance of content becomes based on its ability to provide client support rather than lead generation. As such, take the time to evaluate your content marketing and the small changes you can make to boost buyer enablement and maximize your content's potential.
An increase in content marketing budget
Perhaps the greatest indication of the impact of a well-executed content marketing strategy is the trend of growing budgets. According to a study by the Content Marketing Institute (2021), 66% of marketers expect their content marketing spending to increase this year, following the exponential growth of budgets (43%) from 2020 to 2021.