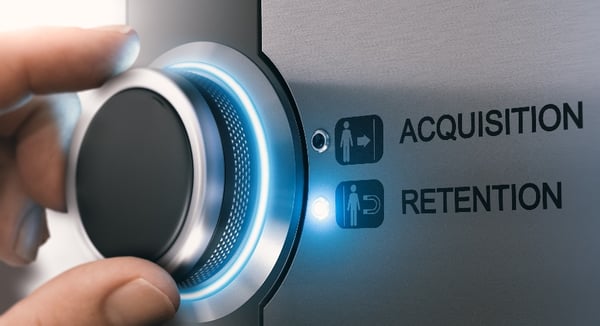 Customer acquisition can be a costly endeavor, particularly as marketing is becoming more expensive. Customers trust brands less than they did a decade ago, or at least brands have to do more in order to earn that trust.
They are more wary of sales and more hip to traditional sales tactics. In the last five years, HubSpot found that the cost of acquiring new customers has increased by more than 50%.
Of course, you can't just pack it all away and give up.
Instead, companies should look to tech solutions to help them bridge the gap, create conversations with more prospects, and deliver a better experience throughout the funnel.
Improving your customer acquisition process is a constant battle.
In this article, we'll cover the basics of customer acquisition and provide some no-nonsense tips for improving in that area.
What Is Customer Acquisition?
Customer acquisition is the process that you use to bring new customers to your business.
Ultimately, effective customer acquisition programs have to be systematic, contain some automated elements, and be sustainable for your business in the long-term.
Ideally, your customer acquisition system should be flexible and able to mold itself to new industry challenges.
Customer acquisition strategies are the fuel that drives your business. For many, it is the sole driver of revenue that allows them to pay their bills and reinvest money back into their business for future growth.
Having a system in place to continually attract your target customers and keep your business growing puts you in a position to grow and keep investors happy in the process.
The customer acquisition process is a full-funnel process, not to be confused with lead generation, which typically is a top-of-funnel activity. Lead generation feeds the customer acquisition process.
During the customer acquisition process, prospects will:
Gain awareness of your brand, product, or industry
Begin to consider your product as a viable solution
Take actions to seek to learn more
Decide whether your solution is right for their business.
Calculating Customer Acquisition Cost
A big piece of the customer acquisition puzzle is being able to measure how effective your efforts are.
Customer acquisition cost is a fairly simple equation that you can use to determine the effectiveness of different channels.
The CAC formula is:
CAC = MC / CA
Where:
CAC = customer acquisition cost
MC = marketing costs
CA = customers acquired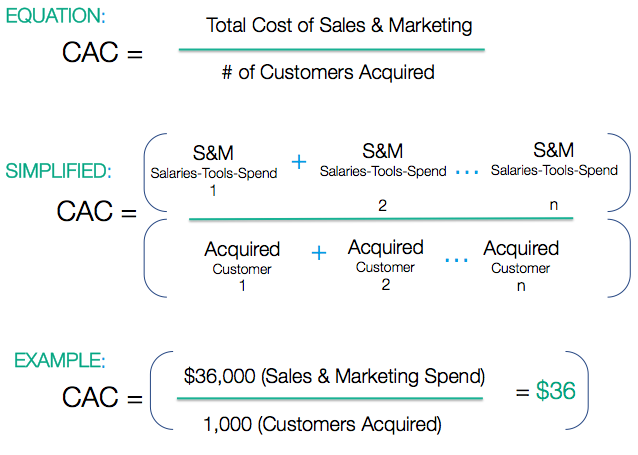 Source: Profitwell
Customer Acquisition Strategies
There are many different common customer acquisition strategies and methods that you can use to reach your target audience. Some are "free," others are paid.
The right customer acquisition strategy for your business will depend on your current strategies, the needs of your customers, and the resources that you have available to you.
Some of the most popular customer acquisition strategies include:
1. Content Marketing & SEO
Content marketing plays a critical role in almost everything that we do here at RiseFuel. It's an integral part of our inbound marketing services.
Creating highly relevant content that answers the most burning questions of your core audience is critical for positioning yourself as an authority in the space and gaining trust.
Content marketing signals to your audience that your brand knows what it is doing and that you have their best interests at heart.
Popular types of content used in content marketing strategies include:
Blogging and articles
Videos
Social media content
Ebooks
Guides
Free offers
Figuring out the right kind of content is a process. But, with an in-depth knowledge of your customers, certain subjects should make themselves apparent.
It is important to remember that SEO can be a long process. It can take 6+ months to begin to see results but also function as a long-term customer acquisition channel at a comparably low cost to other strategies.
2. Social Media
Social media is a powerhouse when it comes to connecting with your customers, but only with full dedication.
It encompasses both free and paid advertising options that can be an effective part of the customer acquisition process. Social media is a powerful awareness building tool.
For social media to be an effective customer acquisition channel for your business, there are a few things that you have to ask yourself first:
What networks will be included in your strategy? Where is your audience spending their time? You must follow your audience.
How do you want to engage through social media? What will your brand voice be?
Who will manage the content and what will the approval processes for that content be?
Without a solid plan in place, social media can oftentimes feel like you are yelling to an audience of just a few people.
However, paid social media ads do provide another avenue to reach your intended audience without dedicating so much time to creating content if you have the budget.
Paid social media ads for customer acquisition can be a great way to test out a platform and get a feel for whether or not it is the right fit for your company.
3. PPC Ads
PPC ads represent a fast and efficient way to get your offer in front of your customer base.
In PPC marketing, you bid on ads for search keywords (just like you would if you were creating organic content for those keywords) and only pay when the customer actually clicks your ad.
This can be a great way to determine if a specific keyword performs with your audience before investing the time and effort to create content for organic search.
4. Email Marketing
Email marketing focuses on long-term nurturing of prospects and customers to increase revenue. As far as customer acquisition costs go, it is perhaps the most effective channel.
However, like SEO, effective email marketing takes careful planning and begins to pay dividends months after you begin, not days or weeks.
It represents the most direct and personal way to correspond with your customers and prospects in an automated way.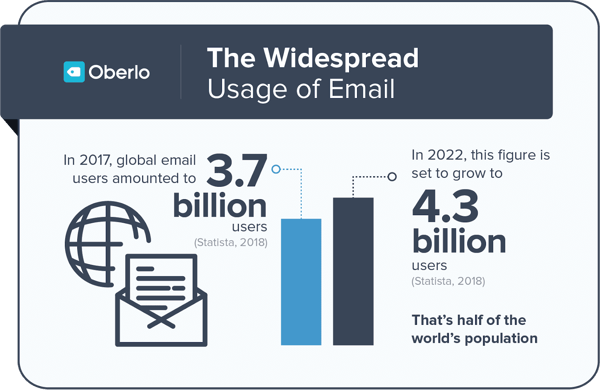 Source: Oberlo
Email makes money. For every $1 you spend on email marketing campaigns, they generate an average return of $38.
However, email marketing requires that you get users to opt-in to your mailing list. Often, this means offering something of value in exchange.
Ultimately, the lines between "content marketing" and "email marketing" can quickly become blurred, leading to a multi-channel approach.
A Customer Acquisition Partner
Here at RiseFuel, we work closely with our partners to create a measurable, actionable customer acquisition strategy that helps you to lower your customer acquisition costs while putting repeatable, automated processes and strategies in place for a more hands-off approach to customer acquisition and demand generation.
Check out this article to learn What is a KPI in Marketing because it is important to understand in monitoring your marketing strategies.
Want to learn more? Book a free consultation today.