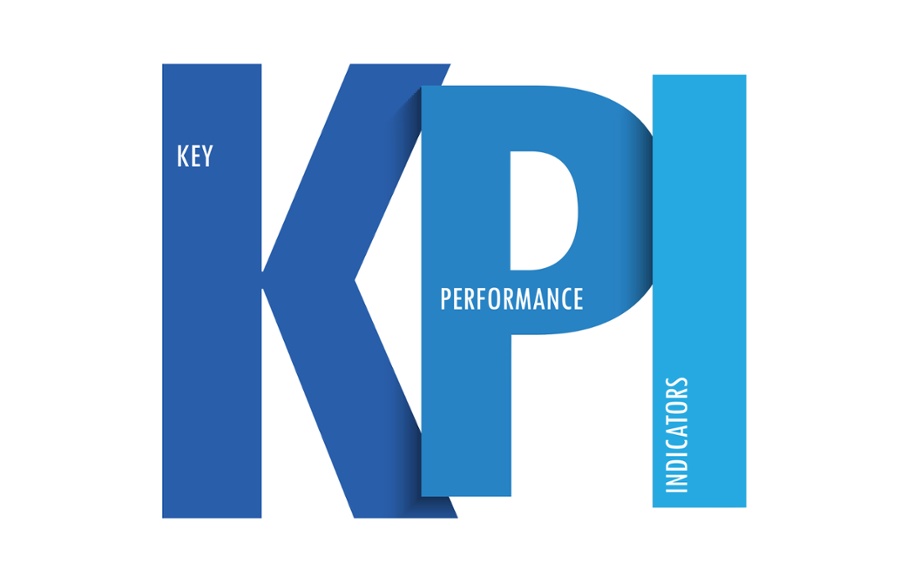 "If you can't measure it, you can' improve it." This is a quote from famed management consultant Peter Drucker and it is something that has rung true in every business that I have ever been a part of.
That's why KPI marketing metrics are key in every action that we take for our clients.
You have to measure something to know where you stand and identify your most necessary areas of improvement. This flows through every aspect of your business but is especially true when it comes to digital marketing.
Digitally, everything can be measured. You could go as far as to use a solution to record a video of the actions that every visitor on your website took. There isn't much that you can't track when it comes to your digital presence.
KPI MarketingKPI Marketing
But just because something can be tracked doesn't mean that it necessarily should. There is such a thing as information overload. It can be easy to get bogged down in the numbers when you are tracking too many things. If you have analysis paralysis, you aren't helping yourself.
In this article, I'll outline the ten most essential marketing KPIs. These are key performance indicators that we track when we manage the digital marketing operations of our clients, and use them to identify opportunities and grow.
1. Customer Acquisition Cost
Customer acquisition cost is perhaps the most important metric for a growing company. CAC tells you, as the name would imply, the overall cost of inquiring a new customer.
That is so critical. It's important because it gives you a definitive line in the sand when evaluating your marketing activities. If a marketing campaign is not generating new customers below your current customer acquisition cost and instead is working to grow it, it is probably not an activity that is worth your team's time.
Calculating customer acquisition cost is relatively simple.
Customer Acquisition Cost Formula:

Source: The Startup
Knowing your CAC can guide your marketing and sales activities in a way that other metrics are simply just not able to match.
2. Sales Revenue
You have to know how much your marketing activities are bringing into your company. To do that, at a surface level, you have to know and track your sales revenue. Further, you need to be able to attribute sales revenue to specific marketing activities.
If certain activities aren't generating enough sales revenue to cover the expense (this comes back to customer acquisition cost), then you cease that activity. This is incredibly important in inbound marketing as within any inbound marketing strategy there are dozens of individual activities that all may have some, if small, impact on sales.
Here's a simple formula for calculating sales revenue:
(Total sales for the year) - (Total revenue from customers acquired through inbound marketing)
3. Customer Lifetime Value
Customer Lifetime Value (CLV) is perhaps the most important metric that you can track, along with Customer Acquisition Cost. It's a way to measure the value that your customers bring to your business over their lifetimes and not just on their initial sale.
Optimizing for CLV is so powerful because optimizing for it subtly is also optimizing for reducing churn, keeping customers happy, and growing your revenue.
Lifetime value isn't that difficult to calculate, either.
Here's the CLV formula: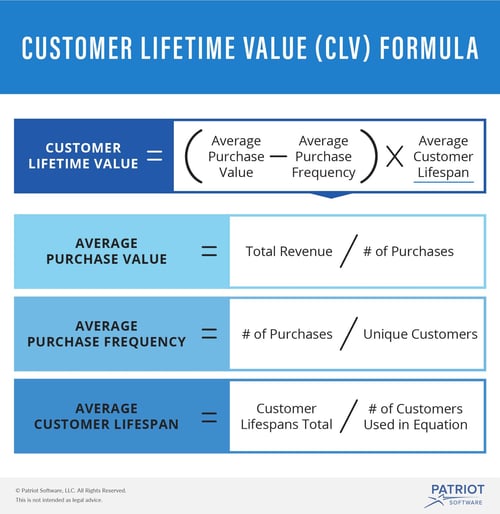 Source: Patriot Software
4. New Contact Rate
Understanding the rate at which you can turn your website traffic into leads is critical. Ideally, you should be evaluating your new contact conversion rate based on the different sources of traffic — direct, organic, social media, and referrals — to see which channels are delivering the best outcomes for your company.
It doesn't matter how much traffic you are able to generate if you can't turn them into contacts and leads. A website that receives 5 visitors and converts all 5 of them into leads generates more growth than a website that gets 1 million visitors and converts just one into a lead.
Track this number to determine what optimizations you need to make. New contact rate plays a key role in conversion rate optimization and split testing with inbound marketing strategies.
5. Lead-to-Customer Ratio
This next marketing KPI represents the next step in measuring "New Contact Rate." With a lead-to-customer ratio, you track how many leads you are able to convert into customers.
This is important because while it does speak to the effectiveness of your marketing, it mostly speaks to the effectiveness of your sales operations. Of course, marketing campaigns have to supply high-quality leads or your sales reps are going to have a hard time closing them.
Creating alignment between your marketing and sales is ultimately what is required to continually improve your lead-to-customer ratio.
6. Organic Traffic
At RiseFuel, organic traffic and SEO plays a key role in any inbound marketing strategy that we put together for our clients. Ultimately, our goal is to rank them for high-value keywords that fill their pipelines with leads, generate sales, and help them to grow revenue.
In its simplest form, organic traffic is a good way to measure if we are doing a good job. Organic traffic can take 6-12 months to really begin to build — but once it does the effect is usually cascading.
Organic traffic is a good initial measuring stick for your SEO efforts. Are your number of visitors growing month-to-month? That's what we want to see.
7. Social Media Engagement
Too often we see companies measuring their social media effectiveness by looking at follower numbers when they really should be looking at engagement. Engagement on social media is what you want to see. It means that people are interested in your brand and following what you have to say.
High levels of social media engagement tell us something about our customers. It shows that they are interested in what we have to share. That bodes well when it comes to inbound marketing and is a key indicator of a loyal customer base.
KPI-Focused Marketing Drives Growth
When you focus on numbers — the right numbers — you put yourself in a position to grow reliably.
If you want to take a data-backed approach to your digital marketing, RiseFuel can help.
Contact us today to schedule your risk-free consultation with Tony, President of RiseFuel.