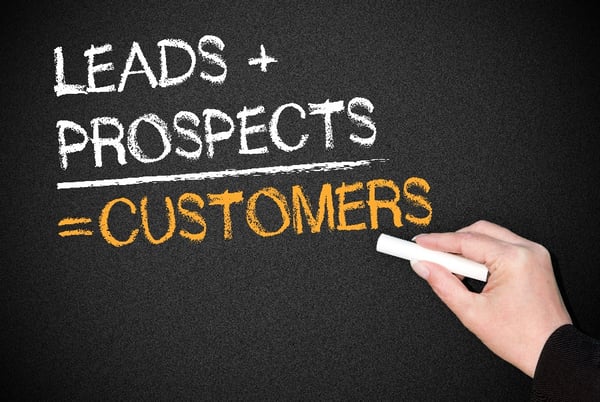 For B2B brands, there are few things more critical to your company's overall success than your ability to reliably keep your pipeline filled with new leads.
While it would be great to rely solely on inbound leads to keep it filled, a healthy balance between inbound lead generation and outbound prospecting provides a more reliable foundation for most companies.
An effective outbound sales team is a huge asset for any B2B business. They not only bring new leads into your system, but they help to develop relationships and spread awareness of your brand throughout your industry. The benefits of a great sales team go way past revenue and leads.
However, most companies have a lot of problems developing a reliable outbound sales team. Most of these problems start with prospecting. In fact, 40% of salespeople say that prospecting is the most challenging part of their job.
Using the tools covered in this article, you can bolster your team's prospecting efforts and help them to keep the top of your sales pipeline full.
The best prospecting tools for 2022 that every business should know about include:
LinkedIn Sales Navigator
LinkedIn Sales Navigator is the bread and butter of many of the top B2B outbound sales teams. LinkedIn has more than 500 million users, with more than 250 million active users. Many of those are decision-makers.
As the largest professional social network, LinkedIn makes for an obvious choice of investment. Their Sales Navigator product caters to salespeople by extending the functionality of your account, providing deeper access to their database of prospects, and providing tools that help you to sift through them.
A subscription allows you to send InMail to prospects that are not in your network and lets you create prospect lists to keep your sales pipeline filled.
UpLead
Uplead is a powerful tool for outbound sales teams. Their system allows you to build targeted lists of prospects from their database of more than 30 million business contacts. Their system provides you with a certain number of credits based on your subscription tier.
Then you can search for prospects by job title, function, management level, industry, location, company size, and technologies used, among other variables. They provide high-quality verified data using real-time email verification.
BuiltWith
If your company is targeting prospects that utilize a certain piece of software or technology, there are no tools that are more valuable than BuiltWith.
Their system makes lead generation easy when combined with other tools, allowing you to build lists of websites that utilize specific technologies from their database of more than 31,404 different technologies.
Although a bit more expensive than other solutions on this list at $295 per month, it's hard to deny the value that BuiltWith could bring to sales teams that are looking for a very specific type of prospect. It will be worth that money in time savings alone!
Hunter.io
Hunter is a Google Chrome extension that makes finding the email addresses of prospects easy! The tool allows you to search for all the email addresses associated with a given domain.
It will then give you a score based on how likely it is that someone will reply to your email, as well as the number of sources that they found that led them to believe the email is legitimate.
If you can't find a prospect's email, Hunter supplies you with a common pattern behind all of the associated email addresses on their given domain so that you can guess what your contacts information might be.
Prospect.io
Prospect.io is an exceptionally valuable investment for outbound sales teams. It stands apart from the competition in its ability to provide emails of your prospects, email them, then integrate all of your data with major CRM platforms like Salesforce and Hubspot Sales.
They also offer a Chrome extension. Their credits cover all basic account activities, including finding emails, verifying emails, and sending your campaigns. It's an excellent all-in-one email prospecting solution for just $99 per month.
Crystal Knows
Being able to speak directly to your prospect's biggest wants and needs is perhaps the most critical part of closing a sale. But researching your prospects can be a time-consuming task. Crystal Knows helps to solve their problem.
Their system analyzes publicly available data and builds a unique personality profile for your prospects. You can learn about how they prefer to communicate, their behavioral tendencies, and how you can adapt your communication style to align with their preferences.
It's a powerful prospecting and sales tool that can help you to develop warm relationships with interested prospects.
HubSpot Meeting
HubSpot Meeting is a meeting scheduling tool that is free to use and integrates directly with the company's CRM and other tools. It simplifies scheduling calls and meetings with clients by eliminating the back and forth of scheduling meetings.
By allowing your prospects to choose the time of the meeting, you give them additional flexibility that ensures that you will be able to close meetings more regularly and at times that your prospects will appreciate.
HubSpot Sales
Another offering from HubSpot, their HubSpot Sales prospect, is an email management tool. Using the HubSpot CRM platform, Sales allows users to create and send custom email sequences, track when emails have been opened by prospects, and see when they have clicked the links contained inside.
If you want to make email prospecting a big part of your sales strategy moving forward, HubSpot Sales is an excellent tool that integrates with its suite of amazing products to bolster your sales teams.
Close.io
Close.io is a powerful CRM platform that includes several sales features. They specifically offer cold calling features that make it an exceptional choice for teams that rely heavily on the strategy.
Using their "Power Dialer" and "Predictive Dialing" features, Close.io takes all of the guesswork out of who to call next, when to call them, and how to track those conversations. Their analytics system gives you a detailed insight into your cold calling efforts and can help you to improve your close rates.
Tools to Bolster Your Outbound Sales Strategies
Outbound sales teams are the golden goose of B2B companies. However, prospecting can be difficult. Using tools to help you bolster and navigate the prospecting process can save you time, make you more effective, and grow your revenue.