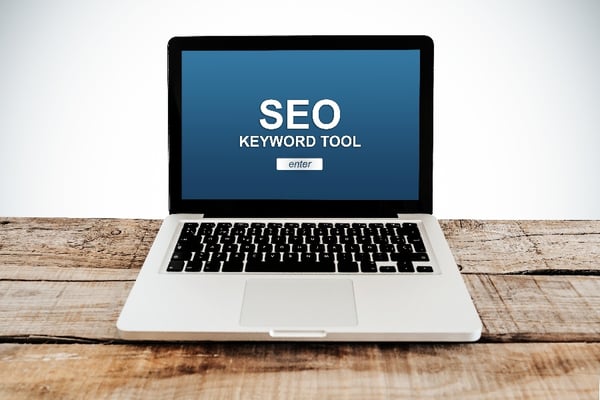 To help you identify the right keywords and complete your keyword research projects, there are several useful tools available.
Keyword tools fall into two basic categories, SEO tools focused on keyword identification and search engine competition, and content - social media tools offering discoverability and trend analysis on channels outside typical search.
How to Get Started: Brainstorming Seed Keywords
While all keyword research tools are different, they all work in the same way: you have to start by typing keywords to learn more about them and get ideas for keywords related to them.

It means you need to have an initial list of keywords for analysis before you start using keyword research tools.

How do you get these initial keywords, also referred to as seed keywords?


The best way to get started is to simply use your own common sense and words specific to your subject.

Start by defining your specific subject–let's use our example of "health insurance."

You can brainstorm a few more specific terms from there.

This move will be much simpler if you have built buyer personas, often called customer avatars.
You could put yourself in the shoes of your readers and imagine what they're going to type in to find your content in Google.
Continuing with our example of health insurance, "health insurance benefit calculator" is a more specific term that may be interested in searching for your target audience.
Try to develop at least five specific ideas along those lines.

You're ready to start your research after brainstorming a list of specific keyword ideas.
Let's dig deeper into these tools.
With another powerful Google keyword resource, let's kick things off with Google Trends.

Google Trends shows how search trends are changing over time. Type a keyword and you'll see that search query's relative popularity over the past 12 months.

To see how useful this can be, let's search for "protein powder" in the Google Trends results.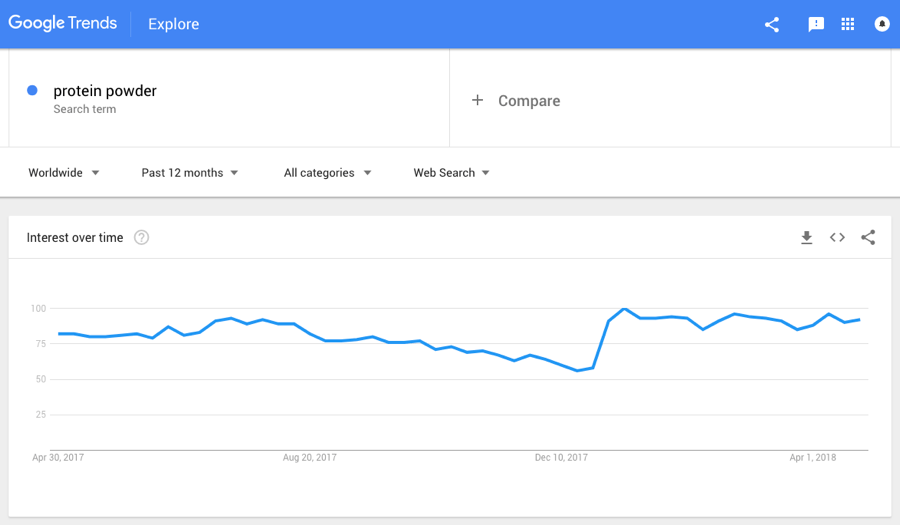 It looks like this query's search popularity is quite steady all year round.

But if we look closely, we can see that there is a gradual decline between August and December, with popularity spiking in January.

This is likely because many people are on a' health kick' in January.

If we have been reviewing information from Google Trends over the past 6 years, we can see that this is just an annual increase.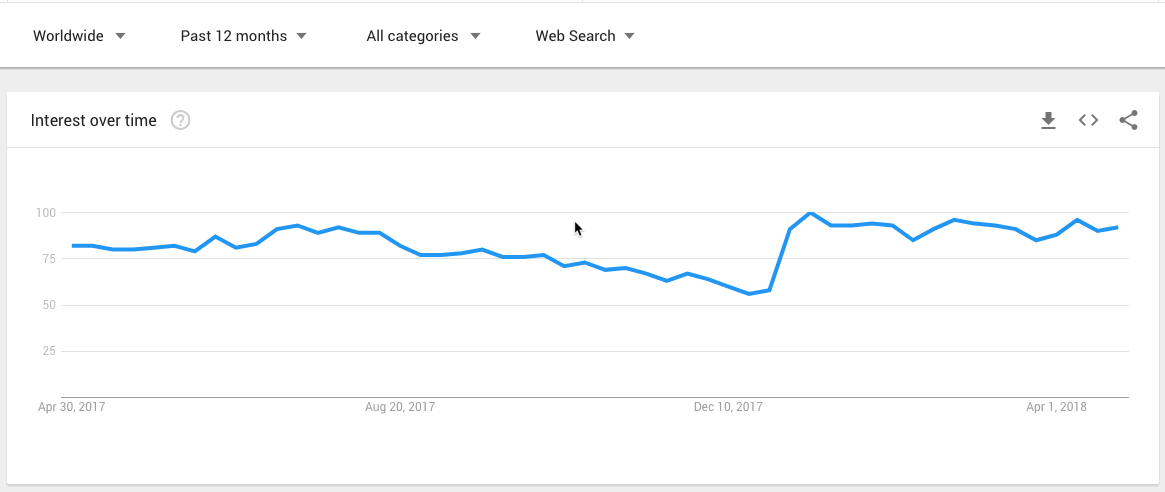 (This is data we couldn't learn from Google Keyword Planner.) So if you have a fitness blog, posting a piece of protein powder material at the beginning of January could make sense.

But there's another cool trick up Google Trends ' sleeve: linked queries.

Fall to the bottom of the page and see the box ' linked queries':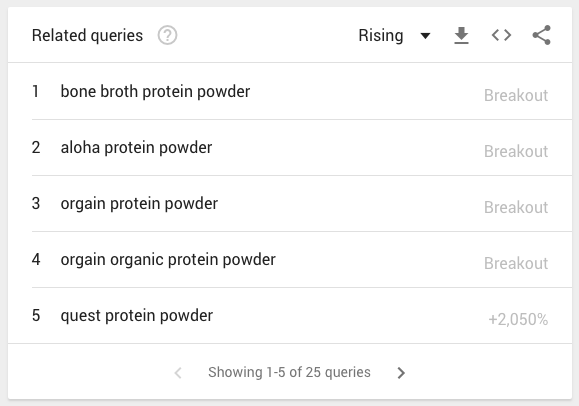 2. WordStream's Keyword Tool (free)
Of course, for both SEO and PPC keyword analysis, I could never forget the very own keyword resource of WordStream.

The keyword tool for WordStream allows you to target certain niches (groups of related keywords), gives you additional suggestions and also allows you to group them based on a common theme for easy launches of ad group.
This keyword research tool provides you with 30 free searches, after which you will have to sign up for your WordStream Advisor to use it in addition.


3. Soovle (free)
If you have multiple channels in which you want to do keyword research and want to sound like an idiot explaining to your watercooler buddies the pronunciation of this device, Soovle is a perfect fit.

Soovle enables you to explore the most typed keywords based on the keyword root you give to multiple search engines. Even Amazon and eBay are included.

It's not only a great keyword research tool to use, but it's also a great brainstormer because you can start typing your ideas slowly and allow it to generate its own ideas automatically.

I never thought of calling an inflatable castle a bounce house, but now I'm doing:)
4. Ubersuggest (free)
Meet Ubersuggest, the keyword research tool on steroids.

Ubersuggest takes every keyword you give it and gives you an almost infinite list of your original keyword alphabetized and numerical keyword variants.

By incorporating "bounce house +b, +c, or +d" you can even take it further to find more keywords that you might be able to bid on or use for SEO purposes.
5. KWFinder
KWFinder has a solid interface and is a long tail keyword research tool. It will let you see details on: trend, search volume, CPC, and ranking difficulty level.
It functions as a keyword finder as you would imagine, but if you select a keyword, a second pane will appear displaying the level of difficulty (1 to 100) and the latest Google search results: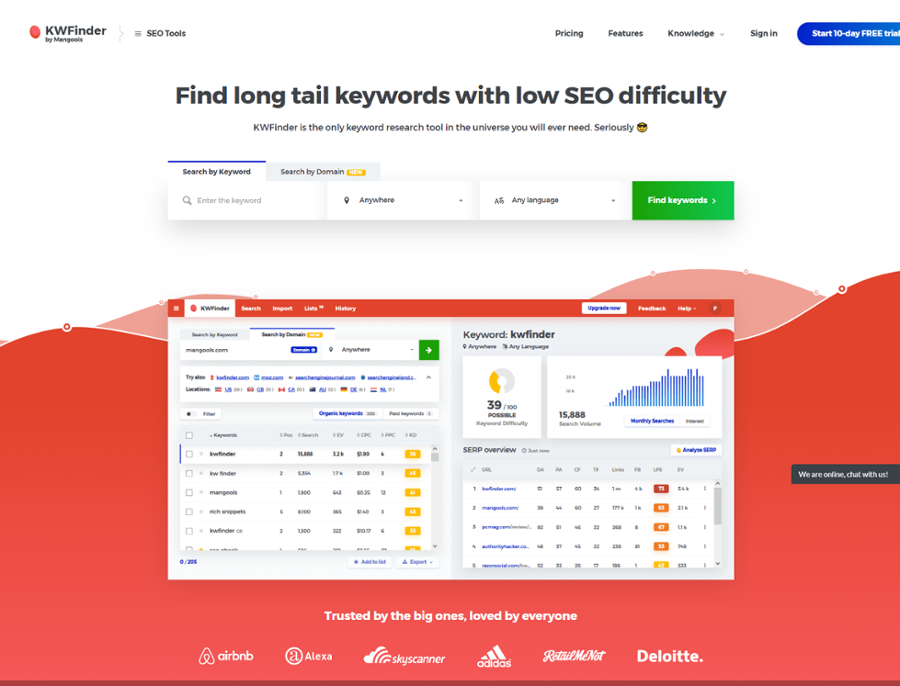 It helps you to research keywords and it will show you what domains target those keywords, backlinks to the website, social shares, and actual traffic.
Such additional keyword dimensions may be important, especially when combining SEO with your content marketing.

Also, KWFinder lets you dig into regional keyword research–you can target your city, state or country search results.
6. Moz's Keyword Explorer
Keyword Explorer is a new Moz resource that adds to keyword analysis by several extra dimensions.
Keyword Explorer offers, in addition to Volume and Difficulty, its will give you details on the Opportunity, Importance and Potential the keyword will have your campaign.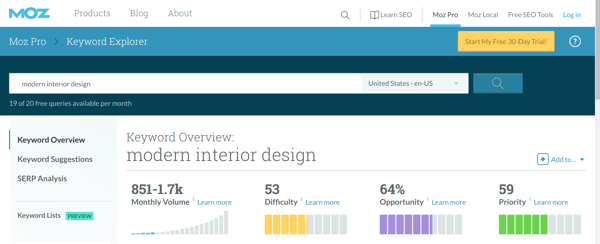 The software is based on keyword planner, suggested by Google, and related searches. If you have already built a list of keywords with a specific method, you can quickly upload them to Keyword Explorer for more insight and prioritization.

Keyword Planner also offers a much deeper understanding of why certain pages rank in SERPs based on link and social data also. Beyond keyword research, this will help you plan your SEO strategy.
7. Keyword Tool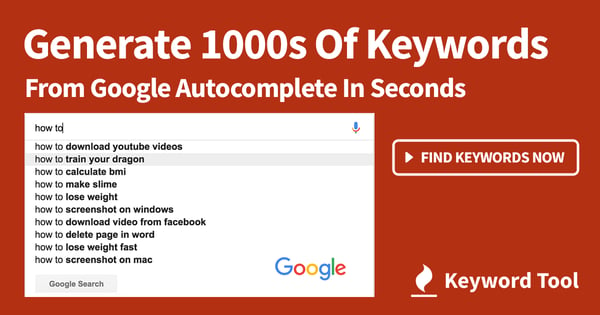 Keyword Tool is an ideal starting point for data mining for keywords. The app uses data from Google Autocomplete to build its long-tail keyword suggestions list.

Anyone who uses the keyword planner from Google for keyword analysis should also use the keyword tool. Because Keyword Planner is built for advertisers, Keyword Tool will not always be able to capture lucrative long-tail keywords.

For the first 750+ keyword suggestions, this tool is free; sign up for the pro edition to further evaluate keywords and display information such as search volume, AdWords CPC, and competition. It also allows you to export your results to CSV.

Keyword Tool's other great feature is that it also helps you find phrases or long tail keywords for Google, Bing, Amazon, and the App Store.
It can be used to tap into even more relevant search words that might not be exposed to your search engine rivals.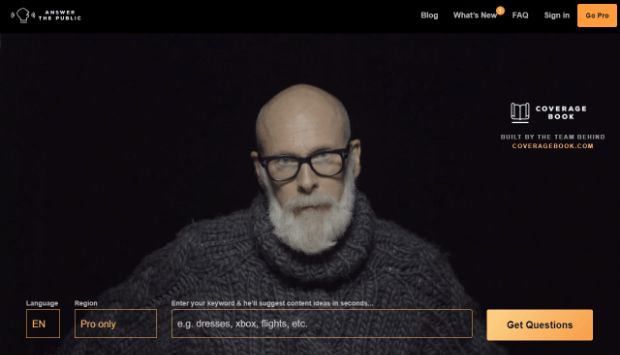 AnswerThePublic is one of the most strange and weird SEO keyword tools around, and you can't beat the free price tag.

While AnswerThePublic can be used for any kind of keyword research, it really shines as a way to help you find the questions that people ask.

This is important because people no longer only type queries into search engines; they often search through their mobile devices, often by voice.
That means that searches are often in a question format rather than just a keyword phrase typed.

AnswerThePublic is one of the best keyword research tools to help you find these questions, so you can optimize your content and boost organic traffic.
As with other keyword suggestion tools, you can quickly get content ideas from AnswerThePublic and explore ways to add value to your existing content.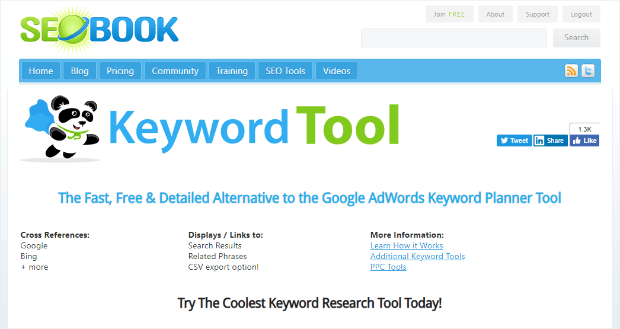 One of several free SEOBook Suggestion Tools is the SEOBook Keyword Suggestion Tool. But, in order to use it you will need to sign up for a free account.

This keyword search tool includes a wealth of information when searching for any keyword you enter, including search volumes, related results and phrases, and estimated cost per click (CPC). You can also click a box to see results from Google Trends.

The SEOBook Keyword Suggestion Tool, like other tools, is useful to find phrases to be included in existing content, or to help you create new content around topics where there is a chance.
This free tool is part of Google Ads, a Google service that lets you build your ad campaigns. It will help you find the right keywords and get your traffic forecast.

Click the tool icon in the gray bar at the top right corner once you have a Google Ads account and are signed in. Then click on the Planning section for the keyword.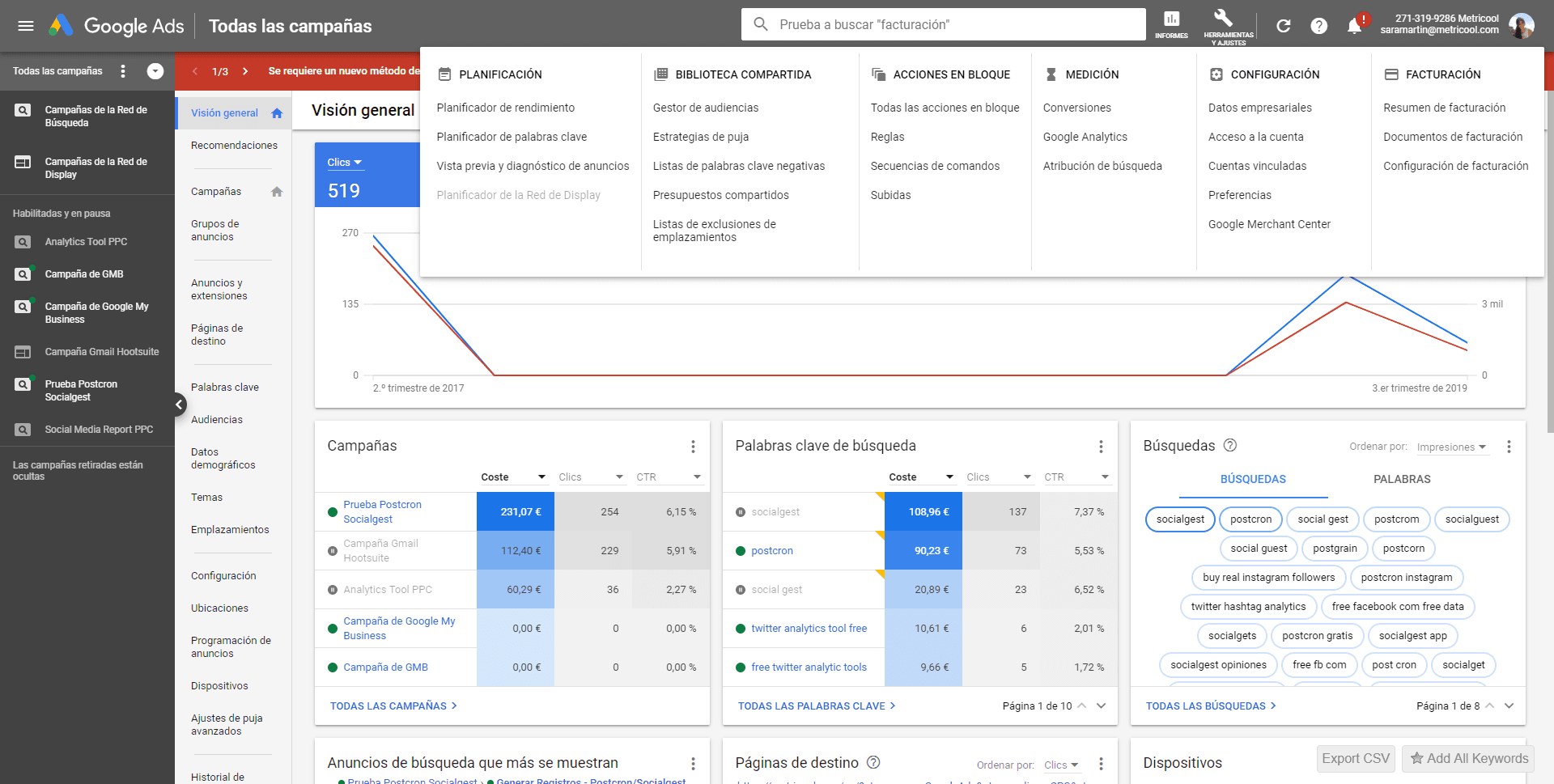 You will see two options:
Find new keywords
Get metrics and forecasts for your keywords
Look for keywords that describe your products or services in the best way. You will discover keywords relevant to your business or brand.

You will also get valuable information about these keywords, such as: How often these words are searched on Google How searches vary over time.
Get metrics and forecasts for your keywords
You can analyze the volume of searches and historical metrics of your keywords in this second option in Google Ads Keyword Planner.
In the future, you can also check the estimated performance.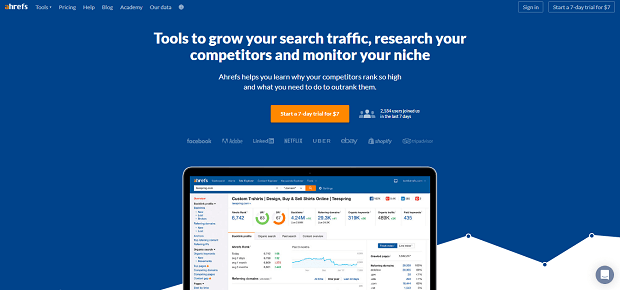 Ahrefs is an incredibly wealthy software set of information on trillions of connections.
We will concentrate on the Keywords Explorer for this guide, which is one of the best research tools for keywords around.
Ahrefs is an SEO software suite that contains tools for link building, keyword research, competitor analysis, rank tracking and site audits.
Its key feature is backlink analysis as it is it's signature feature.
12. SEMrush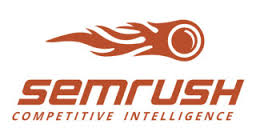 Masters in their field, SEMrush is a one-stop shop with an impressive keyword research tool with a huge amount of features.
SEO and PPC research
Search for keywords that perform well on both Google and Bing. Gather in-depth information, including CPC, volume, trend, number of results and ad copies.
Find related keywords and phrase matches
Use the Full Search Report to find relevant alternative search queries for latent semantic indexing or alternative targeting.
SEMrush also analyzes the common keywords found on the top 100 domains for a search term on Google and Bing.
These related keywords come with synonyms and other suggested variations.
Research long tail keywords
Take advantage of their bank of low-volume keywords if you're looking for less competition.
SEMrush collects all keywords that have a search volume of at least ten queries per year.
13. SpyFu

SpyFu is a competitor research tool, as indicated by the name, that aims to help you boost the performance of your company by learning how your competition gets its results.
If you want to understand the use of keywords in your marketing campaign by your competitor, this is the tool to use.

You can type the URL of your rival, and all the keyword information will be pulled up by SpyFu.
You will be able to see how many keywords they rank for, the estimated number of clicks per month the page receives, and the balance of organic and paid traffic.
You'll also see paying keywords, how keywords retain their place on the front page, top keywords, and top competitors.
At RiseFuel, we utilize most of these tools with some or all of our clients.
Each has their own strengths and weaknesses and sometimes one tool fits better for the data or view your need depending on the industry or niche you are in.
Contact us for any answers you may seek so we can help point you in the right direction.