Why an Email Marketing Agency Is a Necessary Investment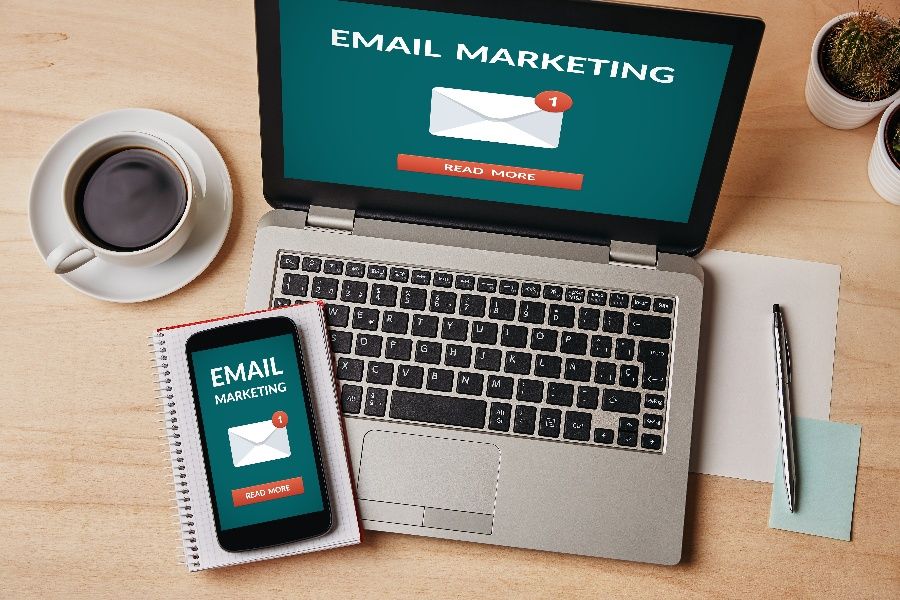 If your company has solid revenue numbers and collect customer information, but aren't investing in email marketing — you're leaving money on the table.
Email is the most direct way to connect with your customers. For many, it is the preferred channel for them to connect with their favorite brands.
However, if your company or marketing team have no experience in email marketing, it may be a good idea to consider hiring an agency to handle it for you, rather than hiring in-house. While this is not always the right choice, there are a few key benefits that growing companies will enjoy in choosing to work with the right agency.
At RiseFuel, email marketing is one of the primary tasks that we handle for our clients. While we specialize in inbound marketing, email marketing plays a critical role in every inbound marketing strategy.
Email offers a level of personalization and automation that is unmatched by other channels. It allows you to develop a deeper connection with your audience and simulate a one-on-one conversation that helps you to develop trust with their brand.
Let's start by diving into the reasons why an agency may be a good choice and when you should consider hiring email marketing professionals in-house.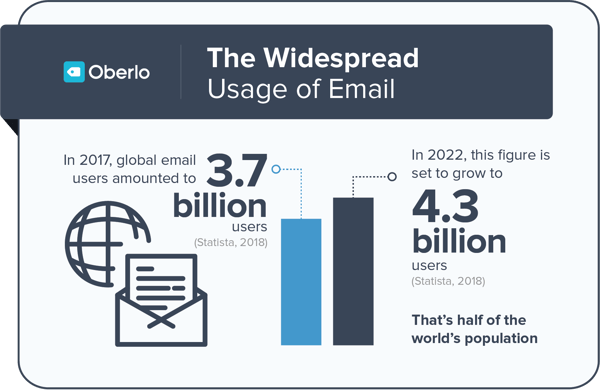 Source: Oberlo
Email Marketing Agency vs. In-House
When companies are looking to expand their marketing operations, most have the same question — "Would it be better if we hired in-house professionals to handle this for us, or should we look to an agency?"
The truth is that there is no right answer to this question. There are pros and cons to both and the decision that you make will depend on your own business needs. There is no way for anyone other than you to say for sure which will be the best choice.
An agency can be a trusted partner that works closely with you for years and provides scalability that in-house hires never could. But agencies will not have the same level of on-brand familiarity.
Let's take a look at the pros of both hiring an agency and hiring someone in-house to handle your email marketing.
Benefits of Hiring an Email Marketing Agency
Hiring email marketers in-house can be expensive. Not only do the best email marketers demand a high salary, but they also require benefits. Agencies typically provide a set, predictable price. This is ideal because you can be certain that you will always stay within your budget when you work with an agency. Your advertising and labor budgets are typically rolled into one set cost.


Agencies specialize. An email marketing agency specializes in what they do. Sure, there are generalist agencies, but if you were hiring an agency for a specific task, wouldn't you want to make sure that they are uniquely competent in that area? While employees can specialize, most try to have a broad understanding of marketing in general. Your specialization options are less straight-forward and more limited when you hire in-house.


Agencies are agile. An email marketing agency can grow with you. They have a team and can divert resources to your account as required. Growing with in-house hires can be tricky. Not all hires will stick. Some will disappoint. Others will be great. Still — you can never grow as quickly when you have to onboard and train your team. With an agency, all of the resources come ready to work.


If it doesn't work out, the cost of moving on is low. Hiring an agency is much lower risk than building out a team. If it isn't generating the expected ROI, you can cut ties at the end of your contract and move on. That just isn't true with an internal team.
Benefits of Hiring Email Marketers In-House
Train them from the ground up. When you hire your own email marketing team, you get to train them specifically to fit with your existing marketing strategies. It can take a while for an agency to fill that role. Of course, to train new employees it does require that you make a similar investment of time.


Familiarity with your brand. When you hire email marketers in-house, you know that they will build a familiarity with your brand that will work to your benefit. Agencies work with many clients and will never be able to realistically have the same dedication to your products and brand that an in-house team would have.


Grow with your company. An in-house team can grow with the ROI that they are able to generate. Over time, you'll have a large team of email marketers that are specifically trained to market your products or services to your customers effectively.


Assets. When you hire in-house, you build real assets that will serve your company for years to come. A partnership with an agency is a short-term asset.
As you can see, there are reasons why both options may be a good choice for companies of any size. The choice that you make will depend on your own business goals.
Now let's dive into why email marketing is such a good investment, regardless of whether you hire an email marketing agency or handle email strategy in-house.
The ROI of Email Marketing Services
First and foremost, email marketing is an ROI-generating machine.
For many companies, their best results come from their email marketing. A well-defined and executed strategy is able to far outpace paid advertising, SEO, and traditional channels in terms of the ROI 's that is produced.
Here are a few stats that give you an idea of just how impactful email marketing can be.
Email Marketing Stats
The ROI of email marketing is so high that most companies would not be foolish not to integrate it in some way with their existing strategies. There is simply too much potential there to leave it untapped.
A solid email marketing foundation could be the backbone of your complete digital strategy. It creates a consistent and reliable foundation that other channels can build on.
Often, our clients find that after we implement an email marketing program that the channel becomes their most dependable channel for generating leads and converting website visitors into customers.
A Preferred Channel for Customers
As a business, it should be your goal to engage with your customers through the channels and platforms that they are most comfortable communicating through.
That means that you need to meet them where they are. That may mean on Facebook, Twitter, or other social platforms. It might mean reaching out to them through their direct mail inbox.
Email should almost always be a part of the equation. Customers just prefer the platform. It gives them the ability to engage with content on their own terms.
But — customers only want to engage with brands through email that they trust. In that sense, email marketing is at its most effective when it is able to mesh with marketing from other channels to capitalize on that trust.
Meet your customers where they are and they will reward you with engagement.
Specialization and Competency
Agencies, and especially those that specialize, are unique in that they deliver a very narrow skill set that is exactly what their clients need. When you hire an email marketer to join your team, you get one expert in the field, so long as you can find someone that specializes.
When you hire an agency, you get the whole team. An agency that specializes in email marketing will have experts that specialize in different industries, styles, or strategies to provide a better match for your business.
Specialization is important. At RiseFuel, we specialize in inbound marketing, of which email marketing is a core component. When you work with an agency that specializes you know that they will have the experience to back up their words.
Because of that experience, an agency will be able to help you shape and mold your strategy. Their work for other similar companies allows them to start their engagement with your company with a rough idea of what will work and what won't work.
What that means is that working with an agency typically means less testing required before your campaigns reach profitability. They know the direction that they need to take and are able to take you there reliably.
An internal team would require a lot more trial in error. Unless you are able to hire someone that has specific experience in your industry, they will have to go through multiple iterations before they can reliably find what works.
Leverage Personalization
When it comes to marketing, there are few strategies that are more powerful than a well-defined personalization plan. Email marketing is perhaps the medium that is best-suited for that level of personalization.
To give you an idea of just how impactful personalization could be for your business, let's take a look at a few key stats:
Email Marketing Personalization Stats
91% of consumers are more likely to shop with brands who provide relevant offers and recommendations.
Consumers are 40% more likely to view items that are recommended based on information they have shared.
36% of consumers believe that brands offer more personalization in their marketing interactions with them.
Using email marketing, you can inject any customer data that you are able to collect directly into your communications with them. This includes engagement data. You can reference what pages of your website they've visited, what blog posts they've engaged with, and zero in on products they may be interested in.
Email marketing is so effective in part because the level of personalization that can be leveraged is unparalleled. The only thing that can hold you back is not collecting enough data.
That's why any email marketing agency worth their salt is not just going to help you set up your email marketing strategy, but also help you improve your data collection strategies to leverage more (impactful) data.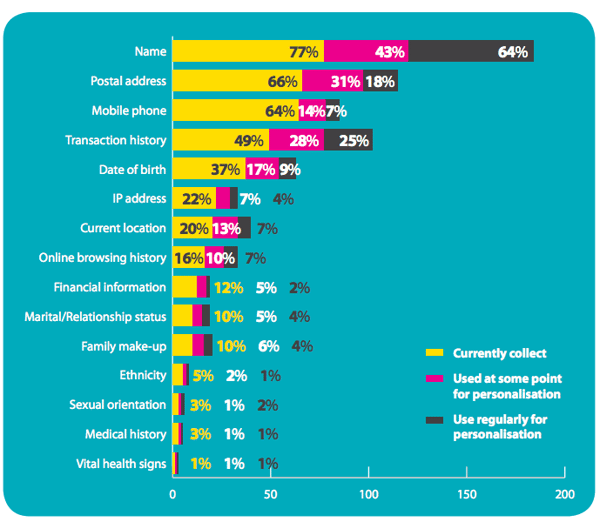 Source: SalesCycle
Deep, Trigger-Based Automation
Email is not only the perfect medium for personalization, it's the perfect medium for deep automation as well.
If you are currently spending your time manually sending out emails to customers or scraping together a newsletter every once in awhile just to say that you did — you probably aren't getting much out of your email marketing.
Deep, trigger-based automation uses the actions that your customers take to trigger the sending of specific emails to your core audience.
Let's go over a couple of examples.
Let's say you own a window cleaning business. A prospect enters your website and visits your "Business Services" page, reading it thoroughly.
You wouldn't want them to receive information about residential services. But most businesses aren't collecting enough data to look that deeply at prospects on an individual basis.
Using customer actions as triggers is exceptionally powerful. You can ensure that they receive content that is laser-targeted to their needs.
You can't underestimate the speed of email either. A customer could engage with specific content and then within a day, they receive more information that is specifically tailored to the pages of your website or other media that they have engaged with.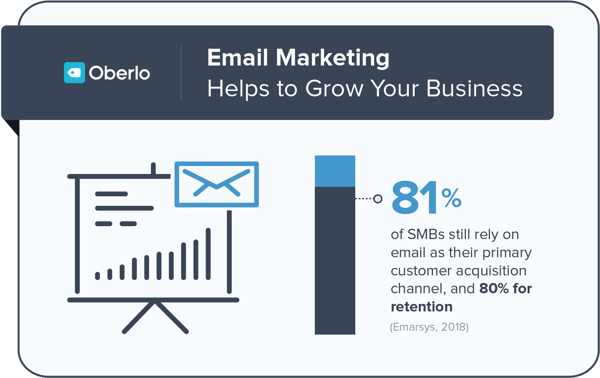 Source: Oberlo
Partnering with an B2B Email Marketing Agency
Choosing to work with an email marketing agency can be a big step forward, but one that will pay off for years to come. The thing about email marketing is that you aren't building one-off campaigns. You are building long term assets that will serve your business for years to come.
At RiseFuel, we leverage personalization, automation, and consistent content publishing to build trust with your candidates and position you as an industry authority. We use email as a tool for building relationships with your customers.
If you are interested in a free consultation to discuss your email marketing strategies, you can schedule your appointment here.